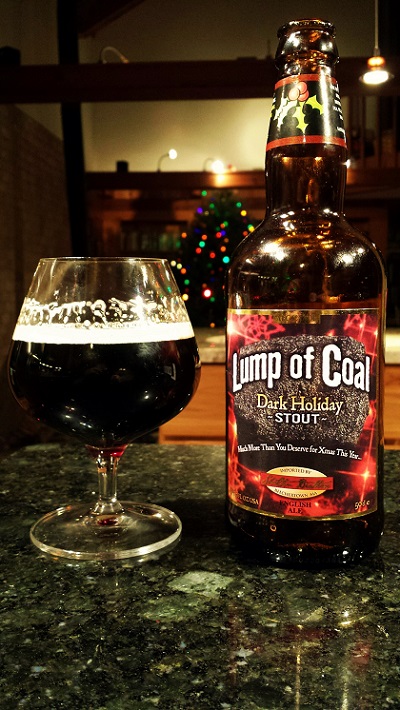 There are a few segues from our last beer to this one. Most obvious is that both Wychwood's Bah Humbug and Ridgeway's Lump of Coal are English ales. And on first appearance, both seem to tend to the dark side of the holiday—Scrooge's well-known dismissive utterance about Christmas, and then the universal symbol for what kids not on the good list are going to find in their stocking.
No worries—both ales are far more likely to produce Christmas cheer than strike a misanthropic chord. The label on Lump of Coal even calls it "liquid consolation," and goes on to tease: "This brew is as dark as it gets, as black as the lump of coal you'll be getting for Christmas. Because, let's face it, you've been pretty bad this year."
I did a fair bit of research into the lump of coal tradition and I'm going to perform a public service here by not repeating it. It's just not that interesting, at least on an evening when the grandkids are expected to arrive and there are chores to be done.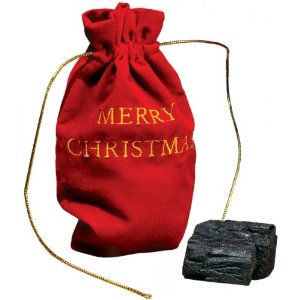 Let's leave it at this—with origins traceable to many countries (though Italy and the Netherlands get mentioned a lot), the bad-kids-get-a-lump-of-coal custom really does seem like a long-lasting world-wide threat. It seems one that is rarely enforced, although I'll bet it's almost as ubiquitous that everyone has received coal at some Christmas along the way, albeit as a joke. Pretty sure I was on the receiving end of a can of coal one year, which turned out to be black rock candy.
It achieves its current form here as a stout probably because Ridgeway had run out of recipes for its prodigious Nasty Elf collection of holiday ales. The brewery started out with Bad Elf (at 4.5% and 6% ABV), and followed that with Very Bad Elf (7.5%), Seriously Bad Elf (9%), Criminally Bad Elf (10.5%) and Insanely Bad Elf (11.2). There's also a 4.5% Black Elf in there, two helpings of Reindeer Droppings, Reindeer's Revolt and the infamous Santa's Butt—at least infamous in New England, where the state of Maine once briefly banned the Santa's Butt label until it saw the error of its likely unconstitutional ways.
Ridgeway owner Peter Scholey clearly has a sense of humour as well as brewing talent. Scholey was the master brewer at the venerable Brakspear Brewery before the latter closed its doors in 2002. And hence the last segue: Brakspear was taken over by Marston's, and its equipment moved into the Wychwood Brewery, where the Brakspear brands are still being produced. Meanwhile, Scholey opened Ridgeway in 2003, and has a full line of regular beers other than the many Christmas variants, which are brewed largely for export to the U.S. (and brought in by the Shelton Brothers).
I certainly wouldn't be upset to receive this particular Lump of Coal in my stocking. The nose varied as the beer warmed. At first it was all fruit-laden malt—plums, raisins, dark cherries, with some chocolate and mild roast notes. Warmer, more of the alcohol vapors arose, and I thought I detected a whiff of clove at one point.
While the color is a deep, dark brown, not quite opaque, there's barely a hint of roast at work in the palate. The first sip is molasses-like sweet, but a surprising hop bite comes along to sheath any cloying factor. A bittersweet chocolate tang rounds it out, with a hint of sour for the coda. There's virtually no sense of alcoholic heat, but this is an 8% brew, so fair warning and Happy Christmas.
Name: Lump of Coal Dark Holiday Stout
Brewer: Ridgeway Brewing, Oxfordshire, England
Style: Export Stout
ABV: 8%
Availability: Seasonally, in about 15 states.
For More Information: http://www.ridgewaybrewery.co.uk/
[December 24, 2014]
<12 Beers of Christmas 9: Wychwood Bah Humbug Christmas Ale
12 Beers of Christmas 11: De Ranke Père Nöel>