[Jan, 18, 2010] My brother and sister-in-law came up from Long Island for our annual belated Christmas, which also segued into a premature celebration of my birthday. Good gift news for me, since Kip had selected a bunch of bomber bottles to savor, most of which I've not had before and will probably be writing about here soon.
I have had the Delirium Tremens (the beer), surely one of the bravest beer names out there. (Although still falling short of my all-time favorite, a barleywine called I'll Have What the Gentleman on the Floor Is Having.)
[See some April Fool's company the beer keeps, with jokes, by clicking here.]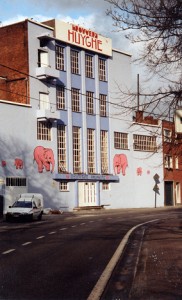 The Belgian brewery took the name a step further by festooning the label art with pink elephants, and they're now on the brewery façade in Melle as well. Some kind of brewing has been done at the site since 1654, though the modern history dates from 1906, when Léon Huyghe bought the brewery. By 1985, the brewing philosophy turned from bottom fermentation toward strong top-fermenting ales like Artevelde and Artevelde Grand Cru.
Delirum Tremens was introduced as a belated Christmas offering on December 26, 1989, and has been a hit ever since, presented in its ceramic-looking bottle. This strong golden ale, in the same family as Duvel, is brewed with three different yeast strains. It has a peppery citrus nose, a fruity malt palate, and a bracing hop-accented finish, with ample warming alcohol. Would do well at the dinner table and as I far as I can recall, did.
Delirium Tremens was the first of an eventual trilogy, followed by the dark Delirium Nocturnum (9% ABV) and an actual Christmas beer, Delirium Noel (10% ABV), which will put the twinkle in Christmas Father's eyes or anyone else's, too.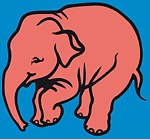 Name: Delirium Tremens
Brewer: Huyghe Brewery, Melle/Ghent, Belgium
Style: Strong Golden Ale
ABV: 8.5%
Availability: Year-round, 33 states
For More Information: delirium.be