Okay, it's a wrap. I wasn't intending to revisit Berkshire Brewing's Holidale the year after we last had it. (Some of the brewery background here in that report.) But of the few beers I had requested from brewers for the 12 Beers extravaganza two never showed up (or haven't yet, anyway), even with another extra day tacked on. As I discovered last year, the Deerfield brewery changes the recipe for Holidale every year. And, I also happened to have a four-pack on hand. QED.
Nice timing here, actually, as my brother and sister-in-law came up from Long Island for our delayed Christmas, and it's always good to run a beer across his trained vintner's palate. (Kip, now retired, and Susan, started Bedell Cellars in Cutchogue in 1979; the first vintage was 1985.)
We exchanged presents shortly after they arrived, cracked the beer open, carried it over to dinner, then played bridge for about four hours. After that we couldn't remember what the beer tasted like.
Only kidding. Kip said, "I thought it had a toasty malt character, with ample fruit, a fairly full-bodied sweetish malty finish." Pretty much what I thought. The beer poured out like many in this year's roundup, dark brown with reddish glints. It had a rich, raspberry and caramel malt nose with mild alcoholic vapors.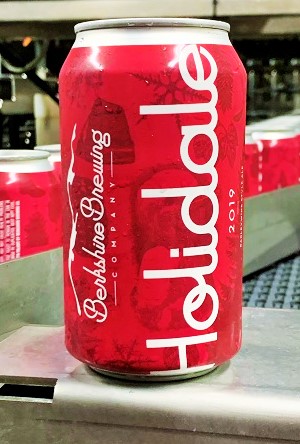 The raspberry—if not as pronounced as the Stony Creek Winter Weight from Day 3—is nonetheless unmistakable, and it carries over into the palate, the beer a swirl of sweet and fruity flavors with a full and velvety mouth feel.
I thought it was a great beer to finish off with, an ambitious brew that, according to Clay Cummings, the Director of Operations at BBC, was something a little different for the brewery, a blend of three different beers:
"We actually had some of last year's Holidale, an Imperial Stout, aging in the warehouse, so we blended that with a batch of fresh blond barleywine, and then a fresh batch of raspberry barleywine. We aged them all together in stainless, and released it about a week before Thanksgiving."
BBC doesn't put the ABV on its cans because, Cummings noted, "It's usually something of a moving target. But the Holidale was 9.5% this year."
There's none left in the warehouse this time so this year's batch, said Cummings, "Will be here till it's gone." My recommendation comes from that great Dylan lyric, "…whatever you wish to drink, you better grab it fast." Something like that.
Well, I said we'd get 'em all in before Epiphany. Two days off, but 12 beers in 14 days, not bad. And the brews were definitely not bad, one of the more successful runs we've had. Thanks as always for going along for the ride. The beers go ever onward, so cheers for the New Year ahead, and more happy discoveries on the way.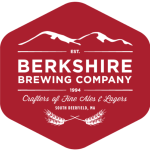 Name: Holidale 2018
Brewer: Berkshire Brewing Company, South Deerfield, Massachusetts
Style: Blended Barleywine
ABV: 9.5%
Availability: Seasonally in MA, CT
For More Information: https://berkshire-brewing.com/
[January 3, 2020]
< 12 Beers of Christmas 11: Trois Dames Winter Sour
12 Beers of Christmas 2019 Reprise >