[Dec. 17, 2020]–Luckily a delivery of two bottles of Anchor's 2020 Our Special Ale showed up yesterday, before the massive dump of snow last night and this morning that has left us still unplowed and snowed in. Just as fortunate that I've already revved up the 12 Beers of Christmas season, as is my wont, with the honorary starters, Sierra Nevada Celebration Ale and Deschutes Brewery Jubelale.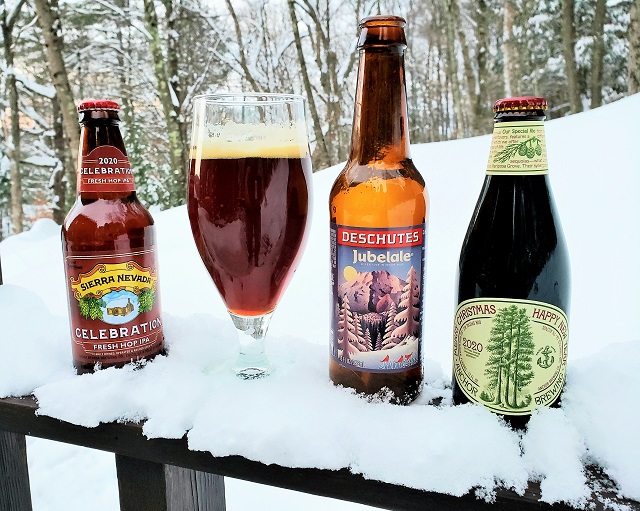 Presumably we will be plowed soon enough (the driveway, that is), since I'm still a few bottles shy of a dozen holiday ales or winter warmers for the 2020 mad dash. Anyone who's been along for the ride for the last eight years knows the drill. All those here for the first time need to know is that I'll be sampling 12 seasonally apt beers in as close to 12 days as possible, promising to finish at least by the actual twelfth day of Christmas, Epiphany, January 6.
There's no religious significance to my undertaking, though thanks to some of the high ABV beers imbibed over the years it sometimes seems to take on spiritual overtones. Mostly it's a way to celebrate the season, while fortifying ourselves for the winter days and nights ahead.
I try not to repeat any beers, other than the ever-changing Anchor Christmas brew, which always leads off. The recipes don't change from year to year with the Sierra Nevada or Deschutes beers, but it wouldn't seem right not to down a few each season, both with that little something extra that makes them superb exemplars of what a holiday beer should be. (The Deschutes bottle is empty above because its contents are in the glass.) (They're not anymore.)
The one significant change to the Jubelale each year is a new label and packaging created by a regional artist. The task this year fell to Eric Nyffeler, an accomplished designer and illustrator from Portland, perhaps best known for concert posters for the likes of Joan Jett, The Decemberists, Phish, Phillip Glass, The Black Keys and many more.
On Instagram Nyffeler said, "I like drawing pastel landscapes and drinking frosty beverages…." So when the brewery tapped him for the gig, "I was a happy boy. I challenged myself to draw the slopes of Oregon's mighty Mt Bachelor using NO WHITE, but only creams, pinks, and lavenders, trying to capture a dreamy winter sunrise shared only with a couple of critters. I'm pretty happy with the result." Apparently, so was Deschutes.
Nyffeler also took note of the times: "There are a hundred people out there I wish I could share a bottle with, but we'll just have to wait until 2021."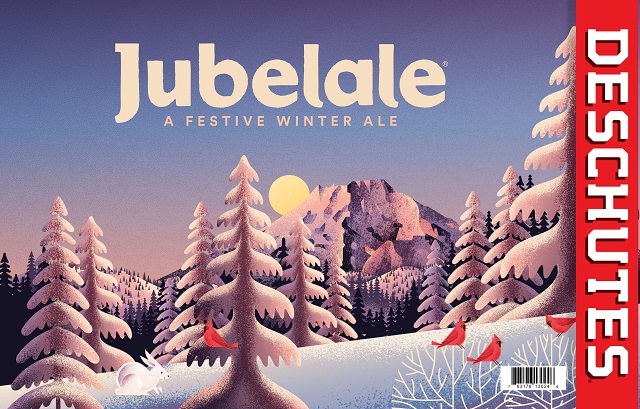 Nothing to stop from us from drinking it solo. Sadly, that's going to be the case in this year of the pandemic. I'll try not to dwell on that in the days ahead. But considering that I usually have plenty of help in drinking the beers, I probably will anyway.
And to recap the 2019 12 Beers of Christmas, it was a stellar year, every beer a treat, though a real dial-back from the many high ABV beers of 2018, when six of the 12 clocked in at 11% ABV or more. For 2019 only one beer hit double digits, the Struise Tsjeeses Winter Ale at 10% ABV, one of the more complex and enjoyable choices.
And yet, at a lowly 4% ABV, the Four Quarters The Gift of the Magi saison showed one needn't blow the roof off to produce a fascinating beer. Four Quarters is up in Winooski, Vermont. I've mildly castigated Vermont breweries in the past for not producing more holiday beers or winter warmers, so I was happy to find this one. Spoiler alert: I have two Vermont brews on hand this year, including another from Four Quarters.
A few days after this year's launch we'll reach a milestone of sorts–certainly enough of an incentive to keep the madness going this season–reaching 100 different beers sampled over the years. Naturally, there will be no stopping there. The 96 brews we've mostly enjoyed so far are all linked to below. Not all are still around, but most are, and certainly worthy of down-the-gullet investigation. Drink in good cheer!
<<<>>>
The complete odyssey so far:
The 12 Beers of Christmas
2019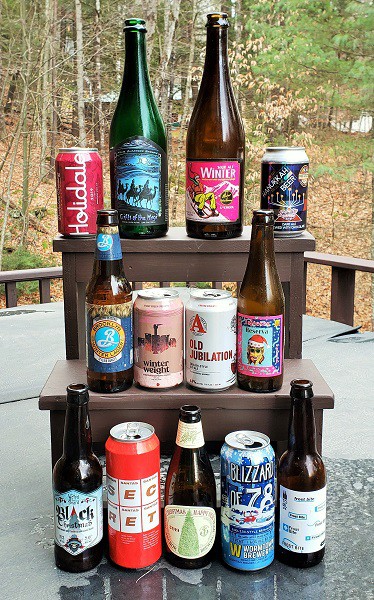 1 Anchor Our Special Ale 2019
2 Brooklyn Winter Lager
3 Stony Creek Winter Weight
4 To Øl Santa's Secret / Frost Bite
5 Four Quarters The Gifts of the Magi
6 Weird Beard Brew Co. Black Christmas
7 Struise Tsjeeses Winter Ale
8 Wormtown Blizzard of 78
9 Shmaltz Chanukah, Hanukkah: Pass the Beer
10 Avery Old Jubilation
11 Trois Dames Winter Sour
12 Berkshire Brewing Holidale
2018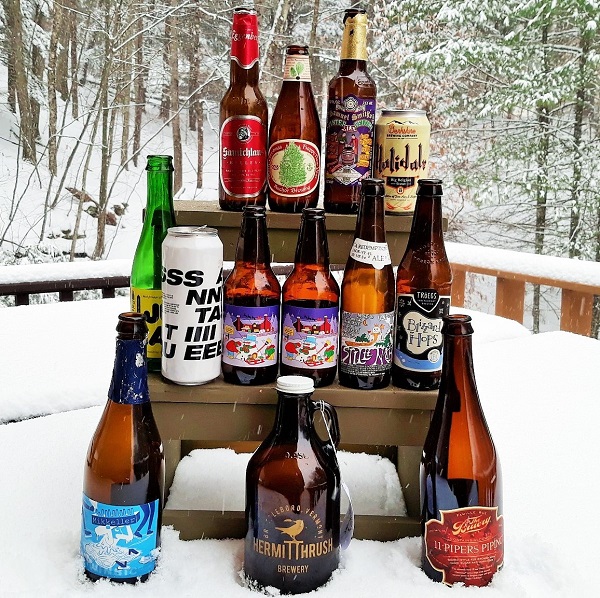 1 Anchor Our Special Ale 2018
2 Mikkeller Win Bic
3 To Øl Santastoque
4 Samichlaus Helles
5 Berkshire Brewing Holidale
6 Troëg's Blizzard of Hops
7 Samuel Smith Winter Welcome
8 Anderson Valley Winter Solstice
9 Hermit Thrush Dark at 4:30
10 Prairie Artisan Ales Christmas Bomb
11 The Bruery 11 Pipers Piping
12 De Dolle Stille Nacht
12 Beers of Christmas 2018 Reprise
2017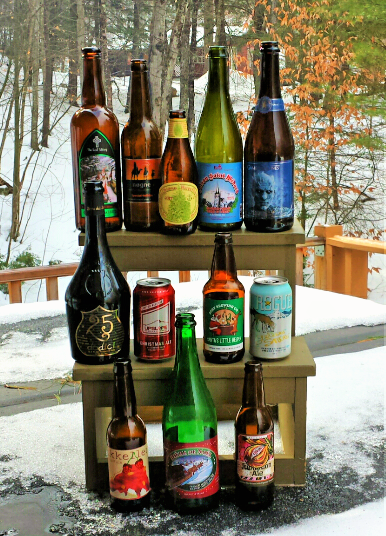 1 Anchor Our Special Ale 2017 
2 Rogue Yellow Snow Pilsner 
3 Baird Jubilation Ale 
4 Thiriez Bière de Noël 
5 Saison Saint Médard Cuvée de Noël 
6 Ommegang Winter Is Here 
7 Birra del Borgo 25 Dodici
8 Port Brewing Santa's Little Helper
9 Lost Abbey Gnoel de Abbey
10 Nøgne Ø Special Holiday Ale
11 Upslope Christmas Ale
12 Mikkeller Ris a la M'ale
12 Beers of Christmas 2017 Reprise
2016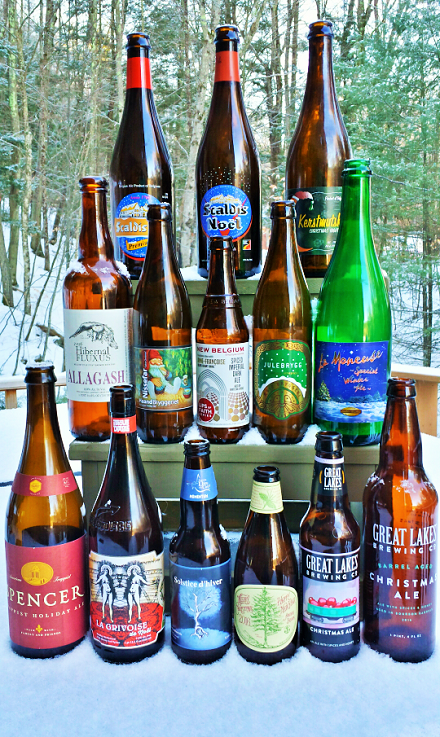 1 Anchor Our Special Ale 2016
2 Great Lakes Christmas Ale
3 New Belgium Anne-Françoise Spiced Imperial Dark Ale
4 Spencer Trappist Holiday Ale
5 Le Trou Du Diable La Grivoise De Noël
6 Blaugies La Moneuse Special Winter Ale
7 Aegir Bryggeri Julebrygg
8 Dieu du Ciel Solstice d'hiver
9 Haandbryggeriet Nissefar
10 Allagash Hibernal Fluxus 2016
11 Kerstmutske Christmas Nightcap
12 Scaldis Noël Premium
12 Beers of Christmas 2016 Reprise

2015
1 Anchor Our Special Ale 2015
2 Jewbelation 19
3 Warsteiner Winter Special Edition
4 Jolly Traveler Winter Shandy
5 Magic Hat Feast of Fools
6 Page 24 Bière de Noël
7 AleSmith Double Red India Pale Ale
8 Smuttynose Smistletoe
9 Wychwood Bah Humbug Christmas Ale
10 Ridgeway Lump of Coal
11 De Ranke Père Nöel
12 The Bruery 8 Maids-a-Milking
12 Beers of Christmas 2015 Reprise
2014
1 Anchor Our Special Ale 2014
2 Harpoon UFO Gingerland
3 Hanukkah, Chanukah Pass the Beer
4 Guinness The 1759
5 Samuel Adams Merry Maker Gingerbread Stout
6 Elysian Bifrost Winter Ale
7 Ommegang Adoration Dark Winter Ale
8 Deschutes Jubelale
9 Petrus Winter #9 Ale
10 3 Sheeps Ewephoria
11 Baladin Nöel
12 St. Bernardus Christmas Ale
12 Beers of Christmas 2014 Reprise

2013
1 Anchor Our Special Ale 2013
2 Troëg's The Mad Elf Ale
3 Victory's Winter Cheers
4 Magic Hat's G-Thing
5 10 Barrel Brewing Pray for Snow
6 Corsendonk Christmas Ale
7 Mahr's Bräu Christmas Bock
8 Sixpoint Global Warmer
9 Nöel des Géants
10 Mikkeller Hoppy Lovin' Christmas
11 Harpoon Winter Warmer
12 Dupont Avec les Bons Voeux
12 Beers of Christmas 2013 Reprise
2012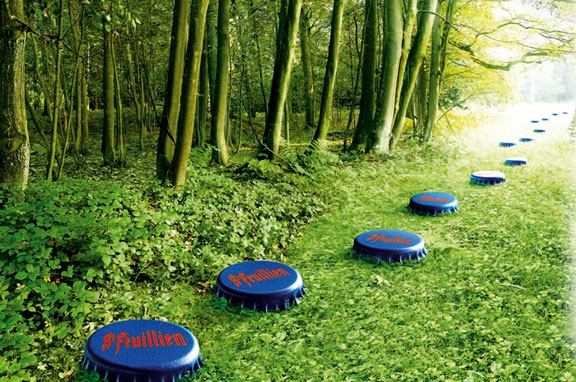 1 Anchor Our Special Ale 2012
2 Nogne Ø Winter Ale
3 Samuel Adams Winter Lager
4 Southern Tier 2XMAS
5 St. Feuillien Cuvée de Noël
6 Delirium Noël
7 Newcastle Winter IPA
8 Jolly Pumpkin Noel de Calabaza
9 Gouden Carolus Noël
10 Otter Creek Winter Red Ale
11 Magic Hat Wooly
12 Element Winter Ion