Back in 2015, when I added The Bruery's Six Maids-a-Milking to the list, the PNC Christmas Price Index was at $34,130.99 per price item—that is, one Partridge, two Turtle Doves and so on. The cumulative price—if you kept buying the repeat items with each verse, stood at $100,125.18.
Unsurprisingly, costs have risen, particularly, it would seem, for geese this year. This year's per price item would be $39,094.93, while the cumulative haul would run $170,609.46.
All this figuring began in 1984 when the PNC Financial Services Group forerunner, the Provident National Bank in Philadelphia, began toting up the bill for all the items in the "12 Days of Christmas" song. This is the 35th year of releasing the figures, and it's not getting any cheaper. But what price love?
The 11 pipers would do well, too, hauling in $2804.40 for a day's performance, and double that if included in the next verse.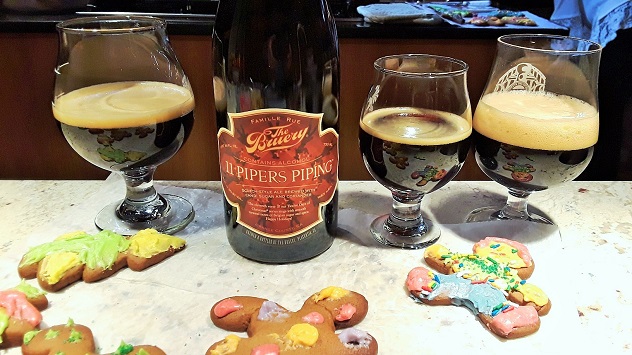 The price for 11 Pipers Piping, the beer, was $11.74 for a 750ml bottle, plus deposit. Having tasted it, I'd call this a bargain. This is the eleventh year in a row that The Bruery has released a beer keyed to a verse in the song, meaning the last of 12 will appear next year. It's a different recipe every year, but it's always a big beer in a big bottle, best shared with friends or family.
I did the latter this evening, right before we tucked into a turkey dinner. My son, Mike, and son-in-law, Glenn, were the willing subjects. The beer pours out such a dark brown I had to convince the pair we weren't drinking a stout.
Mike is not particularly a fan of big beers, and indeed he thought the 11% ABV high octane of the beer tasted a little like "Schlitz Malt Liquor meets Starbucks." Glenn was more of a fan: "I like the beer. It hits all the right notes."
Among the notes are a big malt component, a very warming burn—the beer includes Belgian candi sugar and coriander in the mix—and what I detected to be some licorice notes, dark fruit (a bit of raisin), but a restrained sweetness.
It was probably the right portion for the three of us, what with the meal stretching ahead, decorating the tree, and finishing up late night present wrapping on this Christmas Eve. Still, the thought occurred to me that I might have been better off buying 11 bottles.
Name: 11 Pipers Piping
Brewer: The Bruery, Placentia, California
Style: Spiced Scotch Ale
ABV: 11%
Availability: Seasonally, in about 25 states
For More Information: http://www.thebruery.com
[December 24, 2018]
< 12 Beers of Christmas 10: Prairie Christmas Bomb
12 Beers of Christmas 12: De Dolle Stille Nacht >