It's the season of giving, so I give Magic Hat two thumbs up for its Feast of Fools Holiday Raspberry Stout. Not so much because of the beer, but because before it was even out the brewery door in South Burlington, Vermont, the company announced it would make a donation to the Vermont Foodbank by way of celebration, as it has in years past with the beer.
Since the Vermont Foodbank provides meals for Vermonters in need, what's not to cheer? And in this case the donation works out to 15,000 such meals.
I didn't exactly give rave reviews to Magic Hat beers in 2012 (Wooly) or 2013 (G-Thing), beers which the company had sent me. I guess it finally gave up the effort, so I actually went out and bought this one. Seemed like a good idea at the time.
It certainly sounds appealing, a "holiday raspberry stout," fairly strong, with nice bottle art, a bottle hanger that lists the ingredients, suggested food pairings (dark chocolate, baked Alaska and fried ice cream among them) and information about the Vermont Foodbank donation.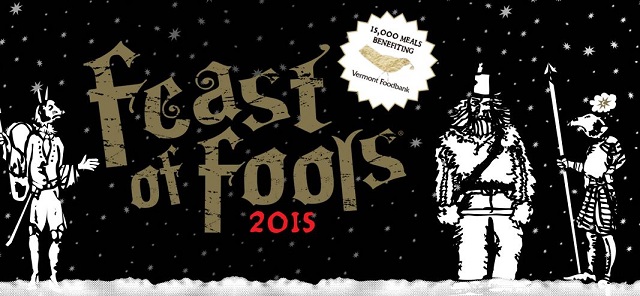 There's a back story reference to the Feast of Fools, which had a lively medieval history. At first it was a sanctioned church event to let off some steam around New Year's Day after the heavily religious Christmas season. The idea evolved into a more socially rebellious event mocking established religion, and eventually turned into a regular bacchanal that the organized church tried to ban. Think Mardi Gras, show us your breasts, and you get the idea.
We didn't get too wild tonight at Forty Putney Road Bed and Breakfast, where I occasionally preside at Saturday evening tastings. We had a full house tonight, just concentrated on seven Vermont beers (and one cider) as usual, and I saved the Feast of Fools for last.
No one flipped out, although there was some agreement that it might work as a good dessert beer. It's sweet enough. There are four different malts, Apollo hops, and English ale yeast. Listed under "Additives" is Raspberry Flavor. Using real fruit might have made for a more seamless beer, it seems to me.
There's no question about the raspberry presence here; it streams out of the glass in the nose, overpowering any sense of roasted barley. Other than being dark, with garnet highlights, there's not much to suggest a stout here at all. The sensation is sweet, but the raspberry is more medicinal than fruity. I had an unpleasant flashback to last month when I was in the throes of some dreadful bronchial thing and I was pounding Tussin DM Max like a session IPA, but less agreeably.
It was a letdown. But fruit stouts usually are. I like the concept and always look forward to trying the next cherry stout, say, but I can't think of one I've ever really enjoyed. Must be out there somewhere. But, let's be charitable, and even be willing to try the beer again. As soon as some fried ice cream shows up.
Name: Feast of Fools
Brewer: Magic Hat, South Burlington, Vermont
Style: Fruit stout
ABV: 6%
Availability: Seasonal, in about a dozen states as far west as Colorado: check website "sipcode"
For More Information: http://www.magichat.net
[Dec. 12, 2015]
<12 Beers of Christmas 4: Jolly Traveler Winter Shandy
12 Beers of Christmas 6: Page 24 Bière de Noël>