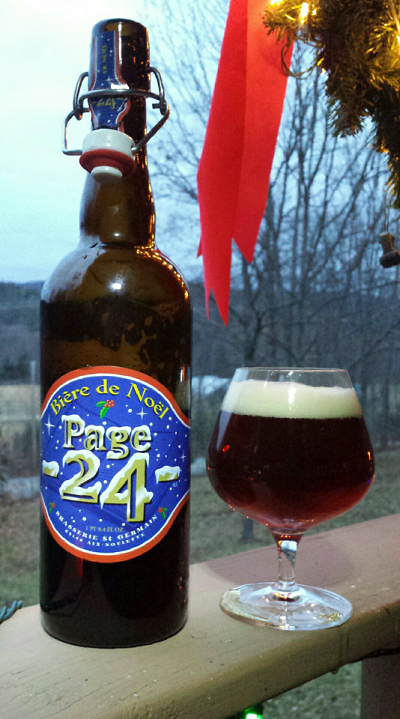 Two plus four equals six, so I figured the Page 24 Bière de Noël would take us to our halfway point nicely. And it does. This is the best beer of the bunch so far, an impressive introduction to the Brasserie St. Germain of France.
I knew little about the brewery, less about Hildegard of Bingen, and nothing about what Page 24 referred to before picking this one up. Beer as an educational tool once again.
The beer first? It's imported here in a 750ml swing-top bottle by Shelton Brothers, along with a range of St. Germain brews. It's an appealing clear coppery amber. The nose is a warming, boozy wave of dates, prunes and toffee; it shifts a bit on the palate, with sweet caramel rising to the fore, a suggestion of cherries. There's no spicing, but the beer is clearly well-hopped: it's nicely balanced, never too sweet, not too strong. In beer equivalents it's somewhat similar to the Jewbelation 19 we had a few days back, but this is the more approachable quaff.
The brewery was established in 2003 in the town of Aix-Noulette in French Flanders, bière de garde country, joining a swelling French craft beer universe, or so I'm told. I've seen in some sources the Bière de Noël referred to as a bière de garde, but I'd say it's closer to the Belgian Dubbel style, a strong dark ale.
Hildegard of Bingen was a Renaissance woman—a writer, painter, composer, theologian, holistic healer, mystic—except that she long preceded the Renaissance. Born in 1098, she was more or less tithed to the Benedictine order by her parents, and more or less maintained a monastic life until her death in 1179.
But she was a mover and shaker, establishing two monasteries, setting down her mystical visions, writing songs and morality plays with music, traveling and sermonizing to the point that she became known (apparently well-known for the age) as the Sybil of the Rhine, the Teutonic Prophetess. She compiled enough of a theological portfolio that in 2012 Pope Benedict XVI named her a Doctor of the Church.
Her feast day is celebrated in Bingen on September 17, which happens to be my wife's birthday. (American filmmaker Michael Conti is one of many enraptured by Hildegard, and on his website The Unruly Mystic one can preview a good portion of his documentary about her teachings.)
What does this have to do with beer? Apparently in some of her many writings on the healing properties of plants and herbs she mentioned that hops could be used in drinks to prevent putrefaction. And she thought beer had some wonderful qualities, among them the ability to fatten the flesh and lend color to the face.
According to the Shelton Brothers that was enough for the brewers at St. Germain, big fans of hoppier beers than have been common in the region. They brew two Réserve Hildegard beers, a blonde and an amber.
But all the St. Germain beers are called Page 24, which brewer Stephane Bogaert claims is a reference to a missing work by Hildegard, "The Benefits of Beer." And in which, on page 24, she revealed a great secret, perhaps a visionary one.
Since the work, and hence the page, may all be an illusion, the essence of the secret on page 24 will be ever elusive. And yet the brewers at St. Germain strive to comprehend it. We can only plumb the depths of the Bière de Noël, and suppose they may be hovering near.
Name: Page 24 Bière de Noël
Brewer: Brasserie St. Germain, Aix-Noulette, France
Style: Strong dark ale
ABV: 6.9%
Availability: Seasonal, in about 15 states.
For More Information: http://www.page24.fr/EN/Home-1.html

[Dec. 14, 2015]
<12 Beers of Christmas 5: Magic Hat Feast of Fools
12 Beers of Christmas 7: Alesmith Double Red India Pale Ale>