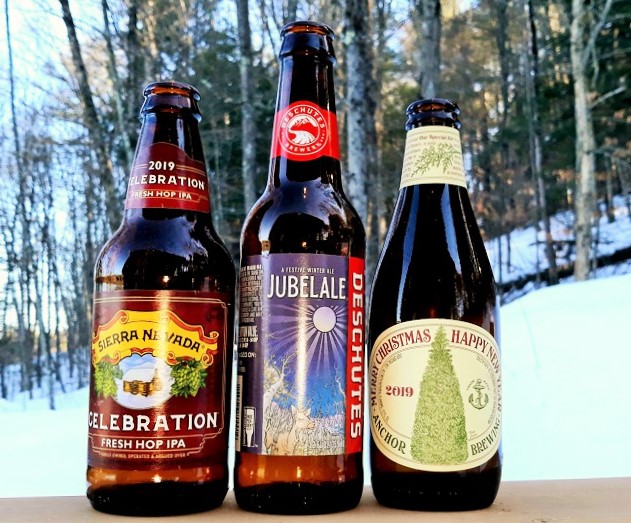 [Dec. 20, 2019]–I've polished off the last of my Sierra Nevada Celebration Ale 12-pack, I'm about to tip another bottle of Deschutes Brewery Jubelale and I confess I've already been sampling some of the beers that will make up the 2019 edition of The 12 Beers of Christmas.
The aforementioned have already been, well, celebrated in years past, as well they might be. They usually tip me off that it's time to kick holiday season into gear, though I've been slow to rouse this year. I never even wrapped up last year, as has been my wont, and lo and behold, here we are again.
For the bewildered, I've been drinking a dozen (okay, sometimes a baker's dozen) of holiday beers, winter warmers and the like around the Christmas holidays, and writing them up—sometimes in consecutive days, sometimes less promptly—each year since 2012. I usually manage to get it done before the actual Twelfth Night (Epiphany, January 6 in 2020).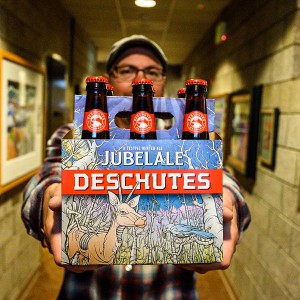 I always kick things off with Anchor's Our Special Ale and its ever-changing recipe, but I always warm up with those two other west coast classics, which remain pretty much unchanged after all these years.
Deschutes does re-do the Jubelale label every year, calling on local artists to create a work that winds up on the label and packaging. Now living in Bend, Mark Räda is originally from Minnesota, and therefore naturally a fisherman and outdoor guy, reflected in his work the brewery selected for 2019.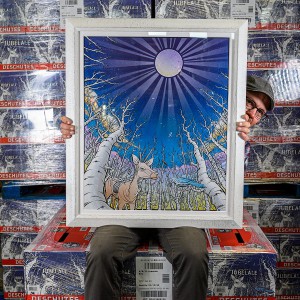 It dawned on me last year when I had Berkshire Brewing's Holidale that the Massachusetts brewery changes up its recipe annually, too, and I'm sure there are others who keep mixing it up. Fine with me either way; there's nothing wrong with sticking with a winner.
There were really nothing but winners in the 2018 list. Sure, I liked some more than others–the first and last, Anchor and De Dolle Stille Nacht, would take my top honors—but I wouldn't turn down any of them if poured again. I suppose Hermit Thrush's Dark by 4:30 was the outlier as the only sour beer on the list, but no complaints there.
A 6% ABV beer was a piker among the many heavy hitters this year: 11 Pipers at 11%, Holidale at 11.5%, Stille Nacht at 12%, the Prairie Christmas Bomb at 13%, Samichlaus at 14% and Jule Mælk at 15%. Good thing I wasn't always drinking alone. Compared with all these bruisers the low end 5.5% To Øl Santastique almost came off as a session beer.
Holiday beers are not necessarily about alcoholic heft and heat, but they're certainly not out of place, either, and they usually set up a certain amount of anticipation. But Anchor's spiced ale does fine at a more modest 6.9%—which at any other time of the year would be a plenty sturdy beer as is.
So, we've sampled 84 different beers over the years, all of them linked to below. Twelve more will give us 96, and it would probably be a shame to stop shy of 100. Sound like incentive for 2020 to me.
<<<>>>
The grand roundup:
The 12 Beers of Christmas
2018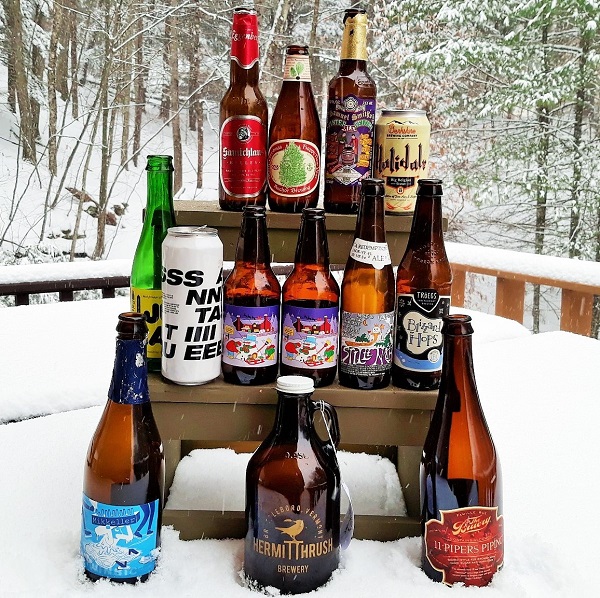 1 Anchor Our Special Ale 2018
2 Mikkeller Win Bic
3 To Øl Santastoque
4 Samichlaus Helles
5 Berkshire Brewing Holidale
6 Troëg's Blizzard of Hops
7 Samuel Smith Winter Welcome
8 Anderson Valley Winter Solstice
9 Hermit Thrush Dark at 4:30
10 Prairie Artisan Ales Christmas Bomb
11 The Bruery 11 Pipers Piping
12 De Dolle Stille Nacht
2017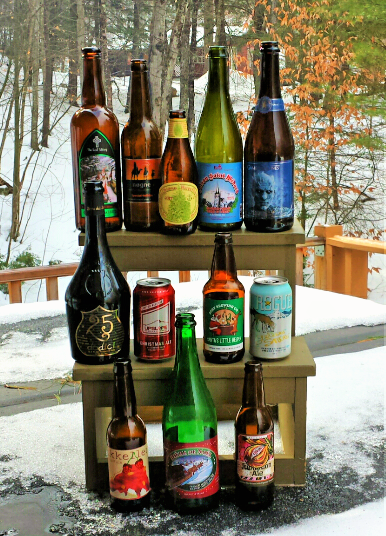 1 Anchor Our Special Ale 2017 
2 Rogue Yellow Snow Pilsner 
3 Baird Jubilation Ale 
4 Thiriez Bière de Noël 
5 Saison Saint Médard Cuvée de Noël 
6 Ommegang Winter Is Here 
7 Birra del Borgo 25 Dodici
8 Port Brewing Santa's Little Helper
9 Lost Abbey Gnoel de Abbey
10 Nøgne Ø Special Holiday Ale
11 Upslope Christmas Ale
12 Mikkeller Ris a la M'ale
12 Beers of Christmas 2017 Reprise
2016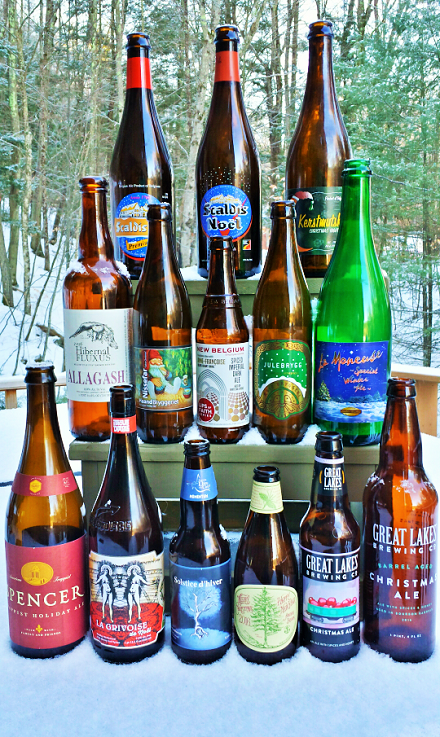 1 Anchor Our Special Ale 2016
2 Great Lakes Christmas Ale
3 New Belgium Anne-Françoise Spiced Imperial Dark Ale
4 Spencer Trappist Holiday Ale
5 Le Trou Du Diable La Grivoise De Noël
6 Blaugies La Moneuse Special Winter Ale
7 Aegir Bryggeri Julebrygg
8 Dieu du Ciel Solstice d'hiver
9 Haandbryggeriet Nissefar
10 Allagash Hibernal Fluxus 2016
11 Kerstmutske Christmas Nightcap
12 Scaldis Noël Premium
12 Beers of Christmas 2016 Reprise

2015
1 Anchor Our Special Ale 2015
2 Jewbelation 19
3 Warsteiner Winter Special Edition
4 Jolly Traveler Winter Shandy
5 Magic Hat Feast of Fools
6 Page 24 Bière de Noël
7 AleSmith Double Red India Pale Ale
8 Smuttynose Smistletoe
9 Wychwood Bah Humbug Christmas Ale
10 Ridgeway Lump of Coal
11 De Ranke Père Nöel
12 The Bruery 8 Maids-a-Milking
12 Beers of Christmas 2015 Reprise
2014
1 Anchor Our Special Ale 2014
2 Harpoon UFO Gingerland
3 Hanukkah, Chanukah Pass the Beer
4 Guinness The 1759
5 Samuel Adams Merry Maker Gingerbread Stout
6 Elysian Bifrost Winter Ale
7 Ommegang Adoration Dark Winter Ale
8 Deschutes Jubelale
9 Petrus Winter #9 Ale
10 3 Sheeps Ewephoria
11 Baladin Nöel
12 St. Bernardus Christmas Ale
12 Beers of Christmas 2014 Reprise

2013
1 Anchor Our Special Ale 2013
2 Troëg's The Mad Elf Ale
3 Victory's Winter Cheers
4 Magic Hat's G-Thing
5 10 Barrel Brewing Pray for Snow
6 Corsendonk Christmas Ale
7 Mahr's Bräu Christmas Bock
8 Sixpoint Global Warmer
9 Nöel des Géants
10 Mikkeller Hoppy Lovin' Christmas
11 Harpoon Winter Warmer
12 Dupont Avec les Bons Voeux
12 Beers of Christmas 2013 Reprise
2012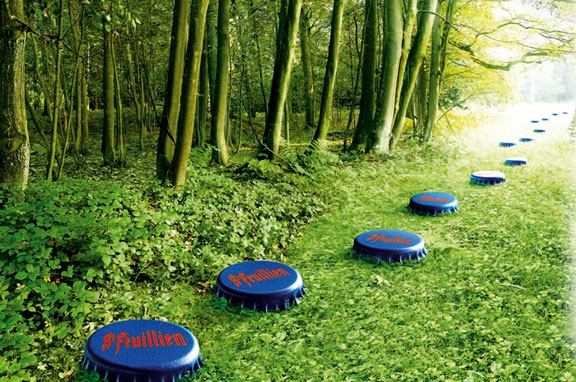 1 Anchor Our Special Ale 2012
2 Nogne Ø Winter Ale
3 Samuel Adams Winter Lager
4 Southern Tier 2XMAS
5 St. Feuillien Cuvée de Noël
6 Delirium Noël
7 Newcastle Winter IPA
8 Jolly Pumpkin Noel de Calabaza
9 Gouden Carolus Noël
10 Otter Creek Winter Red Ale
11 Magic Hat Wooly
12 Element Winter Ion