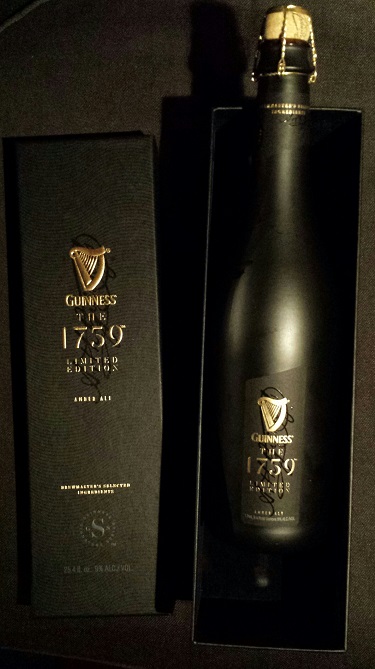 Let's face it, going out at this time of year and spending a lot of money for a bottle of beer that you're only going to drink yourself exposes you to a minefield of regret and self-recrimination. Maybe you'll negotiate it safety, but are you really going to enjoy the beer while contemplating the alternative?
At a suggested retail price of $34.99 Guinness The 1759—or more accurately, Guinness® The 1759TM—is the kind of beer you hope someone gives you for Christmas. Then you can pop it open with such a lack of remorse you might even share it with the giver.
Alternately, you can give the bottle away yourself, which is the main reason I'm writing about this one tonight. If you're looking for a good last minute present for a beer-lover, some of the 90,000 handsome black 25.4 oz. corked and caged bottles that were put on U.S. shelves in late October should still be there, encased in handsome black velvet-lined boxes ready for gift-wrapping. Then all you have to hope is that the recipient, blissfully remorse-free, uncorks it while you're still on the scene.
If so, you're probably going to like the beer, the first in a line of what the Guinness folks are calling ultra premium Signature Series offerings. I certainly did, though I didn't have to deal with buyer remorse; Guinness sent me the bottle to sample. Which provokes the question of whether I would ever have purchased one? Perhaps, if my curiosity got the better of me. But buying it again would give me pause, even if the bottle cost $17.59, which would have made more sense.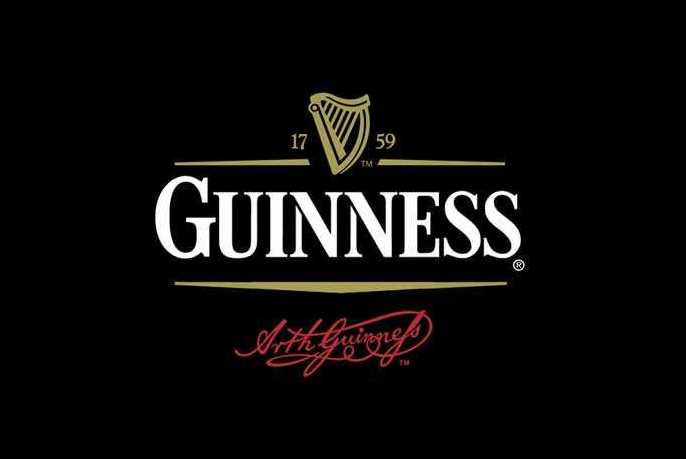 The 1759 refers to the year that Arthur Guinness signed a lease for the brewery at St. James's Gate in Dublin, a lease that is to run for 9,000 years. (Or, until 10759. How much will beer cost then, I wonder? Sorry to prattle on about it, but at $1.38 an ounce it's difficult not to wonder if greater economy in packaging might not have kept the price more reasonable? I don't see how it would render the beer any less ultra premium.)
Enough quarreling with the marketing arm of Diageo, the global drinks company which owns Guinness. No quarrel at all with the brewers–along with traditional malts they've used peated whisky malt here and the usual Guinness yeast to produce quite a lovely beer. They call it an amber ale, inspired by old Arthur's earlier efforts before he turned his hand to the porters and stouts that put him on the brewing map. But the beer really pours into the glass a deeper mahogany than this picture indicates, with garnet highlights.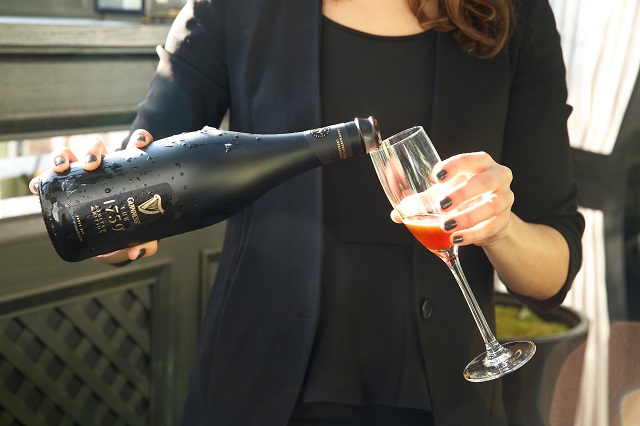 My first whiff was pure butterscotch, which toned down as I worked my way through the beer over a few hours. Bready toffee notes and the slightly smoky quality of the whisky malt weave in and out of the nose, and the same is true of the palate. There seems a constant interplay between sweet and sharp; the peat is quite distinguishable but it's always a subtle note playing in a velvety textured brew. At 9%, this is no small beer, but any alcoholic heat is well-cloaked. There was no barrel-aging here, yet there's a nice woody finish that lingers and suggests it's time for another sip.
But, alas, mine is already gone. Really? The tasting notes suggest the beer is best divided into four six-ounce servings in champagne flute glasses. I stupidly went ahead and used a 12-ounce flute. Two servings. Now the beer is history, and once the other 89,999 bottles are gone it won't come around again. It seems a pity. But given the beer and given its price, let's definitely award the sound of one hand clapping, and contemplate that shopping list once more.
Name: Guinness The 1759
Brewer: Guinness & Co., Dublin, Ireland
Style: Strong ale
ABV: 9%
Availability: As long as it lasts, nationwide
For More Information: www.guinness.com
[December 17, 2014]
<12 Beers of Christmas 5: Samuel Adams Merry Maker Gingerbread Stout
12 Beers of Christmas 3: Hanukkah, Chanukah Pass the Beer>
Related Posts:
Tap Beer(s) of the Week: Guinness Dublin Porter, West Indies Porter
TAP Beer of the Week: Guinness Blonde American Lager
TAP Beer(s) of the Week: Guinness Black Lager vs. Guinness Draught