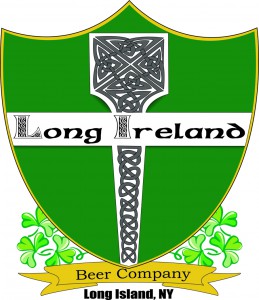 The Roseland School of Dance in Ronkonkoma, New York, held its annual recital this past weekend, so off Lynn and I went to catch our granddaughters in action.
After a grueling trek extended to five hours by accidents on I-95, I needed a beer. But the cupboard was bare at the younger Bedell house. Back in the car for a beer run to Lake Ronkonkoma Beverage. With its more than ample selection of craft brews, LRB was as impressive now as it was on the first visit many months ago. Next time I should bring a growler, since there are about 20 taps of different Long Island beers available.
I waltzed away with a bomber of Port Jeff Brewing Company's Schooner Ale and two six-packs: Southampton Biere de Mars and Long Ireland Beer Company's Celtic Ale. I made it home to Vermont with the Port Jeff and one bottle of the Celtic Ale, meaning we did some damage in one night, though we did have help from my brother, who came out from the east end to go to the recital, too.
Certain symmetries began to suggest themselves. My brother, Kip, was a largely self-taught home wine-maker while still living in Nassau County and working at the family fuel oil business, Nassau Mutual. But in 1980 he and my sister-in-law, Susan, established the Bedell Cellars winery in Cutchogue, although it was still a few years after that that they threw in their lot full-time and moved east.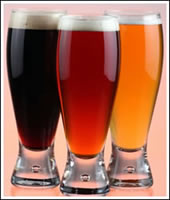 Greg Martin, who grew up in Ronkonkoma, was an avid homebrewer, who worked at Marran Oil in Holtsville. He discovered that fellow employee Dan Burke also had a passion for homebrewing.
As these things go, the hobby evolved into about three years of business planning and apprenticeships. "I started just helping out Rob Leonard at New England Brewing in Connecticut," said Greg, who now lives in Port Jefferson. "I'd hop on a ferry on Saturdays, and head over to Connecticut. That's where I got all my commercial experience.
"Finally I asked if I could bring Dan along with me, and then we both went. I told Rob we were in the planning phase for a brewery, and he couldn't have been more enthusiastic in helping us out."
At one point a tank wasn't working properly, but with their heating and air-conditioning background Greg and Dan were able to patch it up, and it became the Long Ireland tank. "From then on we'd make a batch of beer, show up two weeks later, put that one on a truck and brew up another. We sold our first keg in March of 2009."
After about a year of that arrangement both Long Ireland and New England Brewing needed more production space, so Greg and Dan contract brewed for a time at the Old Saratoga Brewing Company. "While all that was going on we managed to raise some actual capital, and bought and outfitted our system," said Greg. The doors in Riverhead opened early in 2011 and their first Long Island-brewed beers rolled out in May.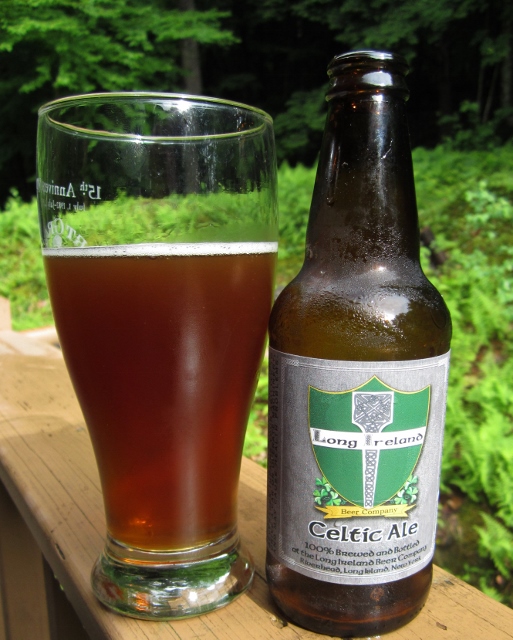 Long Ireland produced about 3,000 barrels in 2012, mostly of the Celtic Ale, but also a year-round Pale Ale, Breakfast Stout and a west coast I.P.A. "We do a Raspberry Wheat as our summer seasonal, a Double IPA periodically, and we have an annual Black Friday Russian Imperial Stout release the day after Thanksgiving."
Greg admits that he originally thought of the Long Ireland name one morning while trying to shower away a dreadful hangover. He said, "After I thought it up I didn't really want to use it. But Dan did. He said, 'I like it, because you almost have to say it twice.' But we are both of Irish descent, and we sponsor a bagpipe band that practices at the brewery every other Saturday."
My purchase was timely; the Celtic Ale had been in six-packs for all of three weeks, and only 270 cases at that.
"We say on our website that it's not meant to be an Irish Red," said Greg. "It's much maltier and with lower carbonation than you'd expect in an Irish Red. It's a beer that we must have homebrewed some 60 to 70 times in our garage. We like this beer a lot."
I liked it, too. It has a toffee, grainy nose, with a suggestion of roast, made with two-row pale malt, caramel, Vienna and some chocolate malts. Some flaked oats give the beer a smooth mouthfeel, a touch of honey adds to the sweetness, and the sole hop addition (Willamette) adds mild bittering. Slightly stronger than a session ale perhaps, at 5.5% ABV, but a bird can't fly on one wing.
There were no Irish jigs going on at the Roseland recital, but no matter. Lilah, now seven, performed in one number, and Abby, ten, in three. Need I add that they were marvelous? I thought not.
Name: Celtic Ale
Brewer: Long Ireland Beer Company, Riverhead, New York
Style: Irish Ale
ABV: 5.5%
Availability: Year-round, Long Island, five boroughs of New York City, some upstate counties.
For More Information: LongIrelandBrewery.com