Here at The A Position we're given a topic to address (or not) each month for The A List feature, in a neat 150 words or so. The January challenge was pretty much the same as last year's–to make fearless predictions about the golf year ahead. Click here to see just how far off the tracks The A Position writers careened then.
This year we enlisted the prognosticating skills of Jimmy Roberts of NBC Sports to lend the expertise gleaned from his many interviews with the game's top players, surely adding more gravitas to our wild imaginings keen and insightful looks ahead. For the full collection of 2012 crystal ball gazings, click here.
I went for cheap laughs in 2011, but played it straight this time. I recently interviewed Jim McLean for a piece that will appear next month in the spring issue of Celebrated Living, on some of the top instructors in golf. He qualifies six ways to Sunday, and with a couple of his star pupils lately prominent in the news, I felt emboldened in putting the following prophecy on the record.
***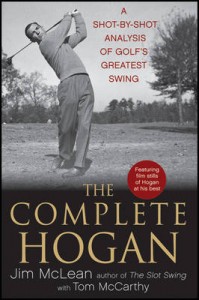 This should be a pretty good year for Jim McLean, not that 2011 was too shabby, marking the 20th year of the first Jim McLean Golf School at the Doral Golf Resort in Miami, and the opening of the newest in November at SunRidge Canyon outside Scottsdale.
His eleventh book (with Tom McCarthy) appears next month, The Complete Hogan: A Shot-by-Shot Analysis of Golf's Greatest Swing.
But the man who estimates he's given 12,000 private lessons in his time now has two pupils succeeding at the highest levels of the game. The talents of Keegan Bradley and Alexis Thompson burst like bombshells at the end of last season and inject needed vitality into the 2012 PGA Tour and LPGA schedules.
Look for more excitement to come. McLean says, "Alexis is such a sweetheart, but she has no fear. As for Keegan, I'm going to go play Augusta National with him in March."