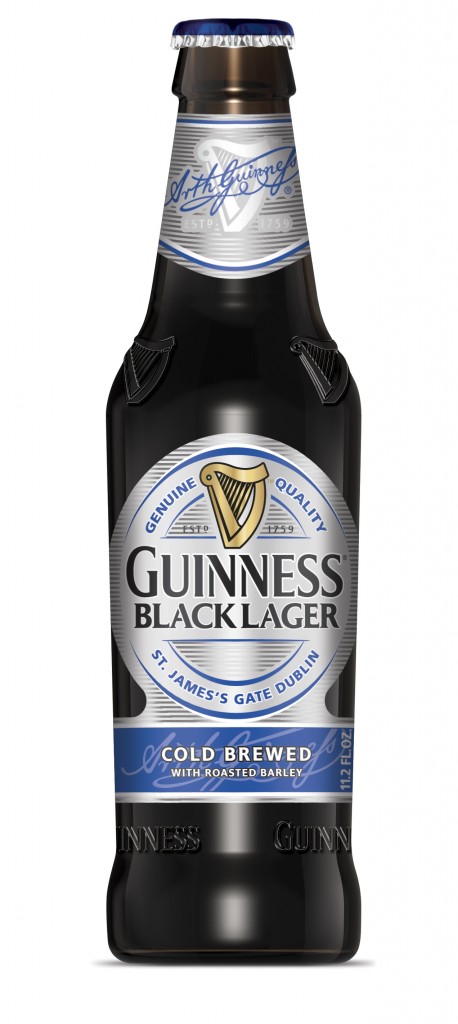 [Mar. 16, 2012] There was an egregious saying in my misspent youth, "Once you go black, you'll never go back," which when uttered by white people seemed to be a racial tribute wrapped in a slur. In any case, it wasn't referring to beer.
But these days, black is beautiful in the beer world. Black IPAs are the particular rage, though every brewery worth its roasted barley is making at least one stout, if not an oatmeal or Imperial or bourbon barrel-aged stout as well. Around this time of year, stout is the way to go. (St. Patrick's Day is Christmas, as far as the Guinness accountants are concerned.)
So it seems a good time for another ersatz beer competition, falling short of an honest head to head (so to speak) tilt in that we're at apples and oranges again with a lager and an ale, just as we were in throwing Harpoon IPA against Brooklyn Lager (click here).
One hardly needs to spill any cyber ink over the iconic nature of Guinness, the classic Irish dry stout, the best-selling in the world–ten million glasses a day worldwide we are told. It is the virtual Gaia of all the black stuff that has poured forth since. (Although perhaps a more Celtic goddess would be in order–Caillech?)
No time or inclination now for a disquisition on all that parent company Diageo has done in recent years to fiddle with what was basically perfect in search of greater market share. Little of it, if any, gladdens traditionalists' hearts. Younger generations of beer geeks probably don't know what all the fuss about Guinness is to begin with and head right for the Knock Me Over the Head Imperial Double Dry-Hopped Stout.
I digress, but the two bottles in question here could serve as Exhibits A and B in a What Were They Thinking? case. Guinness Black Lager simply seems like an idea whose time never really needed to come. Unless you're a bean counter, looking at all those non-stout drinking but wannabe Irish crowding the bar.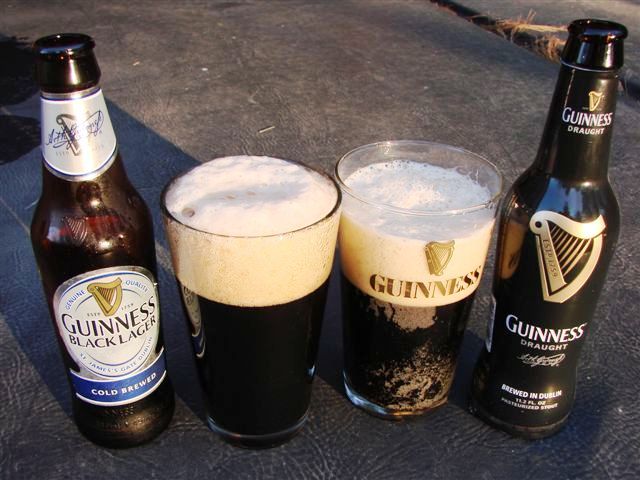 There's a lot of market share out there drinking lagers. Hence, a black lager with the Guinness imprimatur, introduced to the U.S. market last September. Watch the money roll in.
As for the bottled Guinness Draught, it does away with the widgets in the cans of Draft Guinness but still incorporates the nitrogen gassing that gives the beer its legendary creaminess. But to do this, one is supposed to drink the beer directly from the bottle.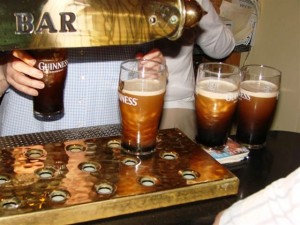 Drinking Guinness Stout from a bottle. Really, need any more be said? This from a company that a few years back would give away pubs in Ireland to those who could take the time and evince the skill to draw a perfect pint from the tap.
I continue to digress, and am probably turning red instead of the season's green. So back to the beer:
My wife and I frequently end the work day on the deck that encircles our house–she with a martini and two of the four cigarettes she allows herself daily, me with some kind of beer and a cigar. She claims it's the only time of the day that I talk to her. Not true, of course. (We frequently do the same thing in the morning, albeit with coffee.)
But in what has been a continuing series of what I might call Hit the Deck Tastings, I often force Lynn to sample a beer or beers I'm trying to get a handle on. She has a better palate than I do to begin with, even if not on the same level of beery terminology. But this is good, since she frequently comes up with novel responses to what she's tasting. So it was with these two.
The only clue I gave her was, "They're both Guinness." Then I put the Lager in front of her.
"That doesn't smell like the real Guinness," she said, understandably enough, if not accurately. (Both beers really are Guinness, after all, though the Lager is brewed at the company's new product site, the Great Northern Brewery in Dundalk, Ireland.) She didn't think it tasted like it, either. "There's some similarity, but there's something else going on."
"That smells like the real Guinness," she said of the Stout. After tasting it, she merely said, "Yup."
Could a Master Cicerone do better? And when she said of the Lager, "It tastes like they added seltzer to it," I couldn't get the sensory image out of my mind. It did taste like they added seltzer to it.
The similarity comes from the use of some roasted unmalted barley in the mix, as in the stout. And it's black all right. The beer seems skillfully made, and I'm happy to have tried it; I even ordered one while dining out a few weeks back, just out of curiosity. But I can't imagine this ever happening again. The beer lacks character; any German Schwarzbier would run rings around Guinness Black Lager, and wouldn't remotely suggest seltzer.
As for the bottled Guinness Draught, its chances are slightly better, if found like the recent six-pack we picked up–at a ridiculous sale price at Wal-Mart. (Not that I'm eager to admit this.)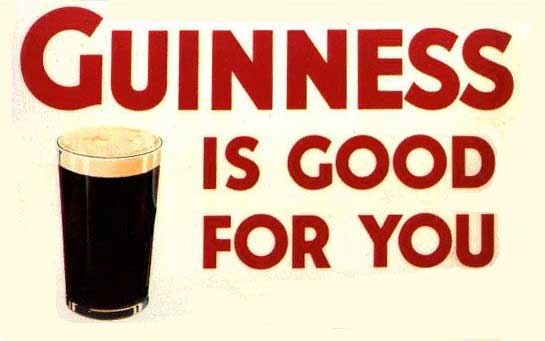 At least we're on more familiar ground here with the easy-drinking roasted and mild chocolately character of a beer we could down all night, if so moved. It lacks the craic of a freshly pulled pint in a noisy Irish pub, the way we really like to drink our Guinness. But, at least, it suggests it, yup.
Name: Guinness Black Lager; Guinness Draught
Brewer: Guinness & Co., Ireland
Style: Schwarzbier; Dry Stout
ABV: 4.5%; 4.2%
Availability: Both year-round, nationwide
For More Information: www.guinness.com
Related Posts:
Tap Beer(s) of the Week: Guinness Dublin Porter, West Indies Porter
12 Beers of Christmas 2014: Guinness The 1759
TAP Beer of the Week: Guinness Blonde American Lager