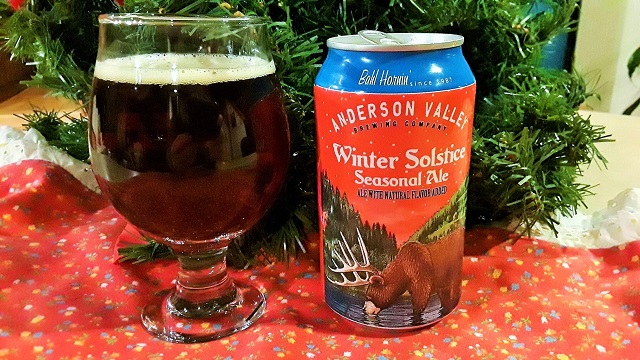 I didn't quite plan it that way, but I pretty much cracked open a can of Anderson Valley Brewing's Winter Solstice right at the moment winter officially arrived this evening at 5:23 ET. I later opened a second because, after all, this is the longest night of the year. No question the brew could help one get through it.
I've long known of the brewery, but have never had the pleasure of visiting it in Boonville, California, the largest town in the Anderson Valley (about 115 miles north of San Francisco). Large is relative: there are just over 1,000 residents. The town has achieved some minor notoriety for having its own dialect, Boontling. The brewery stamps a couple of Boontling words on each of its containers, "Bahl Hornin'" which translates as "good drinking."
It also regularly depicts Barkley, the so-called legendary Boonville "beer" which is part bear, part deer, and basically looks like a bear with antlers. Okay. It's all worked well for the brewery, founded in 1987, which pretty much puts it in the pioneering category in the craft beer business. There are plenty of medals in the brewery trophy case for its Hop Ottin' IPA, Boont Amber Ale, Barney Flats Oatmeal Stout and others that find their way into 37 states, although sadly not Vermont.
I put a call through to the brewery today to ask about the Winter Solstice and was lucky that brewmater Fal Allen picked up on the first ring. Allen is pretty much a craft brewing pioneer himself, having roamed around the industry for 30 years, with stints at Redhook, Pike's Place, Anderson Valley, a jog to the Archipelago Brewery in Singapore before returning to Anderson Valley and settling in as Brewmaster in 2010.
"The Winter Solstice has been around for at least 20 years, pretty much the same recipe," he said of the beer. "It's a traditional winter warmer in the British style, malty, not overly hopped, lightly spiced and meant to be consumed while sitting around a fire and enjoying the conversation with your friends."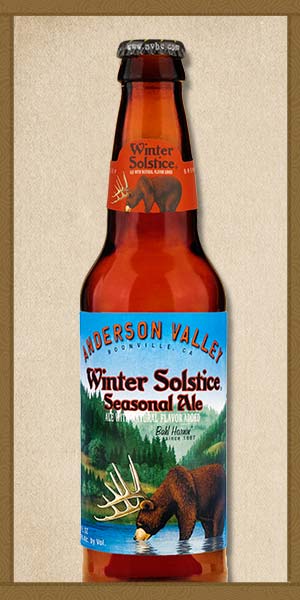 "And the spices are?"
"Magical spices."
That was clearly about as far as I was going to get with that, so nothing remained to do but wait for 5:23 pm. But further investigation showed that the beer is brewed with Pale, Crystal and Munich malts, hopped with Northern Brewer and Liberty, and doused with those magical spices.
In the glass, the beer is a clear and lovely deep copper with a light tannish head. The nose showed me the magic by suggesting cocoa and vanilla above all, mixed in with toffee notes and a slightly woody character. The palate, too, mostly delivers the cocoa and caramel flavors, with a whisper of mint, and a quite dry finish.
In truth the cocoa note was a bit much for me, though the beer is not overly sweet and glides down pretty easily. I suspect that would be true no matter how long or short the night.
Name: Winter Solstice
Brewer: Anderson Valley Brewing Company, Boonville, California
Style: Spiced Winter Warmer
ABV: 6.9%
Availability: September-January in 37 states
For More Information: https://avbc.com
[Dec. 21, 2018]
< 12 Beers of Christmas 7: Samuel Smith Winter Warmer
12 Beers of Christmas 9: Hermit Thrush Dark at 4:30 >