< Previous: Birdies and Brews Part 3: Vermont
Next: Birdies and Brews Part 5: Kohler, WI and Bandon Dunes, OR>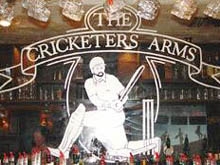 This is a stretch, because while the golf in Orlando is wildly abundant, the good beer-drinking opportunities are harder to find. But we've found them. Keep three places in mind and all should be well:
The Cricketers Arms Pub is in the Festival Bay Mall along International Drive, where much of the action (that is to say, theme parks) is outside of the city proper these days. A thoroughly English pub and eatery, the Arms always has some hand-drawn Fullers ESB as well as a half-dozen others from the cask, and more micros on tap or in bottle. There's likely to be a Manchester v. Arsenal match on the telly, but that's no hardship.
The funky Redlight Redlight in the Azalea Park area is a bit of a dive, but there's one terrific selection of micros and Belgian beers on 20 taps, two engines, and countless bottles. Just don't wear a suit here.
Lastly, it's time to find a package store, and Knightly Spirits is the place. There are actually four locales, all with good selections, but the mother ship is on South Orange Blossom Trail. Manager and buyer Alan Robey said, "We have a ton of beer here–850 to 900 craft beers, and a good chunk of Belgians: 250 sounds about right."
Arnold Palmer's Bay Hill Club & Lodge is probably golf choice number one. As the winter home of the King, it's not at all uncommon for guests to see him strolling about or putting in some range time. The Championship course was tweaked last year under his watchful eye, and Palmer pronounced himself pleased with the results: "The renovations really add some new dimensions of play for Tour players and for our guests."
Palmer's old rival, Jack Nicklaus, is responsible for the layouts at Grand Cypress, including 27 holes at the North, South and East courses, and 18 at The New Course, which is an overlooked but enjoyable tribute to the Old Course at St. Andrews.
Both Palmer and Nicklaus, along with Tom Watson, have top flight designs at the Reunion Resort, and the Annika Academy will help out golfers of any gender.
There are two challenging Greg Norman designs, the National and the International, at the lavish Omni Orlando Resort at ChampionsGate. And yes, toward the close of day, those are the sound of bagpipes you hear being played. (On the tenth hole of the International course for those who must know.)
The Mystic Dunes Resort and Golf Club in Celebration has a unique layout by former PGA Tour player and now TV analyst Gary Koch, with some elevation changes more common to Vermont than Florida. There are usually some good stay and play deals here as well.
And David Harman has done a solid design at the Shingle Creek Golf Club, part of the massive Rosen Shingle Creek Resort right off Universal Boulevard.
There's plenty more, but we have to stop somewhere.
# # #
This piece first appeared, in somewhat different form, in the Spring, 2011 issue of The Beer Connoisseur.
< Previous: Birdies and Brews Part 3: Vermont
Next: Birdies and Brews Part 5: Kohler, WI and Bandon Dunes, OR>

Reunion Resort on Dwellable