[Feb. 9, 2017]–Granted, with close to eight inches of fresh snow dumped on us today in southern Vermont, it might have been nice to revisit the robust Allagash Hibernal Fluxus recently featured in the 12 Beers of Christmas lineup. None in the larder, however, while this new addition to the year-round Allagash roster was.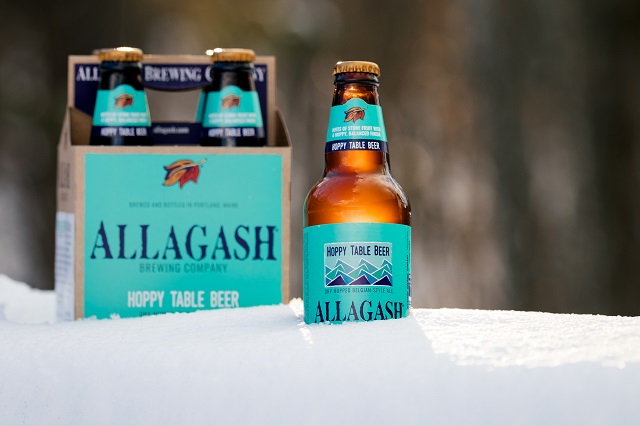 The first new four-pack since 2014 to emerge from the always fascinating Portland, Maine, brewery, Hoppy Table Beer is a prime example of how to produce a fascinating beer while keeping the alcohol level under 5% ABV. Sales will determine whether the marketing ploy—not calling the beer a session IPA—is as successful as it is admirable.
Because while there are loads of hops in the beer, dry-hopped at that, the house Belgian yeast and additions of coriander really take it out of the IPA category and into, well, something else.
Apparently there's a Belgian tradition from the early 20th century of malt-forward, low alcohol table beers—tafelbier in Flemish—that can roll in at ABVs as low as 1.5%, up to 3% or so, often consumed at mealtime. "We super-sized it," said Allagash brewmaster Jason Perkins, though 4.8% is still pretty mild by most of today's brewing standards. "If inspired by Belgian tradition, it's a hybrid American style."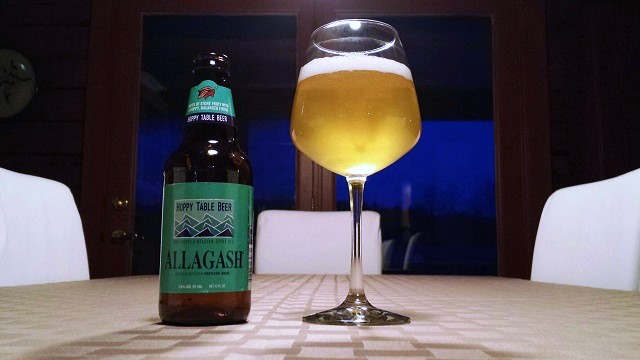 Allagash is calling the pale, lightly hazy yellow beer a Belgian-style ale. I'd peg it as a table version of a saison, thanks to a certain peppery quality in the palate. But there's no question as to the hoppy part of the equation. Brewed with four different hops (Chinook, Cascade, Comet, Azacca), the nose is redolent of grapefruit and lime, almost like jellied fruit. The palate is mildly sweet and fruity, with a fascinating crispness and a good muted use of coriander, which is also used with restraint in the company's wildly popular flagship beer, Allagash White.
As Perkins put it, "We knew we wanted to use coriander. Then we added Maine-grown organic oats, which gives Hoppy Table Beer its silky body. We also ferment the beer with Belgian yeast for fruit and citrus notes."
The beer wasn't too shabby even with all the snow swirling around outside, but its biting and refreshing finish should make it a summer favorite, too. Which makes it reasonable to speculate if the beer won't directly compete with the White? Those consumed with indecision always have the option of drinking both.
With the Hoppy Table Beer debut early last month, Allagash now produces nine year-round beers and a seemingly endless supply of seasonals, imaginative one-offs, barrel-aged rarities and the Coolship series. One could drop a small fortune trying to keep up with each release. First step, then: acquire a small fortune….


Name: Hoppy Table Beer
Brewer: Allagash Brewing Co., Portland, Maine
Style: Belgian Pale Ale
ABV: 4.8%
Availability: Allagash is distributed in 17 mostly eastern states and California, and Washington D.C.
For More Information: www.allagash.com
Related posts:
TAP Beer of the Week: Allagash Map 40
TAP Beer of the Week: Allagash Tripel
12 Beers of Christmas 2016 – 10: Allagash Hibernal Fluxus
TAP Beer of the Week: Allagash Black