[Sept. 6, 2017]–It was the casual parenthetical thought about Allagash Dubbel that jumped out at me. I was looking over the list of Allagash beers to be served Thursday evening when the Maine brewer takes over the taps at Wildwood Barbeque in Hadley, Massachusetts.  And an impressive list it was: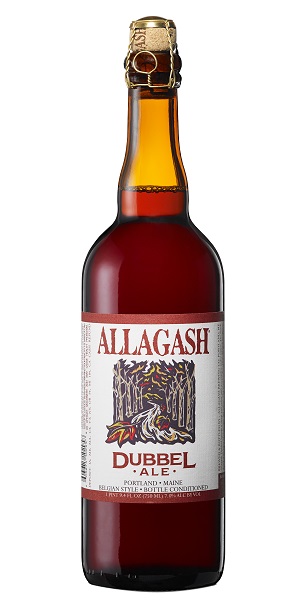 White
Dubbel Ale (going out of production soon)
Tripel Ale
Hoppy Table Beer
St Klippenstein
Fluxus (Saison-style ale brewed with rhubarb)
Astrid
I did a dubbel take and then cruised the interwebs in search of any scuttlebutt about Allagash taking its Dubbel out of the year-round lineup. Nothing. I immediately went out to some local beer shops to try to find some, pondering that the constant search for the bright new thing in beer can take its toll on old favorites. Nothing. I picked up some Allagash Tripel with a vague sense of desperation.
Finally I contacted the brewery and marketing director Jeff Pillet-Shore confirmed the news: "After much deliberation, we have decided to discontinue Allagash Dubbel.
"Even though we still love this beer, we just couldn't sell enough to maintain its freshness level up to our standards. We found ourselves in the position of shipping out 4+ month old beer from the warehouse, then when you add transit time to the wholesaler, wholesaler warehouse storage, sitting on retailers shelves, etc. it was just too much time. Even with our full QC process, it was just asking too much of the beer."
Pillet-Shore had no firm estimate as to how long the current inventory of the Dubbel would last, so it's clearly a case of get it while you can. I know I'll be downing some tomorrow evening at Wildwood: the Dubbel is dead, long live the Dubbel!
I said to Pillet-Shore, "Tell me you're not having the same problem with the Tripel!"
Luckily, no: "We're blessed—Tripel is doing great!"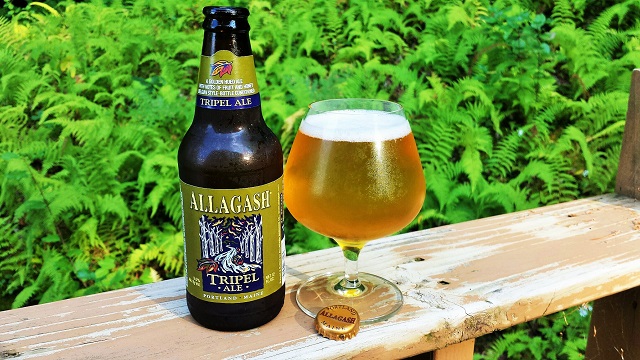 May it continue. When I cracked one opened I took a sip, then a gulp, and wondered why, aside from sheer neglect, I didn't drink this wonderful beer more often? Soon enough one reason arose, as the beer's 9% ABV began to take sway. Familiar examples of the Tripel style all come in at around 9% ABV: Westmalle—widely considered the original Tripel (9.5), Tripel Karmeliet (8.4), Unibroue La Fin du Monde (9), Chimay (8), Victory Golden Monkey (9.5).
Yet it's a quirk of most Tripels that, though strong, they evince little evidence of alcohol as they're going down. Until one tries to get up. So some caution is in order when hanging out with these deceptively easy-drinking beers.
Back in 2004 Allagash decided to cellar age some Tripel for seven weeks in bourbon barrels. Then it was blended with some fresh Tripel, and lo and behold, Curieux was born, now a year-round beer. It slightly darkens the Tripel's golden hue, adds bourbon and vanilla notes and bumps the ABV up to 11%.
Allagash tends to be pretty much on the money with its own website tasting notes, and of the regular Tripel they suggest it "reveals herbal notes and passion fruit in the aroma." The 12-oz. bottle neck label touts "fruit and honey."
I'm definitely picking up some honey notes, perhaps a touch of clove, and layers of fruit in the nose to be sure—pear, peach and apricot. The aroma is so lovely it should be in a sachet. The bouquet and like-minded flavor most likely comes from the Allagash house yeast, with a big flowery and spicy assist from the noble Tettnang and Hallertau hops.
There's a pleasing spice bite right from the get-go, but mostly the beer has a smooth and elegant complexity, lightly sweet, but with a dry and peppery finish. One is likely to find a touch more carbonation in the 750ml bottles than the 12-ounce, and they would serve well on dinner tables laden with spicy dishes, shellfish, lighter meats and poultry.
I'm curious to have it on tap tomorrow evening, once the services for the Dubbel are concluded. But I think I'll up my annual quota of the Tripel anyway. Why take chances?

Name: Tripel
Brewer: Allagash Brewing Co., Portland, Maine
Style: Belgian-style Tripel
ABV: 9%
Availability: Allagash is distributed in 17 mostly eastern states and California, and Washington D.C.
For More Information: www.allagash.com
Related posts:
TAP Beer of the Week: Allagash Map 40
TAP Beer of the Week: Allagash Hoppy Table Beer
12 Beers of Christmas 2016 – 10: Allagash Hibernal Fluxus
TAP Beer of the Week: Allagash Black