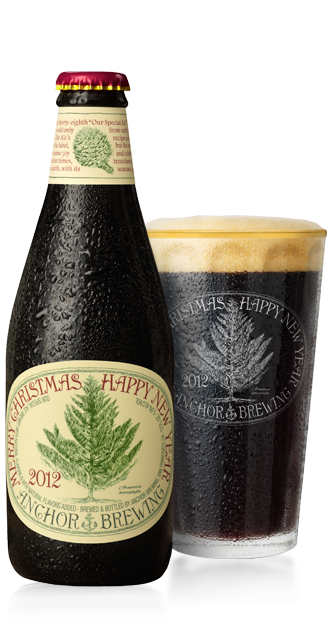 Plenty of other beer writers are trotting out picks to constitute two "Twelve Beers of Christmas" six-packs, so I decided to have some fun with it, too. I'll see if I can name one a day right up to New Year's.
I have a bit of a head start, since over on the [defunct] Back9Network.com I've been doing beer-of-the-week picks under the "Mug Shots" heading. There I've already touted Harpoon's Grateful Harvest Ale, Sierra Nevada's Celebration Ale, Shmaltz Brewing's Jewbelation Sweet 16, and Boulevard's Nutcracker Ale.
But the mother of them all, of course, at least in the United States, is Anchor Brewing's Our Special Ale. I gave ample history about the San Francisco's brewery's Yuletide practices in a post about the 2011 Our Special Ale, so no need to repeat all that here.
All we really need to know is 1) how the 38th rendition tastes and 2) what tree is on the label?
As for the latter, it's a Norfolk Island Pine, Araucaria heterophylla, and this year's video from Anchor is a nice little portrait of the artist behind all of the annual labels, Jim Stitt:
The Anchor Christmas Beer, as it is sometimes inaccurately called to no one's dismay, usually shows up just prior to Thanksgiving and hangs out until mid-January. It was a little late arriving in these parts this year, which gave me the willies when I heard a rumor that this might be the last year it was to be brewed.
But then I also heard a rumor it was the last year it would be brewed as a dark spiced ale, which is more credible and would negate the first rumor.
Rest easy. "The rumor is not true at all," said Candice Uyloan, with Anchor's public relations firm. "At this time, we couldn't tell you what the 2013 Christmas Ale will be like, but we have no reason to believe that it won't be a rich, dark spiced ale."
For many years now the beer has been like a trip into the mahogany forest, a dense brown ale with a spruce-like character, with hints of clove and nutmeg. A gingerbread house of a beer, perhaps, but never cloying.
The brewers keep the ingredients to themselves, and no doubt have a good laugh when they hear or read about some of the ingredients folks think are in there. I'll wade willingly into this trap right now.
The spruce character seems dialed back another notch this year, but there's a compensating fruity tartness that suggests cranberries to me. Adding to the impression is a more reddish tinge to the beer's color, which would certainly be in keeping with the season.
In any case, it's a treat once again, and a case seems about the right proportion for purchase.
Name: Our Special Ale 2012
Brewer: Anchor Brewing Co., San Francisco, California
Style: Spice/Herb/Specialty Beer
ABV: 5.5%
Availability: Nov-Feb, nationwide
For More Information: www.anchorbrewing.com