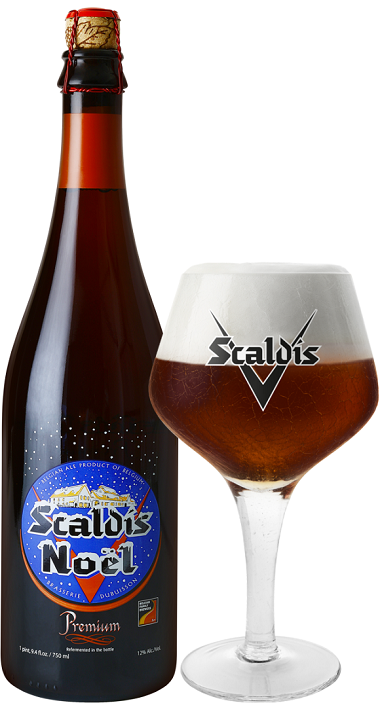 I had Scaldis Noël on my "likely" list before the Paste Magazine article appeared online on Dec. 14, with its results and rankings from a blind tasting of 104 Christmas beers and winter warmers. And I thought dealing with 12 beers was tough!
But after Paste gave the beer the number one spot, I underlined it on my shopping list. When I showed up at Meulemans' Craft Draughts in Rawsonville, Vermont, Greg Meulemans and I puzzled over the two different bottles he had. Well, three, really, the regular 11.2 ounce bottle, and two different vintages of the 750ml corked Premium version of the beer. The latter undergoes a further three-week fermentation in a warmish room in the bottle before release, usually resulting in a slightly higher ABV.
Since that's slightly higher than 12% to begin with, we're talking about a mighty big beer here.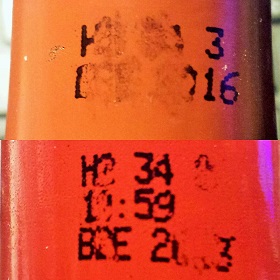 I couldn't decide which bottle to buy, so I plunked down about $18 for both the Premiums (which should make importers Total Beverage Solutions happy, at any rate). There were some numbers on the bottles that were both smudged just enough to make the meanings unclear, though Greg and I guessed that they might be "best by" dates of 2016 and 2013 respectively.
When I uncorked them for the assembled tasting team (the same threesome as on Christmas Eve), it was clear that we basically had two completely different beers on our hands, the newer one highly sweet, the other highly sour.
I would have had this report out closer to Christmas Day itself but that I was trying to track down the possible vintages and causes for such a disparity in tastes. The best that I came up with–all thanks to Jeff Baker, the Education & Training Manager for Farrell Distributing, which handles the TBS portfolio in Vermont–is that the listed dates are three years out from bottling. So we were probably drinking beers brewed in 2013 and 2010.
As my son-in-law Glenn Brunetti put it, "It's surprising how different they are. They're both boozy in a good way, tasting like a fine bourbon or something. But the older one tasted like more like hard alcohol to me because it was less effervescent."
True enough—the older beer was flatter, cloudier, more cidery and downright funky, as though it had picked up some Brettanomyces along the way, most likely triggered in that warmish room and developing a predominant character over the years. Not that this was necessarily a problem. Glenn actually preferred this version.
My son, Mike, did not. His response to the older beer was your basic scowl. But he detected some sour in the newer version as well, "though less of an afterbite." But he admitted, "I'm not a good guy to ask about these, because I'm not a fan. Not a beer I'd rush out and buy, no."
I can certainly get into beer funkadelia, and I drank the older beer down. But I preferred the newer one, finding it prettier (a clear and shiny copper), richer, sweeter, more barleywine-like than a beer that has over-stayed its time in the musty cellar. It was loaded with flavors and mouthfeel, to say the least, not a beer to be trifled with. Interestingly, the newer Premium is also 12%, the same as the basic Scaldis Noël, suggesting I probably should have picked up a bottle of that as well, so we could have really confused ourselves.
But it was a pleasant chaos–with the gift-giving behind us and a bounteous Christmas dinner ahead of us, it was a nice head start courtesy of the Dubuisson Brewery of Pipaix, Belgium. It's the oldest brewery in Wallonia, having been established by Joseph Leroy in 1769, and a member of the Belgian Family Brewers group because current owner, Hugues Dubuisson, can trace his maternal ancestry back to Leroy. Eight generations of the family have brewed their way through the company.
The Scaldis Noël itself is a mere quarter-century old, having debuted in 1991, and for all we knew just waiting to be put into our glasses on December 25, and bringing the 12 Beers of Christmas 2016 to a satisfying if somewhat mysterious close.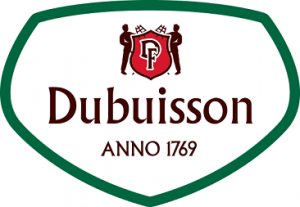 Name: Scaldis Noël Premium
Brewer: Dubuisson Brewery, Pipaix, Belgium
Style: Belgian Strong Dark Ale
ABV: 12% and 13%
Availability: Seasonally, most states
For More Information: https://dubuisson.com/en-us
[Dec. 25, 2016]
< 12 Beers of Christmas 2016 – 11: Kerstmutske Christmas Nightcap
12 Beers of Christmas 2016 Reprise >