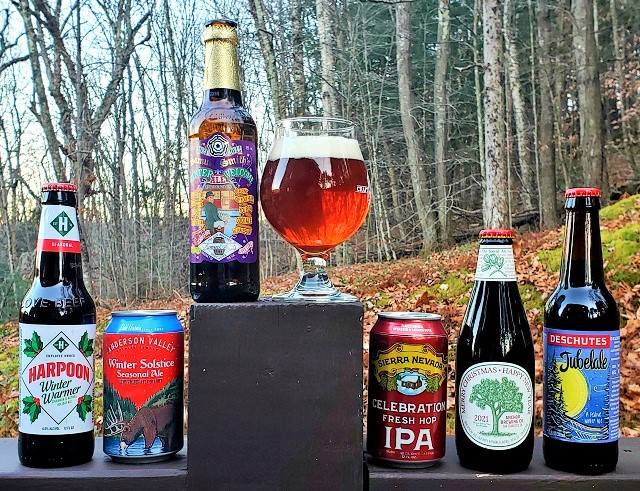 [Dec. 17, 2021]–As promised, we blew past 100 beers sampled in the now nine years of doing the 12 Beers of Christmas, hitting the milestone with our fourth beer in 2020, the Fantôme Hiver, certainly a worthwhile addition to the collection. Almost any selection from the year's batch would have been.
What am I talking about? The faithful know, and come joyful and triumphant for yet another go round. Newcomers are welcome as I go down the rabbit hole again and soon try to write 12 more or less coherent reviews of Christmas beers, holiday ales, winter warmers—call them what you will—as long as they seem to bear some relevance to our festive season or the approaching big chill.
A new wrinkle this year is that I was asked to do a Greatest Hits piece for SI.com/Morning Read and the "12 Days of Christmas (With a Beer Twist)" is now online. But all the beers sampled to date are linked to below.
I try to do all the annual reviews in consecutive days, usually failing, and only vowing to finish dashing through the beers by the Twelfth Day of Christmas, or Epiphany, January 6. Still, it's all a secular undertaking, and for 2020 it was a wrap by Dec. 30 in any case. That may have been due to the unfortunate lack of distractions. I love to share the beers for the varied responses that arise, but we were all alone last year, thanks to Covid.
That made it a very different Christmas—and the first time in their lives that our grandchildren were not here for the holiday—but we managed, and wound up celebrating Christmas 2020 with the whole family on Aug. 1, 2021.
The only other off note for the year came from the beer that was the hands-down winner in the festive packaging category, the Glazen Toren Canaster Winterscotch. With its red and green snowflake design on its paper wrapping, the beer couldn't have looked more Christmasy. But having read glowing reviews of the brewery before I had the beer, I subsequently found it a bit of a letdown. Ah, well.
All of these were sturdy brews; the average ABV clocked in at 8.31%. Only three beers were below 7%: Shipyard Prelude (6.7), Prairie Artisan Seasick Crocodile (6.3) and Harpoon's The Long Thaw (6.2). Tied at the blockbuster high end of 11% were the Straffe Hendrick Xmas Blend and Troëg's Mad Elf Grand Cru, both perfect picks for their respective days. Hard on their heels was the Pipeworks Rudolph vs. Unicorn at 10.5%. For beer, it was a good, strong year.
The rules of the game are not to repeat a beer from years past, other than the Anchor Christmas ale, which changes its recipe every year and is pretty much responsible for reviving the custom of holiday ales in the U.S. I stretched the rule a bit in 2020 when I again had a Troëg's Mad Elf, but this was the Grand Cru version, a decidedly different beer from the regular (if one can call it that) Mad Elf. I also had another holiday brew from the Berkshire Brewing Company, when I realized the brewery also changed its recipe each year, and I had run out of other options anyway.
Still, I wouldn't think of not warming up with some old favorites with unchanging recipes over the years, like Sierra Nevada Celebration Ale (which I reviewed before I had begun the 12 Beers of Christmas series) and Deschutes Brewery Jubelale, which appeared in 2014. (But thanks to the brewery, I do have a bit of a surprise in store for this year, once the series gets underway.)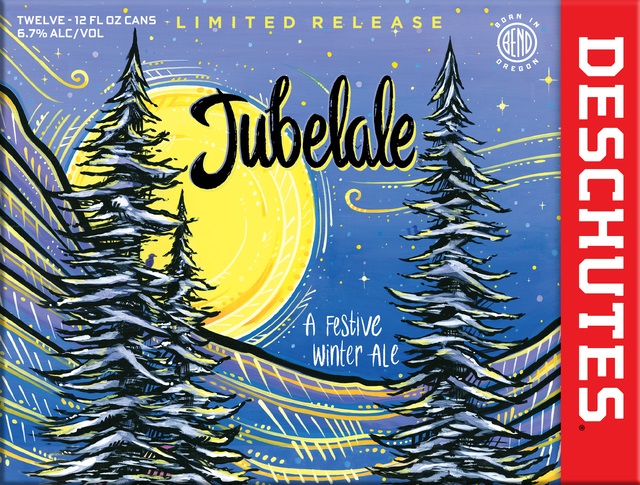 The extent to which Jubelale changes every year is in its label art, and this year the task fell to Stephanie Littlebird Fogel, who calls herself a Contemporary Indigenous Artist. She's a member of Oregon's Grand Ronde Confederated Tribes, and a descendant of the Chinook and Kalapuyan people . She specializes in painting and printmaking, using acrylic paints on a wood panel for this year's label.
Fogel worked for awhile in Portland, Oregon's Pearl District, and often dropped into the Deschutes pub there for lunch. She said, "So the brand really reminds me of laughter with friends and collaborators. Working in collaboration with the brewery was an amazing opportunity to translate my colorful style into a label design that reflects the magic and wonder of the winter season. We chose the moon as the 'subject' for the design and I wanted to depict that reflective, sparkling energy that can only be experienced on a snowy evening."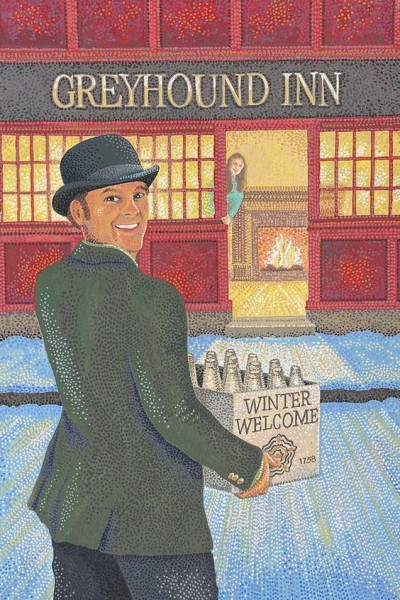 I've since realized that the Samuel Smith Winter Welcome ale, also with a set recipe for the last 30+ years it has been imported to the U.S. from its home in Tadcaster, England, does change its label every year (other than the frou-frou framing around the central illustration). This year's label, "Drayman," offers a tip of the hat to the people who deliver Winter Welcome and other Samuel Smith beers to stores, bars, and restaurants—locally, barrels are often still delivered by horse-drawn dray.
The same artist, Craig Gillin, has been doing the labels all along, all looking vaguely pointillist, though aiming at a 19th century illustration technique called chromolithography. Gillin was just out of art school when he first landed the assignment; now he has his own Washington State design firm.
Gillin at first sketched out a drayman with a hipster-like beard and mustache, but the brewery requested he be given a shave, and so he was. The drayman is shown delivering some Winter Welcome to the Greyhound Inn, an actual pub in Saxton, about five miles south of Tadcaster.
The Winter Welcome made the 2018 roster, and as I said then also deserves an annual visit. So I made one, shown in the glass in the photo up top, along with Anderson Valley's Winter Solstice and Harpoon's Winter Warmer.
Here's the entire list of all the beers visited up to this point:
<<<>>>
The 12 Beers of Christmas
2020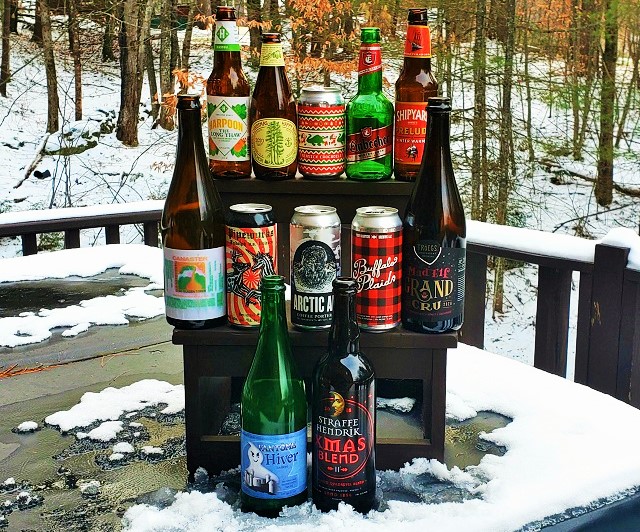 1 Anchor Our Special Ale 2020
2 Liambru Tasty Arctic Al
3 Four Quarters Buffalo Plaid
4 Fantome Hiver
5 Einbecker Winter Bock
6 Glazen Toren Canaster Winterscotch
7 Prairie Artisan Seasick Crocodile
8 Straffe Hendrick Xmas Blend
9 Shipyard Prelude
10 Pipeworks Rudolph vs. Unicorn
11 Harpoon The Long Thaw
12 Mad Elf Grand Cru
2019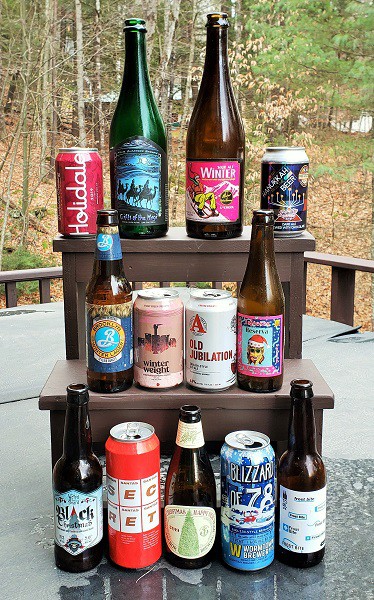 1 Anchor Our Special Ale 2019
2 Brooklyn Winter Lager
3 Stony Creek Winter Weight
4 To Øl Santa's Secret / Frost Bite
5 Four Quarters The Gifts of the Magi
6 Weird Beard Brew Co. Black Christmas
7 Struise Tsjeeses Winter Ale
8 Wormtown Blizzard of 78
9 Shmaltz Chanukah, Hanukkah: Pass the Beer
10 Avery Old Jubilation
11 Trois Dames Winter Sour
12 Berkshire Brewing Holidale
12 Beers of Christmas 2019 Reprise
2018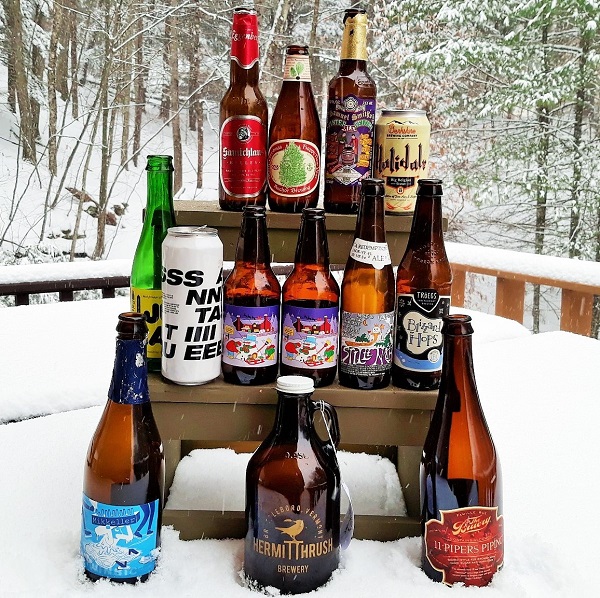 1 Anchor Our Special Ale 2018
2 Mikkeller Win Bic
3 To Øl Santastoque
4 Samichlaus Helles
5 Berkshire Brewing Holidale
6 Troëg's Blizzard of Hops
7 Samuel Smith Winter Welcome
8 Anderson Valley Winter Solstice
9 Hermit Thrush Dark at 4:30
10 Prairie Artisan Ales Christmas Bomb
11 The Bruery 11 Pipers Piping
12 De Dolle Stille Nacht
12 Beers of Christmas 2018 Reprise
2017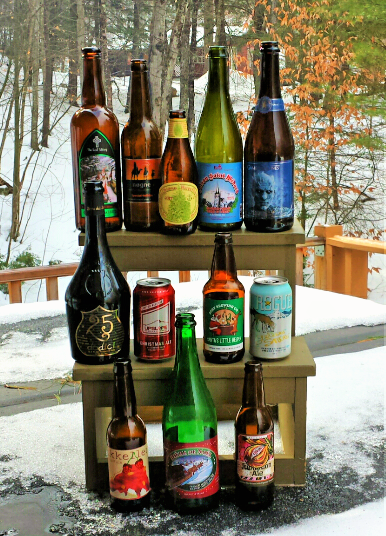 1 Anchor Our Special Ale 2017 
2 Rogue Yellow Snow Pilsner 
3 Baird Jubilation Ale 
4 Thiriez Bière de Noël 
5 Saison Saint Médard Cuvée de Noël 
6 Ommegang Winter Is Here 
7 Birra del Borgo 25 Dodici
8 Port Brewing Santa's Little Helper
9 Lost Abbey Gnoel de Abbey
10 Nøgne Ø Special Holiday Ale
11 Upslope Christmas Ale
12 Mikkeller Ris a la M'ale
12 Beers of Christmas 2017 Reprise
2016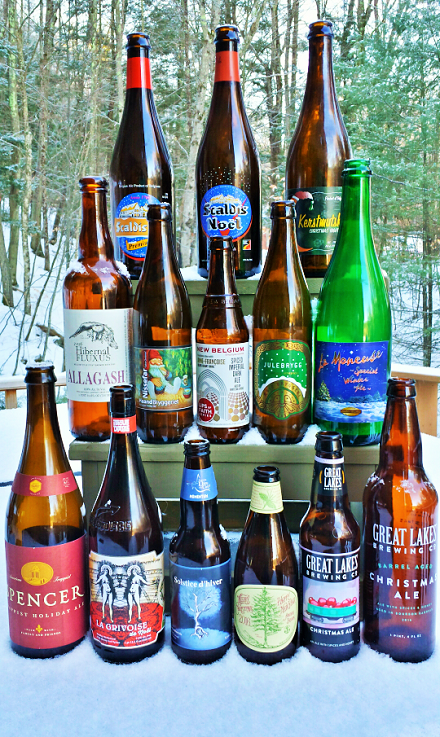 1 Anchor Our Special Ale 2016
2 Great Lakes Christmas Ale
3 New Belgium Anne-Françoise Spiced Imperial Dark Ale
4 Spencer Trappist Holiday Ale
5 Le Trou Du Diable La Grivoise De Noël
6 Blaugies La Moneuse Special Winter Ale
7 Aegir Bryggeri Julebrygg
8 Dieu du Ciel Solstice d'hiver
9 Haandbryggeriet Nissefar
10 Allagash Hibernal Fluxus 2016
11 Kerstmutske Christmas Nightcap
12 Scaldis Noël Premium
12 Beers of Christmas 2016 Reprise

2015
1 Anchor Our Special Ale 2015
2 Jewbelation 19
3 Warsteiner Winter Special Edition
4 Jolly Traveler Winter Shandy
5 Magic Hat Feast of Fools
6 Page 24 Bière de Noël
7 AleSmith Double Red India Pale Ale
8 Smuttynose Smistletoe
9 Wychwood Bah Humbug Christmas Ale
10 Ridgeway Lump of Coal
11 De Ranke Père Nöel
12 The Bruery 8 Maids-a-Milking
12 Beers of Christmas 2015 Reprise
2014
1 Anchor Our Special Ale 2014
2 Harpoon UFO Gingerland
3 Hanukkah, Chanukah Pass the Beer
4 Guinness The 1759
5 Samuel Adams Merry Maker Gingerbread Stout
6 Elysian Bifrost Winter Ale
7 Ommegang Adoration Dark Winter Ale
8 Deschutes Jubelale
9 Petrus Winter #9 Ale
10 3 Sheeps Ewephoria
11 Baladin Nöel
12 St. Bernardus Christmas Ale
12 Beers of Christmas 2014 Reprise

2013
1 Anchor Our Special Ale 2013
2 Troëg's The Mad Elf Ale
3 Victory's Winter Cheers
4 Magic Hat's G-Thing
5 10 Barrel Brewing Pray for Snow
6 Corsendonk Christmas Ale
7 Mahr's Bräu Christmas Bock
8 Sixpoint Global Warmer
9 Nöel des Géants
10 Mikkeller Hoppy Lovin' Christmas
11 Harpoon Winter Warmer
12 Dupont Avec les Bons Voeux
12 Beers of Christmas 2013 Reprise
2012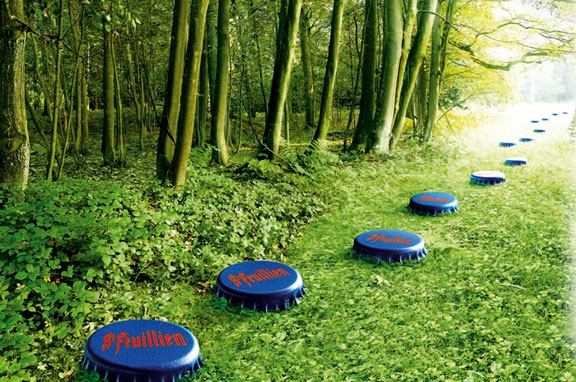 1 Anchor Our Special Ale 2012
2 Nogne Ø Winter Ale
3 Samuel Adams Winter Lager
4 Southern Tier 2XMAS
5 St. Feuillien Cuvée de Noël
6 Delirium Noël
7 Newcastle Winter IPA
8 Jolly Pumpkin Noel de Calabaza
9 Gouden Carolus Noël
10 Otter Creek Winter Red Ale
11 Magic Hat Wooly
12 Element Winter Ion