[July 27, 2013]–Three time zones, three local beers. At the literal end of the day I thought this was a pretty good feat. To get to Bend, Oregon and the start of a new Golf Road Warriors trip, I had to change planes in Atlanta (Eastern Time), wait out a short layover in Salt Lake City (Mountain Time) and finally arrive in Redmond, Oregon (Pacific Time), for the 20-minute or so ride to Brasada Ranch, which is actually in Powell Butte.
In Atlanta I downed a Sweetwater 420. (As noted here, much as I did before the last Golf Road Warriors trip to Maui.) In Salt Lake City it was a Polygamy Porter (naturally) from Wasatch Beers. When I rolled into Brasada Ranch Mary Paxton, guest services manager, put a Ninkasi Brewing Total Domination IPA into my hands. Mission Accomplished.
Well, we know how that goes. It began to gnaw on me that the Ninkasi, tasty as it was, wasn't exactly a local brew since it's produced in Eugene. So I headed over to The Range restaurant at Brasada and promptly dove into the Boneyard Beer RPM IPA.
We were set to dine here the next evening, but as I was mildly peckish bartender Brandon Blake suggested the house-cured breaded pickles. (Virtually everything is done in house at Brasada, which sounds the local farm-to-table theme loudly.)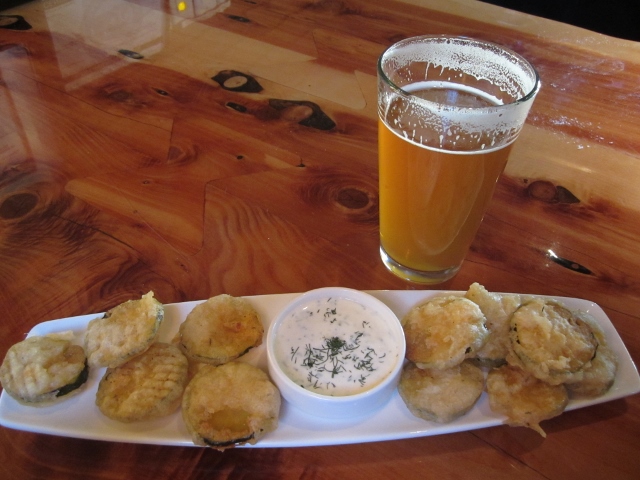 This turned out to be a good suggestion. It went well with the RPM, a nice contrast of  flavors. The pickles weren't overly sour, but the beer is wildly fruity, made with four northwest hops, though the brewery is a little cagey in saying which.
The recipe probably varies, given the flighty nature of hop crops these days. But Citra seems a good bet for one of the main additions, since the beer gives off citrus and tropical fruit aroma and flavor, and plenty of both. It's a 7% ABV brew, and seems suitably packed to the wall with body. The IBUs are spicy to an almost metallic degree, but the beer softens a bit as it warms, giving off some mildly grassy aromas. This was a very good introduction to the Bend beer scene. The sole caveat is that it may be tough to beat.
Since Brandon was batting 1.000, I asked him to give me his Top 3 Bend Breweries. Boneyard led the pack, and the RPM was his favorite of the brews. "It's probably our most popular beer here," he said. "But they're a small brewery, still not distributing other than at draft accounts and at the brewery. But there are plans to start canning it soon."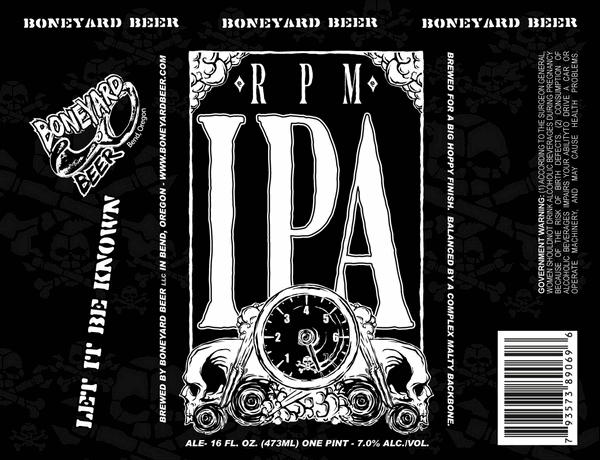 I can well imagine cans of RPM IPA becoming almost as sought after as Heady Topper, that rarity from Vermont that is currently the best beer in the world according to the rankings on the BeerAdvocate website. (I've smuggled a few cans into the state to bestow on the fortunate.) Although the brewery's 8.9% ABV Hop Venom Double IPA might actually be more analogous.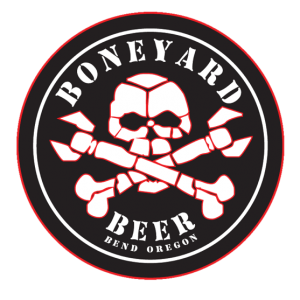 The company was established by brewing veteran Tony Lawrence, who like many in the industry in Bend, cut his teeth at Deschutes Brewing, and co-owners Clay and Melodee Storey. Piecing together a brewhouse out of bits and pieces from other breweries (picking from the boneyard), the partners sold their first brews in May of 2010.
The Boneyard name, skull and crossbones logo, seem to feed into a vaguely goth, tattooed biker chick branding look. Well, whatever. It's the beer in the glass that matters, and Boneyard nails it.