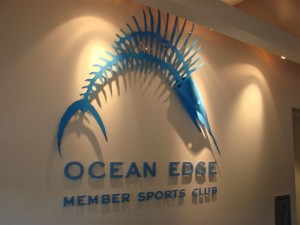 I had my first Cape Cod Red at a reception prior to the opening of the (now opened) Member Sports Club at the Ocean Edge Resort in Brewster, Massachusetts. My second and third quickly followed.
I'm not a member at Ocean Edge; I'd shown up for the gathering and to play the Nicklaus Design course on this sprawling Cape Cod property (for a Troon Golf & Travel piece I'm working on).
After a four-hour drive from Vermont I had just about enough time to lace up my shoes, attack the course, and then change my clothes before the reception.
The Members Sports Club is a new amenity that–like the golf course–is open only to members, though resort guests can utilize it for a slight additional fee. There's plenty to utilize, too—dozens of cardio- and strength-training machines (some overlooking the green of the devilish fourteenth hole), a separate Pilates studio, a heated outdoor pool and Jacuzzi, and countless weights and exercise balls.
But there's also a nice members lounge with a fireplace and bar serving light fare and, in my case, a couple more Cape Cod Reds.
The golf course gave me fits the first time around, although it didn't help that I was hitting the ball to all points of the compass and playing solo, making it that much tougher to find errant pellets.
I played it again the next day, starting out solo but soon meeting up with two women who were members and therefore knew the course and some of its history as an old Geoffrey Cornish-Brian Silva design—itself a 1986 re-do of the old nine-hole Brewster Golf Course.
The development firm Corcoran Jennison, which now owns the property, began an $8.5 million re-do of the re-do in 2006, and the result is the only Nicklaus Design golf course on the Cape.
After Sue Goldstone and Sunny Grodberg and I finished up the round together we had an alfresco lunch at the clubhouse's Linx Tavern, where more Cape Cod Red certainly seemed in order.
The resort has a respectable drinking pedigree, in the sense that the original owner of the property, Samuel Mayo Nickerson, made his fortune as a distiller in Chicago, as well as banking. A native of Chatham, Nickerson married a Brewster native, Matilda P. Crosby. When back visiting in the late 1880's Nickerson was gazing over Cape Cod Bay on a bluff in Brewster when he had an epiphany that he should build a house for his son's family.
So it came to pass, and Roland Nickerson, his wife, Addie, and their three children moved in in 1890. But in 1906 Fieldstone Hall, as it was called, burned to the ground, and the loss proved fatal to Roland, who died two weeks later.
With Addie, the elder Nickerson plunged in again, building the Mansion and refacing the Carriage House in stucco to fireproof it. That work was completed in 1912 and are the buildings grandly on display today, 100 years later.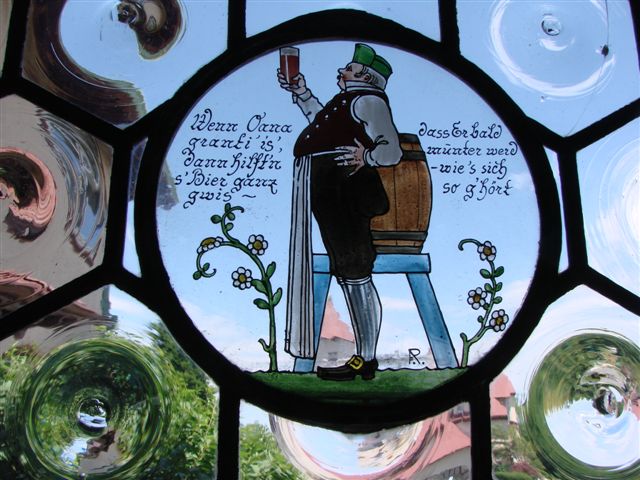 The interiors of the Mansion retain their old-world splendor, several of the rooms now intimate dining areas. In one, now called the Nickerson Room, I spied these leaded bullseye glass windows. I had no idea what the German meant, but it clearly had something to do with beer.
Social media to the rescue! I put it out on Facebook and once past others' wisecracks had an able assist from Julie Anne Johnson of "All About Beer" magazine. She sent the photos on to Conrad Seidel of Bierguide in Vienna, Austria, and he replied: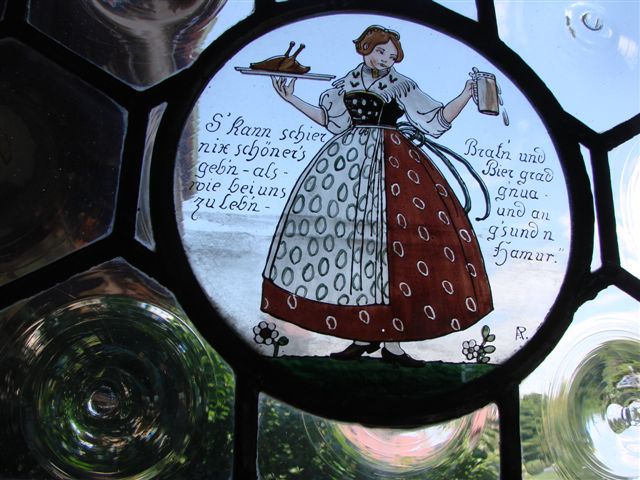 "The picture with the man translates (from very colloquial German) as: 'If someone is in a bad mood beer will certainly help / to make him joyful as is appropriate.' The one with the lady says: 'There is definitely no better fate than to live here with us – / roasted meat and the sufficient amount of beer along with a good mood.'" Mystery solved, and I have a new Facebook friend.
Bayzo's Pub is a warmly wooded spot downstairs in the Mansion, but other than the bartenders and a lonely looking piano player the night I was there there wasn't another soul in the place. That's because upstairs and outside Cape Cod was having an early summer evening that made it a crime to stay inside.
Out on the Ocean Terrace there was all sorts of action around a central bar area where seven New England beers were on tap plus Guinness. I tried the Ocean Terrace Ale, a pale ale made for the resort by the Wachusett Brewery, and which a bartender confessed to me was the same as the Wachusett Country Ale.
It was fine (if no Green Monsta IPA), but I felt drawn to having yet another Cape Cod Red drawn.
After I bid my playing partners farewell after the next day's round it was time to hit the road back to Vermont. But since all the Cape Cod Red I'd had to that point had been on draft, I still hadn't seen one in a bottle. I gather it's a rare sight anyway, since bottles and growlers are available only at the brewery in Hyannis. That seemed to be more or less on my way home, so I tuned the GPS to the "Beer" setting and in short order retail manager David Meece of the Cape Cod Beer Brew Crew was giving me the quick tour.
"This is my second year here," he said, "but I've been a patron since the start."
The start evolved as Todd Marcus, an electrical engineer and homebrewer, had an epiphany of his own one night in 1995 at a meeting of brewers at the lauded Redbones beer and barbecue joint in Somerville, Massachusetts.
He never looked back. He earned his brewing chops with the Long Trail Brewing Company in Vermont, Sunday River in Maine and John Harvard's BrewHouse in Pennsylvania before returning home to Massachusetts to work at the Hyannisport Brewing Company. That later became the Hyport Brewing Company, which eventually closed its doors.
But Cape Cod Beer arose from its ashes in 2004, brewing in the same locale until moving to the new brewery on Phinney's Lane in 2006, where there is beer to take away, frequent tours of the now 15-barrel brewery, and a lively retail shop. Along with brewery and brewing paraphernalia there are all sorts of Cape Cod products on sale, emphasizing the company's community-mindedness.
Indeed, the beer is primarily a Cape Cod presence, though it can be found in a 60-mile radius, on some draft lines in Plymouth and Wareham. It's on tap in about 220 bars and restaurants on the Cape, if half of them seasonal in nature, and still self-distributed.
So I finally had a bottle of Cape Cod Red to haul back to Vermont—along with the current summer offerings, the Beach Blonde (at 4.9% ABV), Summer Hefe-Weizen (5.0%), and IPA (6.0%). Noting the freshness and perishability of the beer, David hoped I had some kind of cooler to cart the cargo home with. I wrapped it in my thermal golf jacket and kept it perched directly under the air-conditioning vent.
Back home I enjoyed them all, albeit the Beach Blonde was bleached a little too blonde for me. The Summer was a traditional Bavarian style Hefe-Weizen with appealing clove notes, and the IPA a sturdy and citrusy hop fest. The latter two, with the Red, are the year-round beers, with an annual offering of about 23 different varieties.
(Having just seen one of my favorite film classics, Preston Sturges' "Christmas in July," I wish I had an excuse to head back to the Cape later this month for the Christmas in July release, an oak-aged Old Man Winter. If they saw the movie, they should throw some coffee beans into the mix.)
(Another reason to return: I just found out that Provincetown's Cabot's Candy is making a Cape Cod Beer Peanut Brittle, using Cape Cod Red as an ingredient.)
The Red is the flagship beer, once upon a time called Channel Red, hence the "Red-Right-Return" blurb on the label, a term that escaped me but familiar enough to the Cape's nautical types, who know to keep the red lights on the right when navigating back into harbor channels.
I confess I wasn't expecting much before downing my first Cape Cod Red; I've had too many amber beers in my time that simply don't fire the imagination. So I was pleasantly surprised at the deep ruddy hue of the beer, the pleasing caramel and grain aromas, and the rich toffee malt character, nicely rounded off with a dry hop bite. More became my operative response.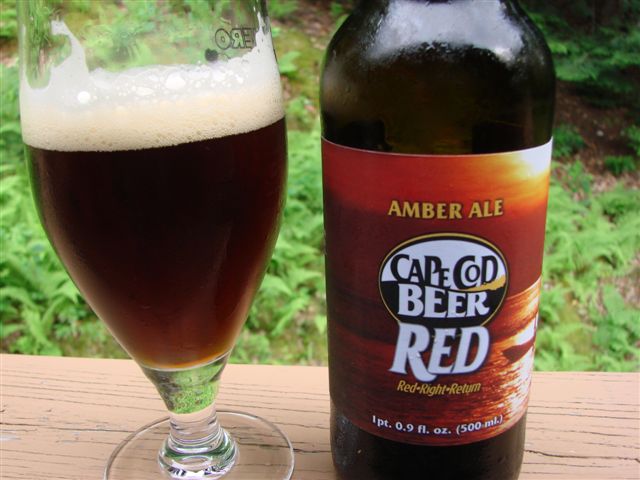 When he did his 1,000th batch, Marcus paid tribute with an Imperial Red #1000, made with precisely 1,000 pounds of malted grains, a kitchen sink of hop varieties and fine-tuned to an 8% ABV—one percentage point for each year of the brewery's existence.
Should make batch 2,000 pretty interesting, although with two to three brews a day going on, it won't take another eight years.
Name: Cape Cod Red
Brewer: Cape Cod Beer, Hyannis, Massachusetts
Style: Amber Ale
ABV: 5.5%
Availability: Year-round on Cape Cod and some outlying towns.
For More Information: www.capecodbeer.com