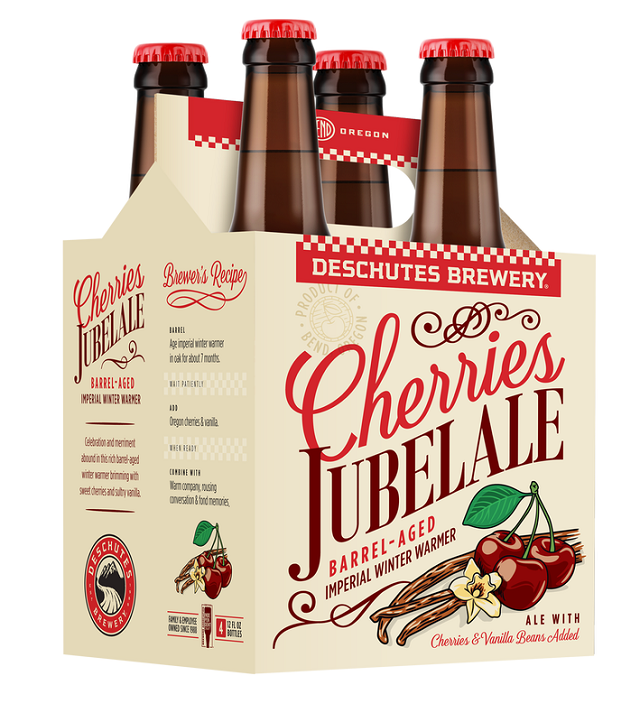 As I noted in the 12 Beers of Christmas 2020 Reprise, the holiday season wouldn't be quite the same without the regular seasonal, Jubelale, from the Deschutes Brewery of Bend, Oregon. But a tip of the glass to the brewery for sending along the Cherries Jubelale this year. (Even while I bemoan the fact that I have only one slim 12-oz. bottle, with no way to find anymore here in Vermont. Deschutes distributes to more than 30 states, but Vermont is, alas, not one of them.)
The regular Jubelale is a classic all by itself. It was part of the 2014 12 Beers of Christmas roster, and as I noted then I pick up a hint of cherry in the regular brew.
There's no quibble about the cherry flavor this time around. The beer is made with four malts (Pale, Extra Special, Caramel, Roast) and East Kent Golding hops, and is said to be "dessert inspired." Meaning, Deschutes founder Gary Fish has a habit of pairing regular Jubelale with Cherries Jubilee.
Well, now it's here in one serving, with sour Oregon cherries and vanilla bean added to the mix, then all aged in red wine barrels. The ABV hikes up to 9.2% from the regular Jubelale's 6.7%, and also ups the level of complexity in an entirely beguiling way.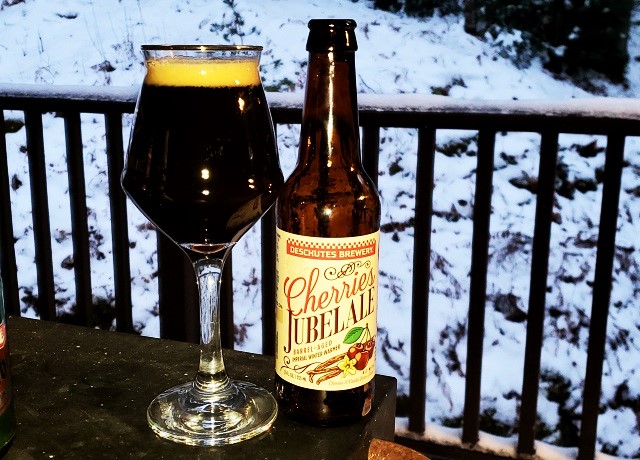 The beer pours dark with a light tan head, with garnet highlights if held up to the light. The nose is loaded with an agreeably aggressive, boozy cherry assault. There are all sorts of suggestive flavors in the palate—cherries above all, but also coconut and ginger, though neither are actually in the beer. It's vinous and oaky and somehow I managed to nurse it over a pleasing hour. The malt and cherry aromas faded over the time and the alcohol rose to the fore, but the flavor remained jammed with cherry. What's not to like?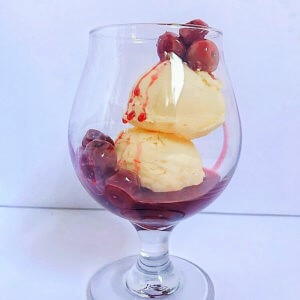 Cherries Jubilee, the dessert, is said to have been created by August Escoffier in honor of Queen Victoria's Diamond Jubilee in 1897. Classically the cherries, poached in a syrup, are mixed with heated Kirsch and then set aflame at the table before being ladled onto vanilla ice cream. (Here's a recipe from the source, so to speak, the Escoffier School of Culinary Arts.)
The vanilla is already in the Cherries Jubelale, and I wouldn't recommend setting the brew afire. As for the ice cream, that's worth a thought.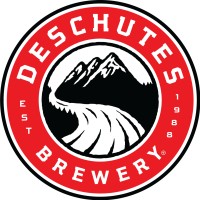 Name: Cherries Jubelale
Brewer: Deschutes Brewing
Style: Imperial Winter Warmer
ABV: 9.2%
Availability: Seasonally, in the 33 states where Deschutes is sold
For More Information: www.deschutesbrewery.com
[December 22, 2021]
< 12 Beers of Christmas 4: 3 Floyds Alpha Klaus
12 Beers of Christmas 6: Four Quarters Krampus Nacht >