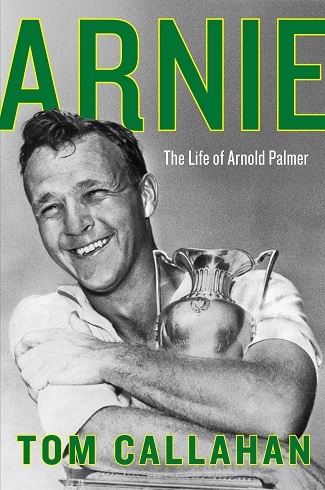 [May 26, 2017]–The 2017 Arnold Palmer Invitational ended in an exciting and sweetly sentimental fashion. The nostalgic mood surrounding the tournament and a variety of specials about Arnie which preceded it suggest I'm not to be trusted when it comes to stories about the King. Cue up a good Palmer story, put a little emotive music behind it, and I start welling up in no time.
That he's gone suggests more that has vanished, or is vanishing. Losing one's heroes is one of the curses of growing older. (My aching right knee appears to be another….)
But to no one's surprise, the first biographies of Arnold Palmer are rolling into bookstores. First in the queue is Tom Callahan's Arnie: The Life of Arnold Palmer (Harper, $27.99), and it sets a high standard. A veteran with a small shelf of books to his credit, Callahan has hung his hat on a number of sportswriting posts. Golf Digest used to send him off every decade to Arnie's home base in Latrobe, Pennsylvania to write the stories "Arnie Turns 60," "Arnie Turns 70," "Arnie Turns 80."
Those visits, plus a lifetime of talking about Palmer with his playing contemporaries, left Callahan with a mountain of golden nuggets to choose for display. And he has chosen wisely, in a roughly chronological fashion that never ceases to be engaging and, frankly, more vivid than Arnie's own recently released book, A Life Well Played (reviewed here).
Where else are you going to hear so directly from his good friend Dow Finsterwald that Palmer was enraptured by cowboy movies?: "Arnie will watch anything with manure in it."
I've always suspected that after Palmer's death a tell-all biography would come along, detailing his frequent catting around while on tour, a subject that never came up while he was alive except in, well, well-guarded locker room stories. Callahan touches on "Arnie's well-known womanizing" but doesn't beat it to death, in a chapter mainly dealing with the imperfections of sporting icons like him, Babe Ruth, Tiger Woods, Muhammad Ali.
"Palmer was a perfectly imperfect man," Callahan writes. "Not because he was good at his game, but for some other reason, he was easy to forgive."
Easy to forgive, to admire, to miss: by the end of Callahan's book, which roams over the congregation of golf notables assembled at Palmer's memorial service, it will easy for anyone to well up, even without the music.
***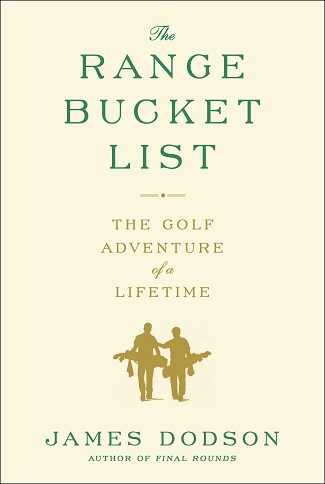 Palmer is also a major presence, albeit not the subject, in James Dodson's The Range Bucket List (Simon & Schuster, $27), which is really a memoir that roams over the author's golf-writing life, now 11 books and countless articles deep. That certainly includes Palmer, as his 1999 autobiography A Golfer's Life earned Dodson the coveted title credit "With James Dodson."
Dodson last saw Palmer shortly before the latter's death, arriving in Latrobe while Palmer was watching a rerun of "Gunsmoke" (and presumably catching a whiff of manure). "What can I do for you, Shakespeare?" Palmer asked.
Dodson answered, "Nothing…. You did everything when you asked me to collaborate on your book. That changed my life."
While it surely did, it was a putter that he buried in a green in anger in his golfing youth that really began Dodson's literary golf odyssey. Temporarily banned from the course he had scarred, Dodson was given a reprieve soon thereafter when his father took him to Pinehurst, and the mere vision of that golfing mecca began to work its charms on him.
"Live in Pinehurst" became item number 7 on a youthful list that Dodson came to call his Range Bucket List, or Things to Do in Golf. Number 1 was "Meet Arnold Palmer [check] and Mr. Bobby Jones [only spiritually]".
It was his father who nudged Dodson in the direction of writing about golf, and then became the poignant subject himself in Final Rounds, the 1996 book that put Dodson on Palmer's radar, with its compelling account of the father and son's trip to Scotland shortly before Braxton Dodson's death.
There's actually a fair amount of death clinging to this summing up of his career, as Dodson revisit subjects and friends he has met along the fairways, more than a few about to hang them up for the last time. And while this is certainly a bittersweet reckoning, it is evident that for this cast of characters golf has been a meaningful, essential, joyous part of their lives. And Dodson, clearly a born storyteller, brings their tales—and his—warmly to life.
***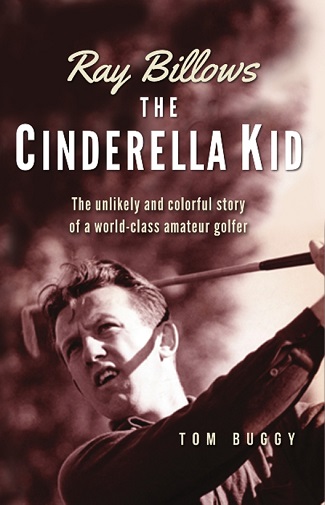 A couple of self-published volumes came my way by authors less imbued with Callahan's and Dodson's well-earned writing gifts, but with earnest tales to tell (both available through Amazon, $14.95).
Tom Buggy has written a slim but admiring tribute about one of the great amateurs to play the game in Ray Billows, the Cinderella Kid. Born Ray Billow in Wisconsin in 1914 (the ending "s" became permanently attached thanks to sportswriters), the son of a machinist began playing—and winning—golf in his teens. A caddying loop led him to a shipping clerk job in Poughkeepsie, New York, where he burst onto the eastern golf scene with an improbable win in the 1935 New York State Amateur.
New York Sun sportswriter George Trevor pegged Ray as The Cinderella Kid, and the nickname stuck with him for life. Billows would go on to win the New York State Amateur a record seven times, compete in various Masters and U.S. Open tournaments, qualify for the U.S. Amateur title 15 times and wind up in both the Wisconsin and New York golf associations' halls of fame.
Billows has the unfortunate record of being the only player to reach the U.S. Amateur finals three times, only to fall short in each. But by all accounts a personable and humble player, he said "I'd rather be remembered as someone who gave his best. Because I always did." Sounds like a sentiment Palmer would have heartily endorsed.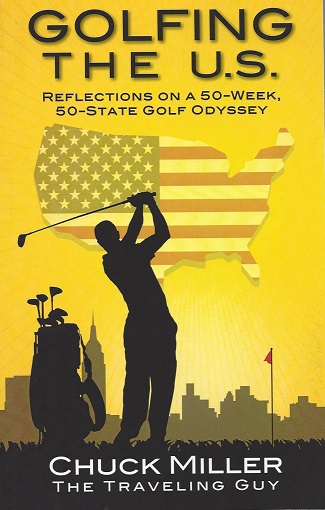 Back in January of 2012 Chuck Miller hopped in his 2004 Nissan Maxima with about 70,000 miles on it and headed from his home in California to Fountain Hills, Arizona to tee it up at the SunRidge Canyon golf course.
Fifty breakneck weeks, 21,000 miles and 140 courses later, Miller had accomplished his goal, and then some, to play golf in every U.S. State in a year's time. A tip of the golf cap to Miller for pulling off what many of us only dream about, and managing to never shoot over 100 in the process, even if his handicap went from nine to 12.
Golfing the U.S. is his account of the trip, but he scores a bogey there, committing the writerly sin of telling what he great time he has at each stop without ever showing it to readers. We do get frequent nods to the courses, resorts and visitor bureaus who helped Miller out with complementary rounds, stays and meals, information that would have best been put on acknowledgments pages.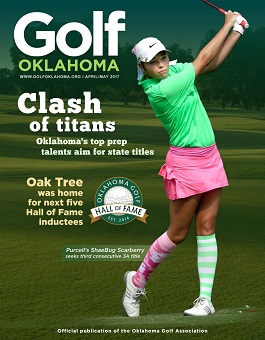 It's certainly no substitute for anecdotes from his rounds or quotes from the players he meets up with, all missing in action here. I've taken more strokes on some par-3s than there are quotes in Miller's entire report.
But like any reader who might choose to travel with Miller vicariously, I immediately turned to my state to see where Miller played (at the Lake Morey Resort in Vermont), and I was a little startled to see how many of the same courses we've played around the country. It just took me a little longer, and I still have a few states to go.
This piece originally appeared in the April-May 2017 issue of Golf Oklahoma magazine, in slightly different form.