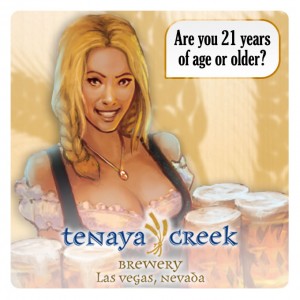 "Now we're talking," I said to fellow Golf Road Warrior Robert Kaufman, after handing him a Hop Ride IPA and taking a sip of my own pint.
I'd been in Las Vegas two nights, but this was the first time I'd been able to feed my inner hophead, so I was immediately feeling well-disposed toward the Tenaya Creek Brewery, located a bit north of Las Vegas proper.
We were a bit south of Las Vegas proper, in the Green Valley Ranch Resort & Spa, seated on a cushioned bench in the Station Casino. We'd shown up for a Harmon's Heroes reception, in anticipation of the tournament for the cause on Sunday, and made the rounds of the sponsors, participants, players and the wounded vets, most of whom would also play.
I made do, nicely, with some bottled Gordon Biersch Märzen at the reception, but like last night's Sin City Amber, this was a malt-accented brew.
Following the reception a crowd moved to the casino floor and hit the craps table, at which point I peeled off to play some blackjack. It didn't go well. Normally I can while away hours and hold my own at the blackjack table, but I plowed through my modest stake in alarming rapidity this evening and thereafter opted for discretion.
While fellow Golf Road Warriors Jeff Wallach and Aubrey McCormick were issuing winning squeals from the craps table I went in search of a decent beer. As Sin City's Richard Johnson had warned me, not much of interest was to be found on the casino floor. But not far off it was Quinn's Irish Pub, which looked to have a pretty decent selection, though I didn't look too closely after I found the local brew on tap.
Lupulin lovers will enjoy this ride; others can hop off the bus, which drives through five different hop additions in the boil (Magnum, Summit, Columbus, Cascade and Chinook), with two separate dry hopping additions with Chinook, Columbus and Summit.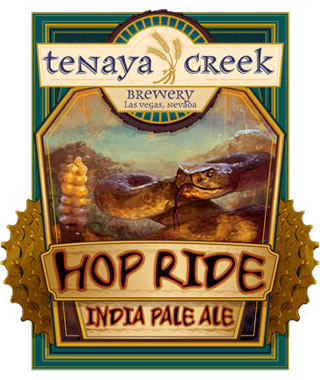 The result is a floral and citrus nose, a brisk hop attack (hence the rattler on the label?) through a hearty mouthfeel (Hop Ride finishes at 7.2% ABV), and a zesty dry finish as well. Most satisfactory!
I learned all this later from brewer Anthony Gibson, who told me the brewery was founded in 1999 by Tim Etter and family, originally as a brewpub. "But things changed as the city grew out toward us. When we started distributing around town the demand for the beer led us to discontinuing the food operation, taking over the kitchen to expand the brewery operation."
While still small, at about 2,000 annual barrels, Tenaya Creek is adding an additional tank, and may go up to 3,500 barrels. The company's beers are currently being distributed throughout Nevada, as well as in Arizona, Utah, Ohio and British Columbia.
My pockets were a little lighter, true, but when Jeff and Aubrey finished up their successful stint at the craps table, we all went away satisfied.
Name: Hop Ride IPA
Brewer: Tenaya Creek Brewery, Las Vegas, Nevada
Style: West coast IPA
ABV: 7.2%
Availability: Year-round in Nevada, Arizona, Utah, Ohio, British Columbia
For More Information: www.tenayacreek.com