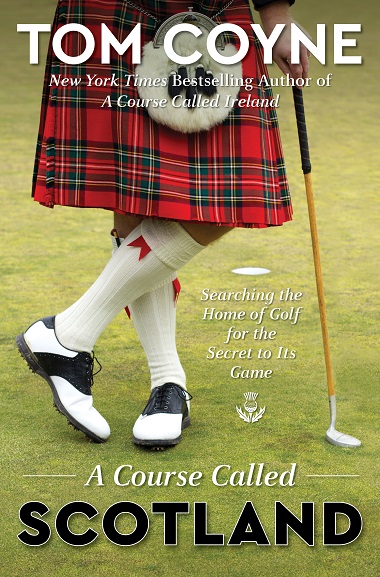 Though I've had a copy of Tom Coyne's popular A Course Called Ireland on my bookshelf for years I've never gotten around to reading it. Coyne actually walked around the coastline playing scads of Irish links courses, so it was probably envy that kept me from cracking the spine of the 2009 book—why didn't I think of this stunt?
Having read Coyne's latest, A Course Called Scotland (Simon & Schuster, $27), I'm not sure I can go back to the earlier work, since it was basically written by another person—the still-drinking Coyne, who subtitled that book, "A Long Walk in Search of a Country, a Pint, and the Next Tee."
The latest, "Searching the Home of Golf for the Secret to Its Game," is, I suspect, a far more serious book, at least to the now sober Coyne. That's not to say that there isn't great good humor at work here, as the author works his way around more than 100 Scottish (and a few English and Welsh) courses in a mere 57 days, albeit not on foot between tracks this time.
He has a purported goal at the end of all his rounds, trying to qualify for the Open Championship. Suffice it to say, Coyne has game, both on the ground and at the keyboard. His battles with par and descriptions of most of the courses he plays at could easily have been stultifying, but Coyne is too talented a writer for that.
The book may appeal more to those who have tussled with some of the same venues in Scotland, and there are many here, from the usual suspects in St. Andrews and Dornoch and East Lothian and Aberdeen and so on. But there are countless hidden gems as well, made so appealing here one is tempted to start checking flight schedules.
Many of the rounds are enlivened by friends and strangers; before he left Coyne put out a call on social media for anyone who wanted to join him for a few rounds, and more than a few do just that, forming, he later realizes, a vital support group.
The real goal here, it seems to me, is less Coyne's search for the secret to golf but a search for himself and a sense of personal peace. To that end, unless I've grievously misread the book (maybe Coyne will let me know), he invents a character, an old friend named Robert who seems utterly real in the early going, but becomes increasingly spectral as the trip goes on.
In a remarkable late chapter that recounts the author's play at the near-mystical Askernish Golf Club on the Isle of South Uist, we learn that Robert is, in essence, Coyne's drinking alter-ego, not to mention his actual first name—Robert Thomas Coyne.
Coyne goes around Askernish four times in one day, a soul-cleansing exorcism in 72 holes that reveals the beating heart of the book.
It's anything but dour; Coyne doesn't belabor his fight for sobriety, but it was there to be confronted. It's an easy enough journey for any reader to cheer him on throughout the volume, right up to the last of his 7,858 strokes.
<<<>>>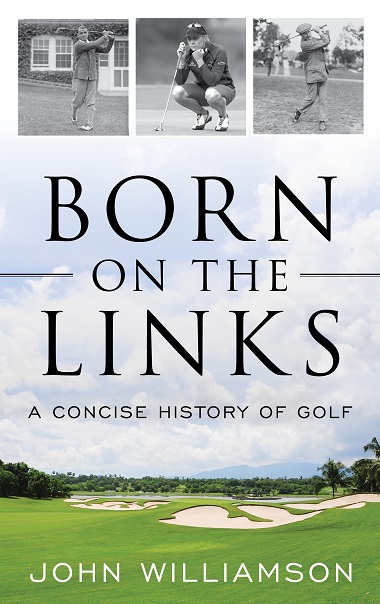 Scotland also plays a huge part, as it must, in a bold attempt by John Williamson to summarize more than 600 years in just over 200 pages of Born on the Links: A Concise History of Golf (Rowman & Littlefield, $36).
Concise it is. I can only imagine the choices one would have to make in such an effort—not so much as what to include, but what to leave out. Williamson, who over three decades has written a series of handbooks for lawyers, makes a pretty good case here for his brief.
He hits the high points of the sport's evolution, mainly the Scottish transformation of the medieval Dutch game of het kolven into golf as we recognize it today. (And notes that an indoor version of kolven is still played in the Netherlands.) Once through early chapters detailing 400 years of golf in Scotland and its gradual spread from there, Williamson concentrates on golf in the United States.
The immediate difference, of course, was that golf in Scotland quickly became a game for the multitudes, while in the U.S. it began as a sport for the elite, an impression that, despite the current reality, has been difficult to shake.
The game here, he suggests, grew in popularity mainly through the influence of a series of superstar personalities who came along at various periods—Francis Ouimet in 1913, Bobby Jones in the 1920's, Walter Hagen and Gene Sarazen as the first compelling professionals, the triumvirate of Nelson-Hogan-Snead in the pre- and post-World War II years, Arnold Palmer (and then Nicklaus, Player, Trevino, Watson), right up to the Tiger Woods era.
None of this is terribly surprising, and naturally much of it is more fully covered in more targeted books. Williamson also writes in a "Just the Facts, Ma'am" missionary position type of prose that rarely lights up the skies.
This is perhaps unintentionally humorous when on one page Williamson lists three courses that all claim to be the oldest continuing site for golf in the U.S.
One could also point to a few errors—twice spelling Dornach as Dornack, or crediting the origin of the term "birdie" to the Atlantic Country Club in Plymouth, Massachusetts—the USGA says it was the Atlantic City Country Club in New Jersey.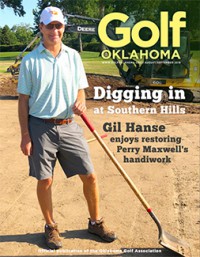 Still, it's all here in one place, with chapters on the African-American experience in U.S. golf and the women's game as well. There are 50 appendix pages listing all the winners of major professional and amateur tournaments and team competitions, with ample room to add on winners for those who like to keep up to date.
This piece first appeared in the Aug.-Sept. 2018 issue of Golf Oklahoma in slightly different form.