Other than beer itself, the best gifts for any fan of the suds may be those other grand consumables, books. And with impeccable timing, publishers have provided.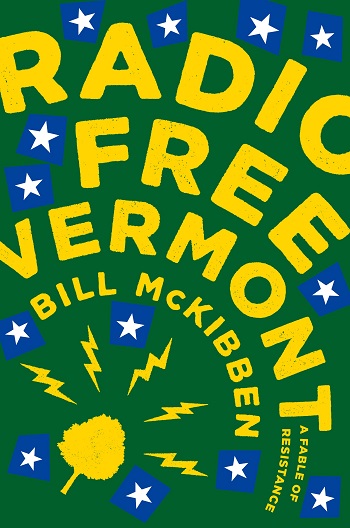 Any self-satisfied beer geek will quickly warm up to Bill McKibben's Radio Free Vermont (Blue Rider Press, $22). On page 3 of the long-time environmental activist and writer's first novel a beer truck is hijacked in a remote part of the state and 4,800 bottles of Coors Light emptied onto the ground. Even better, the perpetrators send the driver off unharmed and well-stocked with cases of beer from 51 of Vermont's finest breweries.
This sort of genial skulduggery symbolizes and summarizes "A Fable of Resistance," as McKibben calls his new book, which manages to be both a serious call to arms as well as a broadly comic farce. McKibben isn't really suggesting that Vermont secede from the Union, but he does make a compelling case for thinking small and living local.
The latter includes drinking local. Come the revolution, there's gonna be better beer. Well, come to think of it, there's already better beer, and there is more Vermont beer name-dropping in this book than the Vermont Brewers Association could ever wish for.
A Vermont brewer is the ersatz sponsor each time renegade radio announcer Vern Barclay takes over the airwaves with his subversive, but oh so commonsensical broadcasts. ("Hello friends. This is… Radio Free Vermont, underground, underpowered, and underfoot. Tonight we're brought to you by the McNeill's Brewery of beautiful Brattleboro….")
Barclay and his few co-conspirators almost unwittingly spark a movement for an independent Vermont, but once begun they go all in, provocatively but non-violently, creating havoc, wild overreaction from the powers that be, and for the reader a lively and pleasant read that even manages to jam in a chase scene on—what else?—snowmobiles and cross country skis.
Best read with a beer in hand, the book delivers a lot to think about along with the laughs, and it has already garnered comparisons with Edward Abbey's 1975 The Monkey Wrench Gang, which probably won't bother McKibben a bit. He may even drink to it.
<<<>>>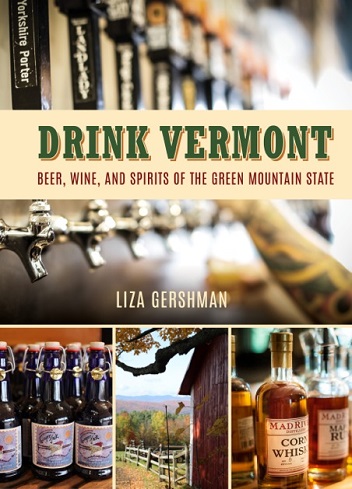 Though there are several variations of his quote, Irish writer Brendan Behan claimed that he had once been in an Irish pub and saw a sign that said Drink Canada Dry, "So I thought I'd give it a shot."
Were he still alive and inclined to attempt the same here he'd get off to a halfway decent start with Drink Vermont: Beer, Wine, and Spirits of the Green Mountain State (Skyhorse Publishing, $16.99) by writer and photographer Liza Gershman. In about 180 pages Gershman casts an eye, and her camera, on 21 wineries, 16 distilleries, six cideries and 50 breweries.
Now, that's a lot of ground to cover, especially for someone who lives in San Francisco. Gershman did visit Vermont for what her publicist said was "an extended stay," and decided to make good use of her time while here, including visiting the various kinds of adult beverage producers and using online resources otherwise.
It's not hard to tell which method prevailed in the various entries. While Lawson's Finest Liquids of Warren sprawls over a page and a half of text, Fiddlehead Brewing of Shelburne rates two cursory paragraphs. Queen City of Burlington bulges into three pages, while McNeill's, of beautiful Brattleboro, a skimpy two graphs. Some breweries, wineries and cideries are not included at all.
I can't vouch for the distilleries, though Gershman worked with a pair of mixologists to come up with forty cocktails based on the products.
It's understood that the nature of such works is that they start going out of date the moment they appear in print. (The 2014 Vermont Beer put out by FarmPlate Books lists only 32 breweries, though with a more ingratiating layout). But there are other off-putting mysteries with Vermont Drinks. Though 50 breweries are listed and discussed, to whatever degree, only 43 of them show up on a map of the producers. And while the photographs are pleasing most lack captions and it's not always clear what they're actually depicting.
So a half-hearted recommendation here at best for those who need some kind of overall guide to Vermont beverages; bump up the rating if you're really into new cocktails.
<<<>>>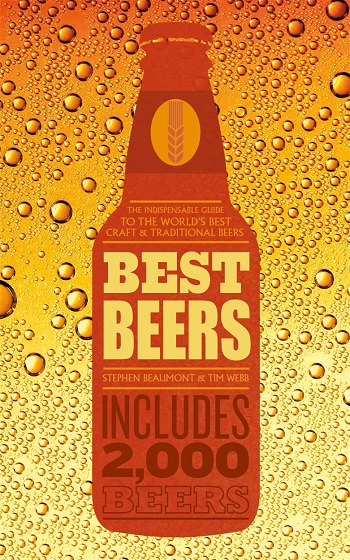 Stephen Beaumont and Tim Webb, who in 2012 collaborated on The World Atlas of Beer (reviewed here), have drawn on their combined expertise to produce a new wish list, Best Beers: The Indispensable Guide to the World's Best Craft & Traditional Beers (Mitchell Beazley, $14.99).
This easily portable softcover book includes tasting notes for some 2,000 beers from over sixty countries, pre-selected, so to speak, for their excellence. Considering that the authors now conservatively estimate that there are about 20,000 breweries worldwide producing a quarter-million individual beer brands, this begins to look like an indispensable guide (or checklist?), indeed.
Organized by country, a further division of some breweries slots them into three classes: Iconic, Can't Miss and newer Breweries to Watch, while the occasional "Style Spotlight" attempts to clarify the attributes of a Gose over a Grodziskie or a Saison over a Sahti.
The authors know how to write, and where their own thirsty research went dry—tricky finding those Uruguay brews—they enlisted the help of some 30 beer writers from around the world. They neglected to call me, which is my sole criticism of the book. The result of that grievous error is that only two Vermont beers made the cut in the U.S. selections, Heady Topper from the Alchemist and Susan by Hill Farmstead.
Well, Magic Hat #9 rates a mention, but only in a section called "Suspect Styles & Tenuous Trends," where the blame for "Fruit IPAs" is lain only partially at the feet of Magic Hat's "not quite pale ale." Can't argue with that.
[This story first appeared, in different form, in the Dec. 6, 2017 issue of The Commons, a weekly newspaper in Windham County, Vermont. Access the current edition of The Commons here.]