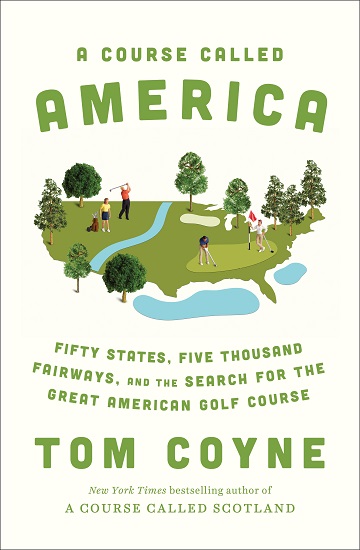 Tom Coyne's latest golfapalooza, A Course Called America (Avid Reader Press $28), comes on the soft-spiked heels of his popular golf orgy travelogues to Ireland and Scotland. This one kept him broadly at home in 2019—in the U.S., that is—when he spent most of the year playing on about 300 courses throughout the country.
Or, as the subtitle puts it, "Fifty States, Five Thousand Fairways, and the Search for the Great American Golf Course." The search is one hook, another is Coyne's attempt to play every course that has hosted the U.S. Open. In a suspense novel these plot devices would be called MacGuffins, useful mainly to drive the narrative forward. Or, one suspects in this case, to set up tee times.
Okay, so I started this book with the usual chip of Coyne envy on my shoulder: Why didn't I think up this great stunt? And where is this program ultimately headed? ("Last in the series, A Course Called Antarctica!")
But Coyne easily won me over, the chip melted clear away, and what was left was a sumptuous feast of anecdotes, more about the people he met along the way than the courses themselves.
Other than to say it's no course you'd expect or have probably even heard of, I won't reveal what takes the Great American Golf Course honors. It's more of a piece with the ample musing in the book about the soul of golf, in America or anywhere else, for that matter.
I've read other books about players notching at least one course in every state in a year's time. But none done with Coyne's talent, on the course or at his desk. In an appendix we learn that his 21,691 strokes on 5,173 holes gave him a round average to par of +6. His highest score was one 90, at the Waynesborough Country Club in Pennsylvania.
He does play at least one course in every state and any reader will be curious to see how the home state fares. He tees it up in backyard courses as well as at exclusive private clubs he can't resist, though his heart seems to be with the former:
"I had seen golf done otherwise, in villages across the British Isles where every tee was open to a visiting player, but here I was playing the game of networks and flattery to score myself a game. Was I a hypocrite? Or was I just a golfer who wanted to play? I didn't write the rules over here, but I suspected that those who did had missed something essential about the game." Come the revolution, no more private clubs!
Coyne has a casual approach to chronology, seemingly leaping around in his narrative as unpredictably as he does around the country, though he makes it plain the trip was planned, planned again, then planned again. He gives us just as many planning details as we might want (including the reactions of his wife, clearly a saint), just as many architectural details as we might want, relatively few details of his actual play (just as we'd want), and scores of encounters with his playing partners, be they bikers or poets or movie stars or, all, just golfers.
<<<>>>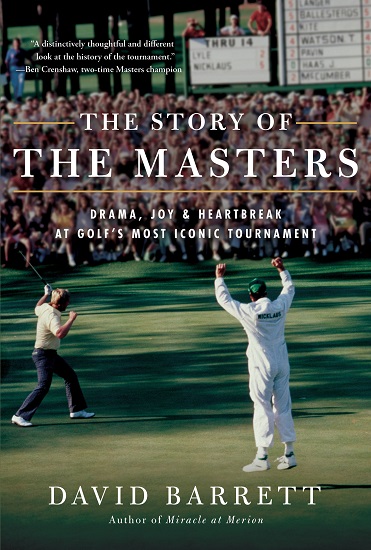 It started in 1934, then officially called the Augusta National Invitation Tournament. The 85th version began on April 8, and it was, unsurprisingly, memorable, if not a cliffhanger like we've come to expect. David Barrett's The Story of the Masters: Drama, Joy and Heartbreak at Golf's Most Iconic Tournament (Tatra Press, $30) is a good companion to the competition. It's actually 84 detailed stories, round by round, with yearly charts of the top ten finishers.
Truth be told, in lesser hands this could have been a stultifying reading experience, especially if you go at it from cover to cover as I did. Most won't—it's more of a book to dip into for pleasure or reference as needed.
Granted, toward the end, I found myself skimming over a few of the details of where players stood after the Friday rounds. But that said, Barrett knows the territory, having covered many an Augustian tournament himself (and herein a review of his early history of the tournament, Making the Masters). Caps off to him for making the book as readable as it is.
There is a certain tantalizing aspect to reading it straight through. The cumulative effect is like watching a time-lapse film, history sped up, as Horton Smith and Gene Sarazen and Bobby Jones give way to Nelson and Hogan and Snead, who then start to fade as rookie Arnold Palmer appears in 1955, and then blazes like a star as Nicklaus and Gary Player make their entrances. Cue Watson and Ballesteros, Langer, Faldo and the luckless Greg Norman, Couples and Crenshaw, the young Tiger Woods, the young Jordan Spieth, the older Tiger Woods.
Add to this the sense that, in many years, the Masters outcome was often in doubt until the final putt. (Of course, Dustin Johnson blew it away last year, making for one of the dullest tournaments in decades except, no doubt, for him.) That the Masters remains one of golf's most exciting and suspenseful recurring dramas is probably why we've tended to forgive it its once hidebound traditions and insufferable self-importance. (Come the revolution…!)
Lee Elder finally broke the color bar in 1975, and Tiger Woods underlined that in his extraordinary 12-stroke victory in his professional Masters debut in 1997. But mostly Barrett leaves the societal aspects of the Masters as a background murmur, to concentrate on the play itself. Here, too, the firsts flip by: the first green jacket ceremony in 1949 (to Sam Snead), the first 36-hole cut in 1957, the first successful defense of a title—by Nicklaus, who won in 1965 and 1966. (Barrett naturally answers the critical question that arises: "Nicklaus put the jacket on himself.")
The par-3 contest debuted in 1960, won by Snead (a winner has yet to claim the main tournament title in the same year). Gary Player was the first international winner in 1961. And from 1960-1966 one of The Big Three was a winner: Palmer in '60, '62 and '64, Player in '61, Nicklaus in '63, '65, '66.
In 1964, Barrett notes, Palmer missed by one stroke being, "…the first player with four rounds in the 60s—a feat that wasn't accomplished until 2020 when Cameron Smith did it." (Yet lost to Johnson by five strokes!)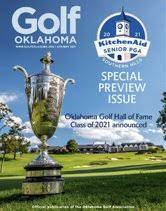 And so it goes, in what will surely be the definitive chronicle of every year of golf's first major (usually). Well, until this year's tournament ended, anyway—in my crystal ball I foresee annual new editions of Barrett's tome with the latest iteration slipped neatly in.
This article originally appeared in the April-May 2021 issue of Golf Oklahoma, in slightly different form.