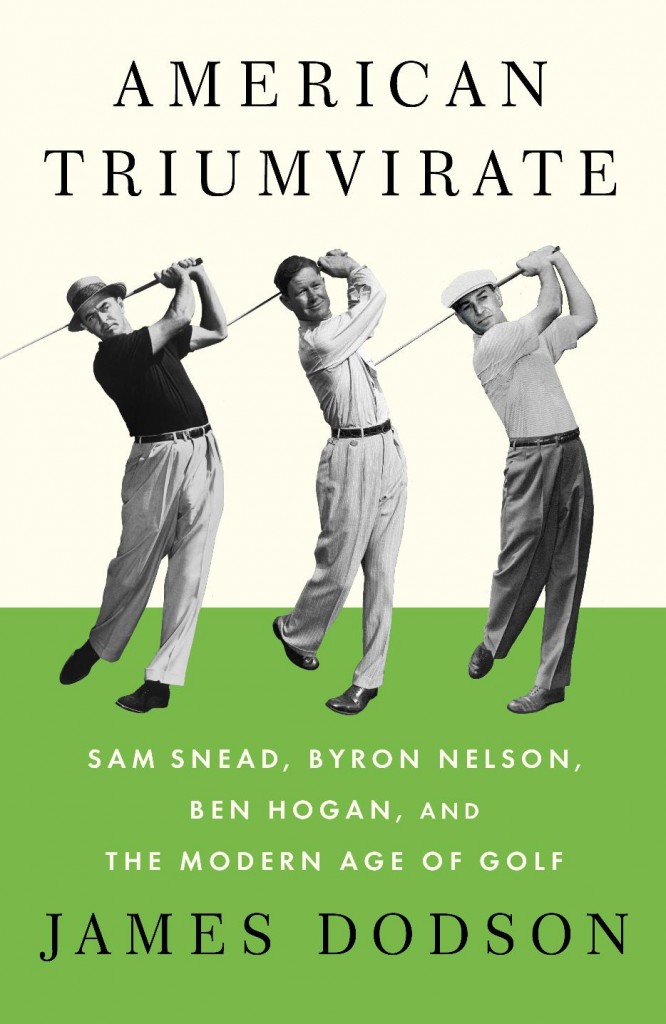 Yes, Virginia, there was golf before Tiger Woods, even before Arnold Palmer. And in both Jim Dodson's American Triumvirate (Knopf, 2012, $28.95) and David Barrett's Making the Masters (Skyhorse Publishing, 2012, $24.95), readers lacking background in mid-20th century golf will find full and entertaining tutorials.
Dodson takes the broad view, as the subtitle indicates: "Sam Snead, Byron Nelson, Ben Hogan, and the Modern Age of Golf." Barrett takes a sharper focus on the early years of Augusta National and the Masters ("Bobby Jones and the Birth of America's Greatest Golf Tournament").
Dodson must have faced a daunting task in researching and writing what is basically three biographies, although he luckily already had Ben Hogan: An American Life under his literary belt.
Why, with a teeming cast of characters, places and tournaments mentioned the book has no index is a bit of a shameful mystery. But Dodson knows his way around a keyboard, and the intertwining lives of these three friends and rivals rarely flags, despite some background padding early on.
It seems more than a little amazing than we are in the centenary year of each man, Nelson born February 4, Snead on May 27, Hogan on August 13, all in 1912. (And on a Sunday, Monday and Tuesday, respectively.)
More amazing are their records–Hogan's 60 official wins and nine majors, his fellow Texan Nelson's 52 wins and five majors, and Snead's record 82 wins plus seven majors. Add to Nelson's chart that he retired early after his record-setting year of 11 straight victories, eighteen total (out of 30 he entered).
Neither of those records has yet to be broken, if they ever will be, although in second and third place for most victories in a season? Hogan (13 in 1946) and Snead (11 in 1950).
Yes, there was The Great Triumvirate of Harry Vardon, James Braid and John Henry Taylor, and The Big Three of Arnold Palmer, Jack Nicklaus and Gary Player. But of their time, no one bestrode the golf world like Lord Byron, the Wee Ice Man, or Slammin' Sammy.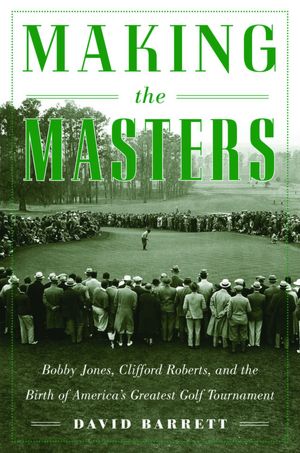 Dodson weaves the narrative of his three-threaded tale well. Amidst a welter of tournament descriptions, the lives and characters of each man comes vibrantly alive, even to their closing days. So too, does life on the early tour, which bore little resemblance to today's money parade.
Barrett also makes clear that the early days of Augusta National were anything but plush, as the Alister MacKenzie course came to life in the Depression years. Even with the touted involvement of Bobby Jones, the reigning icon of golf despite his retirement from tournament play, signing up members was like extracting blood from a rock.
Indeed, even after the second Masters the club went through a foreclosure, leading to its purchase by five members and the creation of a new corporation.
The course was not built for the Masters, but it was the Masters–and Bobby Jones's return to competition–that cemented the course's reputation. From the first tournament in 1934 the professionals who played knew something special was afoot–something major, although the Major concept wasn't quite formed back then.
Gene Sarazen's victory in 1935, thanks to his Shot Heard Round the World (a final round double eagle on the fifteenth hole that put him into a playoff with Craig Wood), really put the Masters on the map.
Barrett frequently cites David Owen's 1999 The Making of the Masters, which remains a more definitive history of Augusta National. But having covered more than a score of Masters tournaments himself, Barrett makes the reports of the first two tilts read as fresh as this morning's sports pages.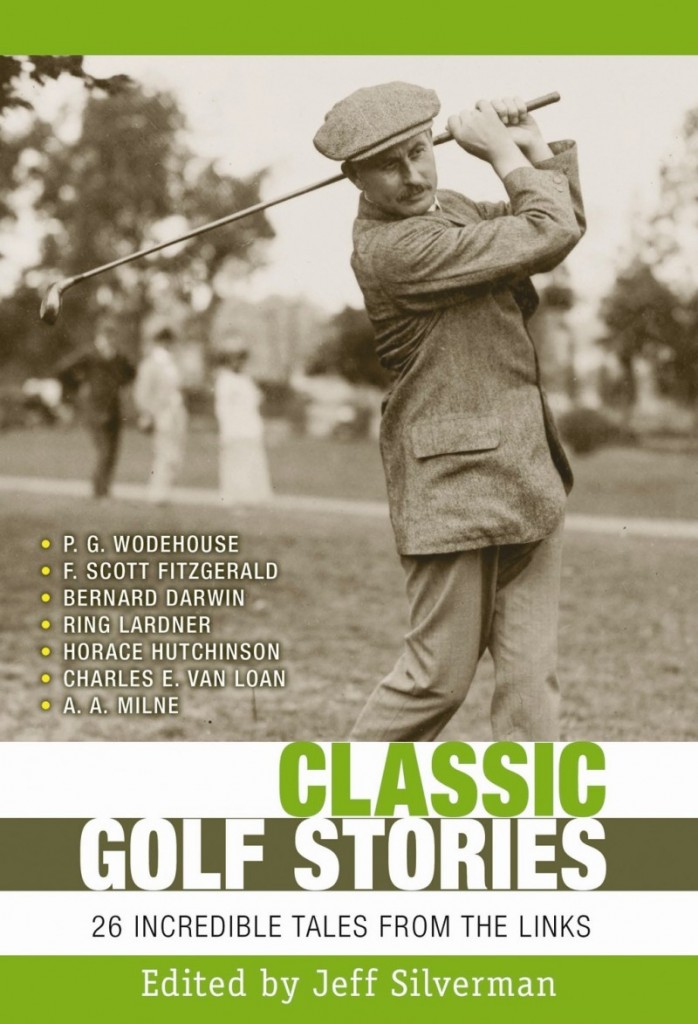 Classic Golf Stories, edited by Jeff Silverman (Skyhorse, 2012, $16.95) is also a fond look back in 26 short stories and articles written between 1887 and 1922 by the likes of A.A. Milne, Bernard Darwin, A.W. Tillinghast, Francis Ouimet, F. Scott Fitzgerald.
Silverman has contributed a serviceable introduction, but otherwise there's no editing in sight. None of the pieces or authors are placed in any context of time, place or profession beyond spare source notes in a back page. I could have done better editing in a couple of afternoons.
Additionally, the book is inexplicably printed on glossy pages with random color photos of golf holes plopped in, lacking any identifying information. And I'm guessing that each of the pieces is in the public domain, further suggesting a cheap and quickie production.
Despite these irritants there are some wonderful pieces in here for anyone who enjoys a well-turned phrase in the service of golf. For laughs, Ring Lardner's "A Caddy's Diary" is almost worth the price of admission alone. Putting it over the top is one from the master, P.G. Wodehouse, "A Mixed Threesome," in which love triumphs over golf, or golf over love, it's hard to tell. Actually, both seem to win, and certainly the reader does.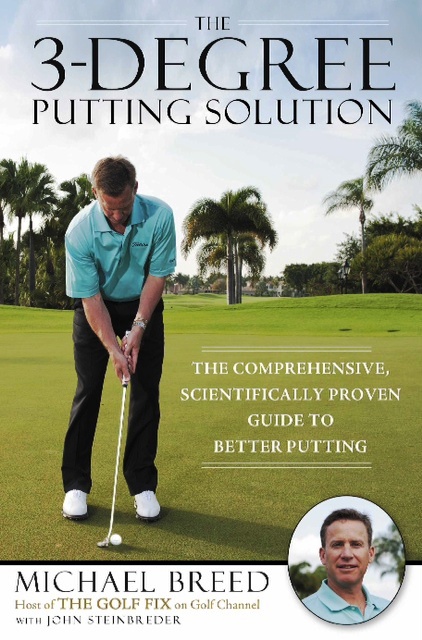 To win out on the course, Michael Breed's The 3-Degree Putting Solution (Gotham Books, 2012, $26), written with John Steinbreder, may well help.
The host of "The Golf Fix" on the Golf Channel, Breed aptly reminds us that in an average 18-hole round putts account for 43 percent of all strokes. So why aren't we practicing our putting more?
Breed said he discovered the key to good putting when he was a youngster warming up on a wet green before a round with his father. The lines on the damp putting surface told him all he needed to know:
"Ben Hogan famously said he uncovered his secrets of the game in the dirt of the practice tee. I had found mine in the morning dew, although it would be more than twenty years before I could truly verify those discoveries."
Breed took up a nearly obsessive study of the putting stroke in that time, but the end result is pretty straightforward–putting with more topspin than backspin for a better roll with more consistent speed and direction.
There is no lack of manuals for how to use the flat stick effectively; indeed, I just ballyhooed Dave Stockton's Unconscious Putting last time out. Like Stockton's book, Breed's is concise and direct, free of mumbo jumbo, and complete with some fun and useful drills. Which means there's no excuse anymore–off to the practice green.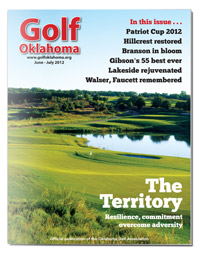 This piece first appeared, in slightly different form, in the June-July 2012 issue of Golf Oklahoma.
More on Hogan:
Hogan Lives!
Rocking in the Dirt With Hogan
More on Snead:
Happy 100th, Sam Snead
In the Virginia Territories
Swing Into the Past at Oakhurst Links