What, another book about Tiger? No? Two new books about Tiger? Oy!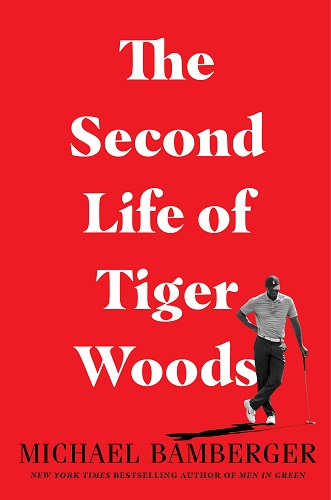 Well, book reviewers gotta do what book reviewers gotta do. So I read both Michael Bamberger's The Second Life of Tiger Woods (Avid Reader Press $28) and Curt Sampson's Roaring Back: The Fall and Rise of Tiger Woods (Diversion Press, $26.99). Unsurprisingly, the catalyst of both volumes is Tiger's remarkable 2019 Masters victory.
Then there's Mark Cannizzaro's Seven Days in Augusta: Behind the Scenes at the Masters (Triumph Books, $26.95) which necessarily also touches on the 2019 tournament. Well, guess the golf book season starts with the Masters, too. The great irony here, naturally, is the books were released just in time for the now-postponed 2020 Masters.
In theory, with the Coronavirus having us all hunkering down in place, there should be ample time to read all three of these, and you probably wouldn't be sorry. But if you're only going to read one, make it Bamberger's. It's simply the best written of the lot. Cannizarro covers everything that happens at Augusta National for the week leading up to and including Sunday's green jacket ceremony, so it does tread into some different territory. That sort of puts Sampson in the Show position, but that's still in the money, enough to recommend it, too.
Sampson was actually first out of the gate, his book appearing last October, barely a half year after Tiger slipped on his fifth green jacket. Bamberger's is just out, but I happened to read it first, which surely threw some repetitive shade on Sampson. But it's kind of fascinating to see the two different approaches to the same denouement—which we all know anyway.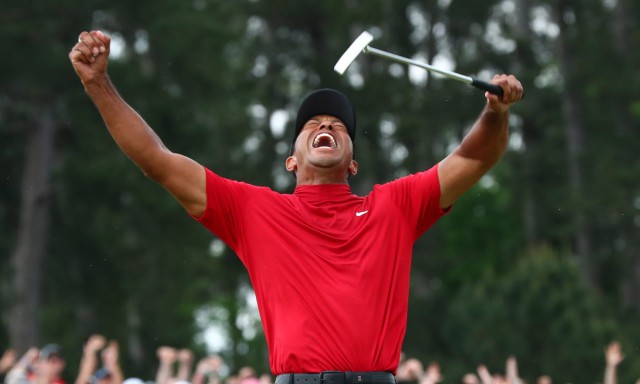 Truth be told, we pretty much know all about the entire Tiger saga, and it's not like books about Woods have absent from these cyberpages. We last praised Tiger Woods by Jeff Benedict and Armen Keteyian; panned Tiger's own uninspiring account of his inspiring first major victory, The 1997 Masters: My Story; admitted our fascinated unease about Hank Haney's The Big Miss and our guilty pleasure over Bamberger's own roman á clef about Tiger co-authored with Alan Shipnuck, The Swinger.
What could possibly be left to say? The Benedict-Keteyian book was a brilliant but fairly scathing compass of the Tiger story to date. But, to quote my own review, "…at the end Tiger is still standing, having gone through the crucible, with a shot at redemption."
Both Bamberger and Sampson suggest that the 2019 victory in Augusta was the manifestation of that redemption, but that prior to it Woods was already showing glimpses of the very quality that Benedict-Keteyian suggested he had lacked: empathy. And the major contributor to that?: parenthood.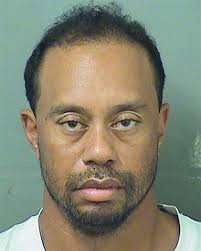 Not that either book gives Tiger a free pass, both reviewing the sexual scandal as a matter of brutal context. Bamberger's effort gives an almost minute by minute account of the Memorial Day 2017 incident when Tiger was discovered by the side of a Jupiter, Florida road with a boggling blend of five psychotropic pain-killers coursing through his system. We all remember the bleary mug shot from the time–which has actually shown up on coffee mugs–and Bamberger proposes that Tiger's recovery moved forward from that moment.
He also takes up three controversial rules imbroglios involving Woods, and ponders at some length—for and against—the evidence surrounding Tiger's potential use of performance-enhancing drugs. The deck is somewhat stacked in the "for" column, but conclusions are left to the reader. That's all in the first section of the book called "Night."
The second section is called "Day-O!" and the exclamation point charts the mood of mounting excitement rumbling toward Tiger's 2019 victory at Augusta, coming 14 years after his fourth green jacket. I admire Bamberger's prose style, which manages to be lively while maintaining a languid flow. It's effortless to drift through the pages while all sorts of wild things are happening on shore. There's a sort of random quality to some of the anecdotes but one never feels adrift.
And Bamberger brings the voyage to a satisfying end in a coda ("Curtain Call") that tries to parse the meaning of it all—why Tiger's win was so satisfying, even to those who don't account themselves big fans. Well, who doesn't love an epic journey with such highs and lows?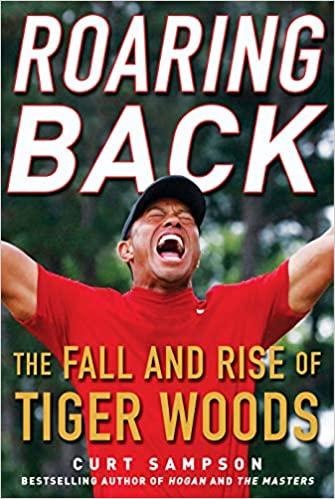 Like Bamberger, Sampson has been writing about the game for a long time, with his own rich vein of material to mine as he circles around the same foregone conclusion. That includes two books on the Masters and an earlier one on Woods (Chasing Tiger), which he hilariously references in this one, since virtually all his attempts to interact with the book's subject were utterly stonewalled.
I confess I'm not as keen on Sampson's style, more hot-wired frenetic than Bamberger's, with a wisecrack the default position (an homage, perhaps, to the book's dedicatee, Dan Jenkins?). Funny when they work, feeling forced when they don't. There were also so many odd references to competitors' equipment ("Brooks [Koepka]… had buzzard's luck with his Scotty Cameron T10 Select Newport2 on the marble-hard greens…") that it began to feel like product placement.
But cavils aside, this is also an intriguing attempt to put Tiger's victory into a career context, while comparing the win to other significant comebacks—Hogan's, of course, after the dreadful car accident; Calvin Peete, who had to overcome injury and institutional racism (add Charlie Sifford here, too), or a story few know of 1949 U.S. Ryder Cup player Skip Alexander, who barely survived a plane crash in 1950, but had enough points to qualify for the 1951 team. Where, against all odds, his damaged hands bleeding throughout the round, he still managed to win his singles match.
And Sampson's book has something useful the others do not, an index. Bamberger doesn't even have any acknowledgments or bibliography, but he does turn the book's dedication into a quiz: anyone who can decipher who MD251MC is may be in line for a prize from the author.
Long-time New York Post sports reporter Cannizzaro goes one-up on either by having a foreword to Seven Days at Augusta by Phil Mickelson. It's not a great contribution to literature, but still.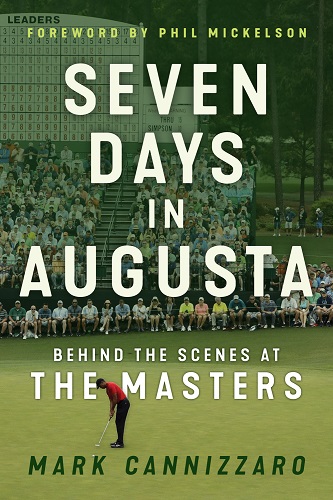 Other than the penultimate chapter on the 2019 tournament, Cannizzaro's book is a different animal in that he attempts to capture the Masters experience by divvying the book up into seven parts, one for each day of the week's happenings.
Puzzlingly, he doesn't strictly adhere to his own structure; the stories seem to flow willy-nilly regardless of the day. Still, he gets the overall job done. We learn here about the town, the paper of record (the Augusta Chronicle), how locals rent out their houses, the not always on the up and up market for tickets, the essential local restaurant (Tbonz Steakhouse), and so on. I looked in vain for any report on the upswing in prostitution during Masters Week, but maybe that chapter was cut.
Then there are all the tournament happenings—the Champions Dinner, the menu always chosen by the defending champ; the history and quaint rules concerning the Green Jacket; the poignant chapter on honorary starters and the first year Arnold Palmer was no longer there; what the deal is with Butler Cabin, and a chapter on the 2002-2003 protests by Martha Burke, which ultimately led to Augusta National's first female members, one of them being Condoleezza Rice.
There are a variety of player profiles, those expected (Arnie, Lefty, Rory, Spieth, Woods) and a few unexpected, like John Daly, who is there every year—not playing, but meeting fans and selling wares at the local Hooters on Washington Road.
In short, there's ample Augustian fodder here for the curious, and in an epilogue Cannizzaro writes about winning the journalistic lottery in 1998, meaning he was one of the select few reporters allowed to play the course the Monday after the Masters.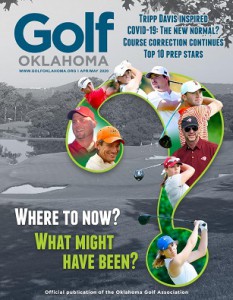 An enviable prize. Unfortunately, Cannizzaro was then deep in a period of hitting the shot that dare not speak its name. Going through Amen Corner hitting one hosel rocket after another turned out to be a heightened source of torture. Not pretty. But here, at least, pretty funny.
This piece first appeared in the April-May 2020 issue of Golf Oklahoma in slightly different form.