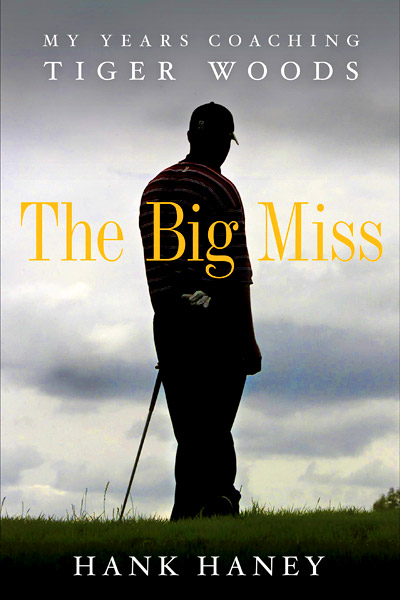 Hank Haney has written a book. This may not be news, and you may already have an opinion about whether The Big Miss: My Years Coaching Tiger Woods (Crown Archetype, 2012, $26) should have been written at all. Certainly plenty of opinions have already been expressed, some perhaps even based on a reading of the book.
Golf renaissance man Rick Smith, well-known coach in his own right, was one of the first of the fraternity to blast Haney for breaching confidentiality, the code of silence that exists between player and coach.
Though arguments could be made that the coach/player relationship is much like doctor/patient, priest/confessor, it's not the same in the end, so there's no such law or code, naturally.
It's unwritten, the argument goes, and common sense and decency suggests there's a line you don't cross. Unless you're a self-serving publicity hound, of course.
I can appreciate the argument. But I also found this book a pretty fascinating look behind the PGA Tour ropes, not to mention about as much up-close and personal material as you could want with the most compelling figure in the sport. And I don't mean Haney.
Just about every page of the book confirms Haney's appreciation of the tremendous physical and mental skills Tiger Woods brings to the game of golf ("I would argue that no one who has hit the ball as hard and as far as Tiger has ever hit it so well."). The actual coaching details are covered in more depth than a hack like me needs to know, but they're there for the avid.
Sure, some of the fascination here comes from the revelation of the chinks in the armor, and there are plenty of those, from Tiger's obsession with the Navy SEALs, to observations about the sexual scandals (Haney claims that neither he nor Steve Williams had any knowledge of Tiger's philandering). And readers will come to see that Tiger really should have offered Haney that popsicle. All in all, an impressive act of burning one's bridges.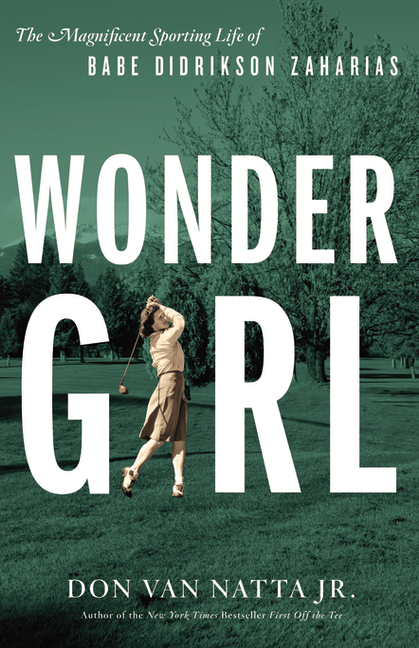 It must be some kind of special hell to be great at something, and yet be compelled to throw oneself constantly back into the fray, always seeking to achieve still more.
Some of what drives Tiger surely drove the subject of Don Van Natta Jr.'s Wonder Girl: The Magnificent Sporting Life of Babe Didrikson Zaharias (Little, Brown and Company, 2011, $27.99). Natta's biography, which recently won the 2011 USGA Herbert Warren Wind Book Award, leaves no research stone unturned in tracing the arc of the poor girl from Beaumont, Texas who rocketed to the summit of stardom as one of the greatest athletes of all time, man or woman.
Her first great triumph was winning two gold medals and a silver in track at the 1932 Olympics. But it was in the realm of women's golf that Babe's star shone its brightest. She won her first U.S. Women's Amateur Championship in 1946 at Southern Hills Country Club, beginning an unprecedented and unmatched 14 consecutive win streak.
The cruelty in Babe's life is that it ended so soon. An operation for rectal cancer threatened to end her career, but she came back to win the 1954 U.S. Women's Open by a spectacular 12 strokes. It was the last great hurrah, as she would fall ill again, and succumb by September of 1956, at 45.
Natta paints an appealing and poignant portrait of Didrikson, but he doesn't avoid the warts–mainly, what appears to have been a relentless and unstoppable braggadocio–hardly dialed back when she met and married wrestler (and promoter) George Zaharias.
(In 1940 a newspaper editor asked Babe, "Of all the records you've broken and all the events you've won, what was the single most thrilling experience of your life?" She answered, "The first night I slept with George.")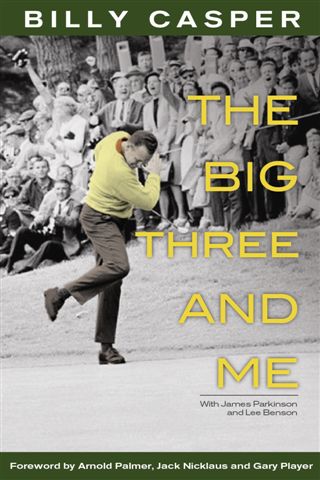 There are less insistent paths to greatness. You could simply not pay much attention to it, which is pretty much what Billy Casper did. In his relatively quiet way, Casper was as much a dominating force on the PGA Tour from the mid-'50s to the mid-'70s as Palmer, Nicklaus, Player. James Parkinson makes a case that he was better than all three at certain times, in an introduction to Casper's autobiography, The Big Three and Me (Genesis Press, 2012, $15).
The title refers to what Casper says was one of his biggest professional mistakes (besides not playing in more British Open Championships)–leaving the management firm of Mark McCormack, who came up with the concept of The Big Three and consistently marketed Palmer, Nicklaus and Player that way.
But Casper had his own quiet style. He was perhaps better known for his diet of wild game (hence the nickname Buffalo Bill) than for being a putting machine on the Tour, but he just piled up the victories year after year. The first came in 1956, the 51st and last in 1975, with two U.S. Opens and a Masters to add spice.
The 1966 U.S. Open was an epic match with Arnold Palmer, and one bonus of this entertaining memoir (written with James Parkinson and Lee Benson) is its frank and admiring viewpoint of the King's vital play.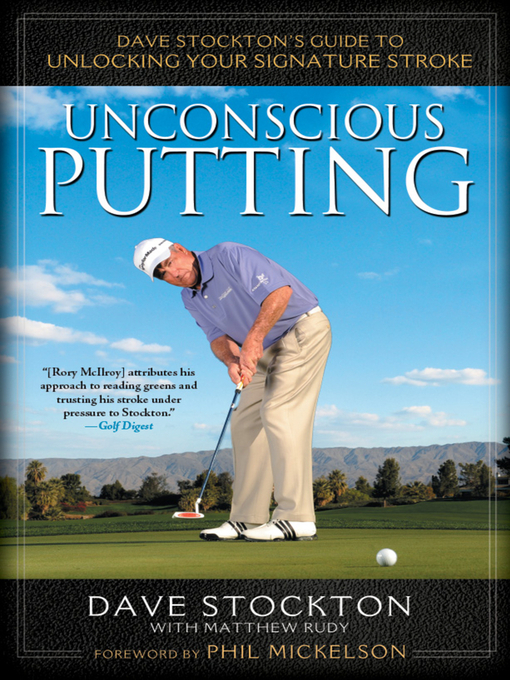 Dave Stockton was a pretty fair putter in his PGA Tour span as well–enough to win 11 Tour victories, including two PGA Championships. And while he spins a few yarns from his playing days here, it's all by way of illustration, in attempting to impart the secret of Unconscious Putting (Gotham Books, 2011, $27.50).
Stockton would probably laugh at that line. The secret to Unconscious Putting is that there is no secret, and part of the pleasure of reading this book is its lack of mysticism.
That's right, an instruction book that actually sports some good prose (with help from writer Matthew Rudy). In a brisk 93 pages Stockton lays down the basic principle of seeing the line and rolling the ball.
He doesn't advocate any particular grip, stroke or routine. Just whatever it takes to see the line and roll the ball, in order to make one's putts as automatic as signing your name or driving your car–other actions we do perfectly competently without any conscious thought of how we're doing it.
If that sounds reasonable, make a conscious note to buy the book.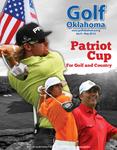 This piece first appeared,
in slightly different form,