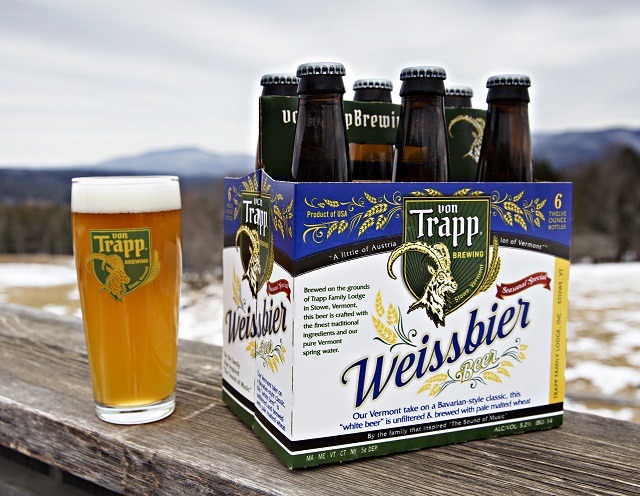 [May 7, 2016]–For a brewery owned by members of the von Trapp family, of "The Sound of Music" fame, there's a lot of "Jersey Boys" going into the production of the beer. Brewmaster J.P. Williams is from Hackettstown, and three others on his brewing staff are also from Jersey. He said, "When we have a free moment we sit around and tell tales about the Garden State."
Not that there is a lot of free time at the Stowe, Vermont, brewery. In a radical expansion last year von Trapp Brewing went from a 2,000-barrel basement operation in the Trapp Family Lodge to a new, gleaming, spacious 50,000-barrel (capacity) decoction brewery a little ways down the road. At the moment it's the largest brewing building in Vermont, although Otter Creek's expansion may take the crown later this year. (Tale of the tape to come.)
Johannes von Trapp, president of the company that is running the Lodge and the brewery, said he originally conceived of a small brewery doing a few thousand barrels a year: "Enough for us at the hotel and a few accounts in Vermont. But it was so well-received by our guests that I very quickly began to think of the brewery we had as market research."
The research was suggesting that a much-expanded facility could provide enough beer to become a regional brand. "I knew our spring water was perfect for lagers. We had developed a few recipes that were good. Our name is highly recognizable. It just seemed like a natural. Plus the hotel promotes the beer and the beer promotes the hotel."
With a 300-seat (150 indoors, 150 outside) Bierhalle set to open in the summer and beers sales extending into its fifth state next week (New York, with Connecticut probably later this year), von Trapp would seem to be right. The company will have to sell a lot of beer to recoup a $15 million investment that, due to various delays, rose to upwards of $17.5 million. But the beers are good, they occupy a somewhat neglected niche in the craft beer world (lagers), and there's no question about the name recognition.
Johannes von Trapp was the last child of Baron Georg and Maria von Trapp, whose story is best known through the 1966 Best Picture Oscar-winner. The von Trapps have no real argument with the movie, since it put them on the map, so to speak. The beer packaging notes it is produced "By the family that inspired 'The Sound of Music.'" Still, family members will cheerfully point out that the film and Broadway show from whence it came takes many liberties with the actual facts of the case.
Johannes, in his offices at the Lodge in December, said, "Just to name a few, begin with the time line. My father and mother were married in 1927; in the film it's 1938—they come back from their honeymoon and Hitler invades Austria. There are 11 years missing. All the children were, in reality, 11 years older than they were in the film. And we didn't walk over a mountain to Switzerland. (Although we could have, the family being hikers, climbers, skiers and so forth.) But if you did that in Austria you'd be in Germany, which is not where we wanted to go. We took the train to Italy. And they closed the border the next day. So we were lucky to get out when we did.
"And then a very important person was left out of both movie and play, a priest, Franz Wasner, who was our musical director and conductor. Without his musical genius we would have been just another bunch of people singing. He was really good at arranging, and capitalizing on our strengths while minimizing our weaknesses."
This was a collective "we" from von Trapp. He was born in 1939 in Pennsylvania. The family moved to Vermont in 1942, taken with a similitude of Austria. Johannes joined the family singing troupe at age seven: "The family started singing in 1936 in Europe and stopped in January of 1956. The Lodge grew out of our family home. When we were away singing in the '40s and '50s there were not enough rooms in Stowe for skiers. In those days skiers were a hardy bunch. They'd sleep in the town garage, a farmer's hayloft, but they still preferred some place where they could get a shower. So when we were away singing we would rent our rooms to skiers. One thing led to another and soon we were in the hotel business."
Guests were originally all mountain skiers, but in 1968 von Trapp opened the first full service cross-country ski center in the U.S.: "So then for a number of years all our guests were cross-country skiers." A fire destroyed the hotel in 1980, but a new one emerged in 1983. "Now we have a pretty good mix of downhill, cross-country, snowshoers and non-skiers."
Maria, Georg and several of the children are buried in a small plot on the Lodge grounds (which extend to 2,500 acres). After Maria's death in 1987, not everything was whiskers on kittens for the family. Internecine strife over control of the business eventually found its way into court. After 1993, Johannes took control, with his son, Sam, and son-in-law Walter Frame now serving as executive vice-presidents.
I met Sam at a recent von Trapp Brewing tap takeover at my son-in-law's place, Wildwood Barbeque in Hadley, Massachusetts. Sam, in the Tyrolean hat he is almost forced to wear and yet carries off well, gave his father full credit for coming up with the notion of producing European-style lagers.
That's what the elder von Trapp grew up with. If born in the U.S., he visited Austria many times, and where he developed a taste for lagers: "Yes, that's probably true. The first beer I ever had, when I was about 12, was in Salzburg. I think the drinking age there was 15 then for beer and wine and you had to be with your parents. But then beer is considered food there."
The current menu at von Trapp Brewing includes four year-round lagers: a Golden Helles, a Bohemian Pilsner (which won the sole Vermont medal at the Great American Beer Festival last year, a second place in the Pilsner category), a Vienna-style lager and a Dunkel. An India Pale Lager is about to hit the shelves as the summer seasonal and, at least in Vermont, the spring seasonal Weissbier can still be found.
It's the brewery's first ale. I managed to be touring the brewhouse when the initial batch was being brewed, which provoked some lingering anticipation: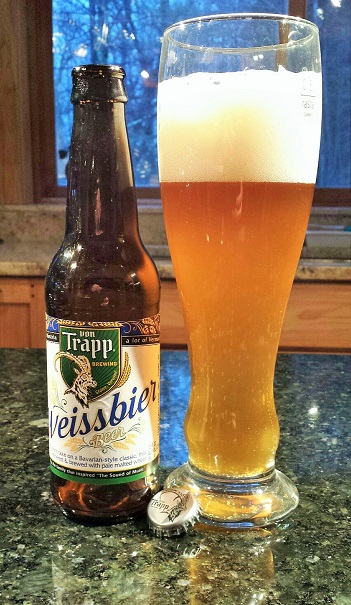 The beer is a pleasing light amber, unfiltered and therefore lightly hazy. (The Helles is the only filtered beer of the roster.) It has a nice rocky head on the pour, although that fairly quickly dissipated. Lusty fruit esters and clove notes pour out of the glass. (I'm sitting here with a fire starting in the wood stove on a chilly early May evening, about two feet away from my glass, and the beer is out-pacing the fire in aromatic terms.)
The recipe called for 60% pale wheat malt and 40% pale malt, Hallertau hops, and a warm fermentation with Bavarian Hefe yeast. The aroma carries over, and certainly the clove zing, into the palate.
As with all of the von Trapp beers, it's of moderate strength at 5.2% ABV, and expertly brewed. The portfolio may not represent beers you're looking for when you're looking for something dazzling. But they fit the bill when you're looking for something that is just right—and a refuge of mostly lager ground amidst the vast ocean of IPAs.
With the Bierhalle nearing completion and the Alchemist getting ready to open its new facility with Idletyme Brewing virtually across the street, Stowe may soon shift some of the travel patterns for those hurtling toward Vermont in search of its better beers.
Name: Weissbier
Brewer: von Trapp Brewing, Stowe, Vermont
Style: Bavarian-style wheat beer
ABV: 5.2%
Availability: VT, NH, MA, though supplies are running out
For More Information: www.vontrappbrewing.com