[July 12. 2014]–Last October Champions Tour player Jay Don Blake was warming up for the AT&T Championship at TPC San Antonio. As he came off the eighteenth hole of his practice round at the Pete Dye-designed AT&T Canyons Course, he was asked about his memories of the 1988 PGA Championship—held at the Pete Dye-designed Oak Tree Golf Club in Edmund (now Oak Tree National).
"I remember some very difficult holes out there. The problem was always how to position yourself safely." Blake positioned himself well enough to finish the tournament one stroke over par, in a tie for 25th place.
Looking ahead to taking on Oak Tree again at the 2014 U.S. Senior Open, Blake said, "I like the course. But the wind does blow out there."
Indeed it does. Blaine McAllister, one of those tied with Blake in 1988, said of the course, "It's a wonderful, wonderful design and an unbelievable test of golf. The tournament is in July, so heat will be a factor. But it all depends on the wind, which probably means the hometown boys will have an advantage."
"I think we will," said Willie Wood, one of the hometown gang better known as the Oak Tree Boys, after the logo Wood was wearing on his shirt at the San Antonio tournament. It's arguably one of the most famous of golf logos—which came from Oak Tree's fifth hole oak tree.
But then, a lot came from Oak Tree.
The Start of Some Things Big
"I'm not sure why Ernie and Joe called me originally. I was pretty much just starting in the business," said Pete Dye last year from his home in Indiana, when asked about the origins of Oak Tree.
Ernie Vossler and Joe Walser Jr., were talented amateur golfers (Ernie was the Texas Amateur Champion in 1954, Joe the Oklahoma Amateur champ in 1952) before turning professional and becoming friends on the tour.
"Ernie had been very successful on the PGA Tour, and Joe played it a few years as well, but both eventually quit the tour to become club professionals," said Dye, casting his mind back some—he turned 88 last December 29, so the cast is a little longer than it once was.
Both Vossler and Walser (who both passed away in the last two years) worked at Quail Creek in Oklahoma City before Walser eventually moved over to the Oklahoma City Golf and Country Club, which is where Hugh Edgmon met Joe. Edgmon would later become a large part of the Vossler-Walser-Dye engine, since the pair had plans, he said:
"When Joe and Ernie left their respective posts they formed Unique Golf Concepts. I became the head pro at Oklahoma Country Club, but eventually they hired me away. I wasn't involved in Oak Tree at first, except as a friend, walking around the property and kicking clods with Joe. But I can tell you that Pete Dye did a wonderful thing for the golf industry when he created Oak Tree."
Dye had run into both men previously—Vossler in his amateur days, Walser during a Tour event. When Unique Golf Concepts started a project in Greensboro, North Carolina called The Cardinal the pair began examining a few Dye courses.
He may have been "just starting in the business" but Crooked Stick, The Golf Club, and Harbour Town were already in the books. The two partners had their man, a deal sealed with a handshake.
Dye said, "I started The Cardinal in 1973, but about halfway through Ernie and Joe had a difference of opinion with another partner and they left. I finished the course in 1975. Many years later John McConnell bought it, so in 2007 I went back and built it again.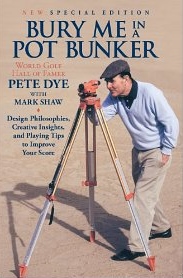 "Meanwhile the two of them were thinking Southern Hills needed a little competition, so they called me up again and said they wanted to build a men's club–a hard golf course, for men only."
According to Pete's bio written with Mark Shaw, Bury Me in a Pot Bunker (now in a new revised special edition), what Walser actually said was, "Build us a championship golf course. One with no compromise."
Edgmon said one of Joe's favorite stories was to say, "We commissioned Pete Dye to come in here and make absolutely the best course he could, with unlimited funding resources at his disposal. And darned if he didn't exceed them!"
Dye was initially taken aback because Edmund was, back then, seemingly in the middle of nowhere, and the designer wondered how anybody would find their way to the course. Of the land itself, he had no misgivings.
"Anyhow," Pete now says, "I went and built the goldang thing. And that was the start."
It was the start of some things big. As far as the relationship between the trio it led most immediately to the two Oak Tree Country Club courses across the street from the original Oak Tree.
"Alice was instrumental in those courses as well," said Edgmon of Dye's marital and frequent design partner. "When you're dealing with Pete Dye you're dealing with someone who is really special, as special in his disciplines as any golf course architect I know. He has a talent hard to put your finger on—but when you combine that with Alice, oh my goodness gracious! It's a can't fail."
Vossler and Walser, who merged with Landmark Land Company in 1974, wound up developing more Pete Dye-designed golf courses than any other entity. "I did a lot of work for Ernie and Joe," said Dye. "They were good to work with."
That would include the Stadium Course at PGA West in California. Vossler and Walser wanted it to be harder than Oak Tree–the hardest course in the world, actually, and many would say it is. Other California classics at PGA West, La Quinta Resort, and Mission Hills, as well as the Ocean Course at Kiawah, all sprang from Oak Tree.
"Those were the glory days for Landmark," said Edgmon, who is now with Troon Golf in Arizona.
Teeing It Up at Oak Tree
Oak Tree Golf Club opened on May 1, 1976, and merely changed the face of golf in Oklahoma, being named to the Golf Digest "America's 100 Greatest Courses" list the following year, the "youngest" course ever so named to that point. And the club spawned the Oak Tree Boys, a gaggle of Oklahoma pros who cut their teeth on the course and made it and the community a literal and figurative home.
"That's true," said Dye. "There's Gil Morgan, Bob Tway, Willie Wood, Doug Tewell, Mark Hayes, Scott Verplank."
Verplank has a special relationship with Oak Tree, having won the 1984 U.S. Amateur title there while a OSU student, his coach Mike Holder on the bag. And Verplank will turn 50 in timely fashion. Said Willie Wood, "The 2014 Senior Open at the club will be Scott's first senior event."
Along with many amateur competitions, Dye courses worldwide have hosted an impressive string of major championships on the PGA, LPGA and senior tours—"Twenty-eight, but who's counting?" said Dye—not to mention the Solheim Cup and the notorious "War by the Shore" Ryder Cup of 1991 at the Ocean Course on Kiawah Island. (The 2020 Ryder Cup matches will be at Dye's Whistling Straits course in Kohler, Wisconsin.)
"But the PGA Championship at Oak Tree in 1988 was my first professional major," said Dye.
Edgmon was the general chairman for the 1988 PGA Championship at Oak Hill, and he claimed at the time to be delighted that the players were firing low scores.
But the impression remains that members wince a bit at the thought that the 1988 tournament wound up as the second easiest in the championship's history. And that winner Jeff Sluman managed to get around in five-under on the final day, his 272 total, 12-under, besting runner-up Paul Azinger by three strokes.
It was Sluman's only major, and his first Tour victory as well. His and the other low scores weren't traceable to an easy course, which no one would ever accuse Oak Tree of being. Then as now a par-71, it was rated at 76.9, then the highest course rating in the U.S. The low scores came from soft conditions and the almost complete absence of the typically ubiquitous 30 mph wind.
When Dye returned to renovate the course in 2002 the rating went up to 77.1. Today, at 7,410 from the black tees the course comes in at 79.3 and a slope rating of 155, the highest possible.
Dye merely chuckles about all this, saying that his renovations at Oak Tree actually involved softening many of the greens.
"You can't build greens like you did 30 years ago. You have to soften them. When Hogan won at Merion the greens were probably running about six on the Stimpmeter. I imagine we had the greens at Oak Tree up to about eight, and they were probably even higher by the time the club changed hands."
The Club was set to host the 1994 PGA Championship, but by then Landmark was mired in financial difficulties and the venue was changed to Southern Hills. Now renamed and under new ownership, Oak Tree National is ready to take its place on the larger stage once more.
"It went through some challenging times but it made it through," said Willie Wood. "As for the course, players have to drive well. The greens are all elevated with a lot of front trouble. So you have to fly it in to the greens and when the wind starts blowing it's tough to control. In July there might be less wind. If it was April we'd have our hands full."
It's going to be a test," said Edgmon. "As I recall the year that we played the PGA Championship the first was ranked the hardest starting hole on the Tour. And at Oak Tree, it doesn't get any easier from there. It's fair, but a challenge, from the first shot to putting out on the last."
Dye claims it's playable by the average golfer—if hitting from the proper tees: "The fairways look entirely different, tougher, for better players. If he moves up, the average guy can handle it."
It may depend on how you define "average guy," but it seems clear that Dye doesn't quite qualify. With ample projects and renovations he can attend to, Dye has a simple attitude toward them: "My health is good and I'm still going strong. So I might as well."