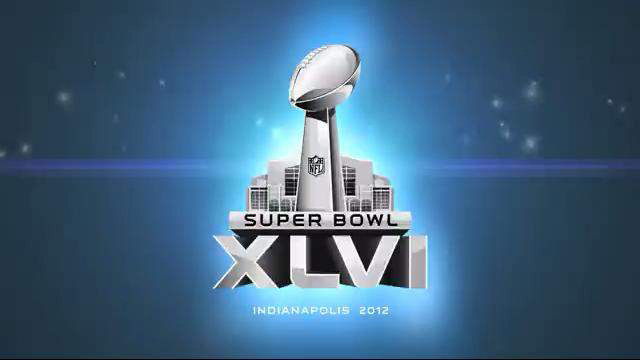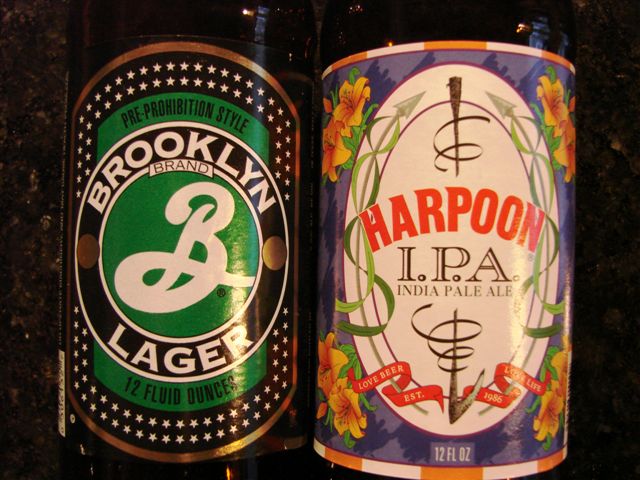 Despite outing my anti-football stance in this rant, careful readers will have noted I'm pretty much okay with gambling. And since nothing brings out that instinct (it does seem like an instinct, doesn't it?) more vigorously than the Super Bowl, here we are again.
Last year we wandered from Pittsburgh to Green Bay by way of the White House (and the homebrewing activities going on there, all mentioned here).
But for Super Bowl XLVI we're sticking to the east coast, and hitching our star to a wager already in the works, between Brooklyn Brewery and Harpoon Brewery. Seems that the old pros at the helm of each brewery are chums and couldn't pass up the chance to tweak the other should their home team win.
The deal is that should the Patriots win, Steve Hindy will dispense a keg of Harpoon IPA at the Brooklyn brewery. Likewise, should the Giants win, Harpoon's Rich Doyle and Dan Kenary will dispense a keg of Brooklyn Lager in the Boston tasting room.
Gauging by the amount of coverage the wager has already received, the publicity will presumably help salve the wounds of the defeated, and I'm willing enough to lard on some more.
For the two breweries, this is actually Super Bowl Wager II, since the same terms were put forth for Super Bowl XLII in 2008, and even non-fans like me know the Giants dusted off the previously undefeated Patriots 17-14, a stunning upset. As this video shows, the bet was paid off, and Hindy made a prescient comment about the two teams meeting again in the playoffs:
Hindy, who obviously has a gambling problem, threw down a similar wager with Anchor Brewing in San Francisco before the Giants-49ers tilt for the NFC title. Anchor president John Dannerbeck not only agreed to pour Brooklyn's Sorachi Ace beer from this Monday to tomorrow, but outfit tour guides in Giants jerseys:
I'm going to throw in my two cents here. I'll select one of the specialty beers of whichever brewery wins on Sunday–so to speak–and make it my next TAP Beer of the Week. To the victor goes the laurel. To me goes the beer.
[We all now know how the Super Bowl turned out, so click here for the promised TAP Beer of the Week post.]
As far as this week's two beers go, as a lager and an ale they aren't really competitive; it's apples and oranges. But there are some similarities in that both beers are the best-selling flagship brew in each company's portfolio. Both are now being canned as well as bottled (both canned at the F.X. Matt Brewery in Utica, New York).
And both companies have now been around for a long time, by craft brewery standards. (See "Related Posts" below for a little more on each brewery's history and beers.) Harpoon released its first beer, Harpoon Ale, in 1987. Brooklyn Lager was that brewery's first offering in 1988. From small and none-too-certain beginnings, both companies have come a very long way: Harpoon was ranked ninth in U.S. craft brewery sales in 2010 (16th in overall brewery sales), while Brooklyn was 16th (25th overall).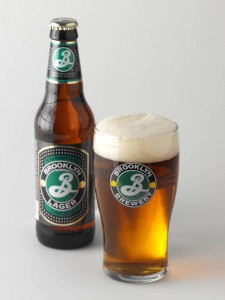 The two beers in question were mildly radical for the time and place of their introduction. As they enter adulthood they've more or less settled down into mainstream respectability, considering the wild experimentation going on around them. Neither will knock your socks off; nor will they let you down.
Brooklyn Lager harkens back to pre-Prohibition brewing days in the borough, when almost 50 breweries plied their trade, with a Vienna Lager-style recipe formulated by William Moeller, a fourth-generation brewer who went back into the notebooks. The Milton Glaser-designed logo harkens back to the Brooklyn Dodgers. (Talk about festering wounds!)
It's a lightly amber beer with a nice sudsy head, an appealingly grainy nose with a touch of lemon zest probably from the (somewhat unusual) dry-hopping during lagering. (Hallertauer Mittelfrueh, Vanguard and Cascade in the hop mix.) The bottles I had from a recent variety pack were just past their freshness date with no apparent harm done. The palate is lightly malty, suitably crisp, with a bittersweet finish.
I hadn't had a Brooklyn Lager for awhile. When I cracked one open a few days ago I had a bit of a flashback, on first sip, of the old New Amsterdam Amber, which both Brooklyn Lager and Sam Adams Boston Lager are the immediate descendants of from back in the mid-80's. But that's a bit of history for another time.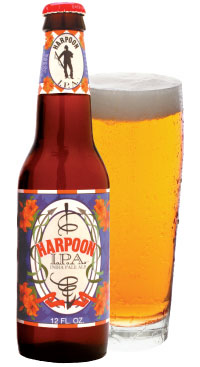 Interestingly, though, Brooklyn Lager is brewed at the Matt Brewing Company, as was New Amsterdam, Sam Adams and Harpoon for a time. However, the expansion of the company's Williamsburg brewery is expected to double capacity in 2012 and again in 2013, so that may change.
The Harpoon IPA was introduced in 1993 as a summer seasonal beer, but sales went off the charts and the company quickly made it a year-round offering. Now it's the number one house brand.
I suspect its very ubiquity makes beer geeks take it for granted. But I know I'm happy to call on it as a go-to beer when choices are otherwise suspect or limited. It's not a west coast in-your-face IPA, but a solid Cascade hop-accented IPA with a fruity nose, a toasty malt character and a good bit of hop zing in the finish. Wham, bam, thank you ma'am, I'll have another.
There, now wasn't that more fun than talking about football?
Name: Brooklyn Lager
Brewer: Brooklyn Brewery, New York
Style: American Amber
ABV: 5.2%
Availability: Year-round, 25 states and D.C.
For More Information: www.brooklynbrewery.com
Name: Harpoon IPA
Brewer: Harpoon Brewery, Boston, Massachusetts and Windsor, Vermont
Style: IPA
ABV: 5.9%
Availability: Year-round, 26 states
For More Information: www.harpoonbrewery.com
Related Posts:
TAP Beer(s) of the Week: Harpoon 100-Barrel Island Creek Oyster Stout and Single Hop ESB
TAP Beer of the Week: Brooklyn Local 2
TAP Beer(s) of the Week: Summertime Brews
Super Bowl XLV