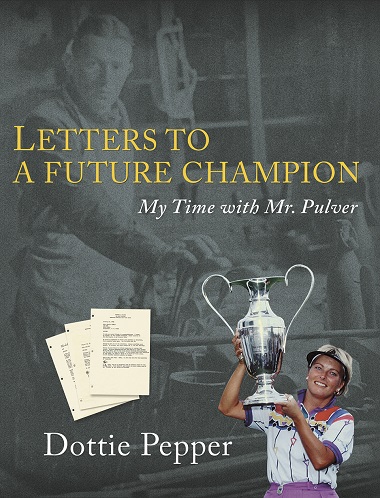 As Phil Mickelson remarkably demonstrated at this year's PGA Championship, age and experience make a potent combination. Dottie Pepper confirms the same in her delightful Letters to a Future Champion: My Time With Mr. Pulver (available at www.dottiepepper.net, $39.95).
Pepper is perhaps best known to a younger generation as the incisive on-course reporter for CBS (she survived the last day's riotous 18th hole scrum at the PGA Championship by linking arms with colleagues).
But as a golf mad youngster growing up in Saratoga Springs, New York, Pepper had big dreams, and she made them come true: 17 wins on the LPGA tour, two major wins and a sterling Solheim Cup record in six appearances (13-5-2).
But she had help, mainly from the subject of this book, George J. Pulver Sr. Pulver was a long-time PGA pro, a confidant of Seymour Dunn and Devereaux Emmett, a some-time course designer himself as well as the long-time superintendent, manager and pro at the Emmett-designed McGregor Links Country Club in Wilton, New York.
He was retired in 1980 when the 15-year-old Pepper reached out to Pulver and his wife, Martha, hoping for some assistance with her game. Pepper played a few rounds with Martha before she fell ill and passed away. But shortly thereafter Pulver actually began watching Pepper hit balls, and sending her a typed letter after each session.
The correspondence between the two continued for five years, until Pulver's death in 1986, at 87, when Pepper was a junior at Furman University. Lucky for us, both of them kept every letter, and they are the basis of the book, with Pepper's commentary throughout.
Pepper presents the actual letters in the book, complete with her fine penmanship, Pulver's typing errors and corrections, even the reinforcement rings–Pepper kept Pulver's letters in a three-ring binder that she took with her everywhere, so keenly did she lean on his advice. And his advice is consistently encouraging, wise about life as well as golf, and utterly self-effacing.
The cumulative effect of the continuity here, as we trace Pepper's progress, Pulver's straightforward golf advice and subtle inspiration, and eventually his growing health problems, is incredibly poignant. You'd have to have a cold heart not to be touched by this unique view of a mentorship suffused with mutual respect and love, one that came along at just the right time: when both needed it most.
<<<>>>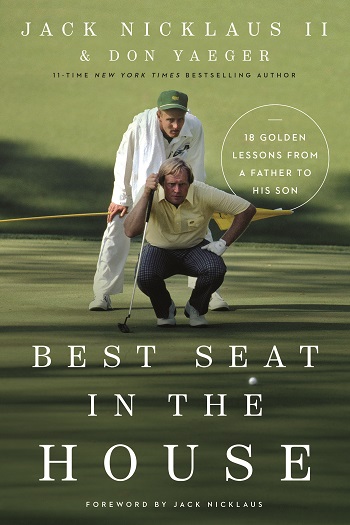 Jack Nicklaus II and Don Yaeger have collaborated on Best Seat in the House (Thomas Nelson, $25.99), a book that surely qualifies as an uber-Father's Day offering. Essentially a book about parenting, Nicklaus II passes on the advice he's learned from Nicklaus I, better known among golfers as GOAT.
Like many golf books (surely, by now, too many), this one parcels its life lessons into 18 chapters (the subtitle is "18 Golden Lessons From a Father to His Son").
It has to be said that this is hagiography fashioned to a stunning degree. Non-Nicklaus fans may well drown in the treacle. If Nicklaus II says once that Nicklaus I is the greatest dad of all time, his best friend, a man who always puts family before golf, he says it ten thousand times—or so it seems. The relentless canonization gets mighty thick. (And Barbara Nicklaus gets an equivalent Mother Theresa treatment.)
All is not lost. Being his father's namesake could have been an intolerable burden for Nicklaus II. While he alludes to some early tussling with the weighty mantle, he clearly emerged unscathed, and now applies an amusing self-deprecating voice in confirming that youth is wasted on the young.
Among the book's virtues is that the parenting advice seems sound, if hardly groundbreaking: Listen to Your Children, See the Best in Others, Focus More On Your Family Than Work, and so on. Best of all, the advice is frequently illustrated by anecdotes drawn from Nicklaus I's golf career.
One example summarizes the "Listen to Your Children" chapter, when Nicklaus the younger, fresh from a disappointing junior golf tournament round, receives a call from his dad. Nicklaus listens patiently with occasional suggestions as his son bellyaches about his round for twenty overly detailed minutes:
"Then Dad said, 'Jackie, would you like to know how your dad did today?'
"A little embarrassed, I quickly said, 'Well, yes, how did you do today?'
"'Well, I just won the U.S. Open.'"
<<<>>>
Speaking of U.S. Opens, did Ben Hogan win four or five? The official record books say four (1948, 1950, 1951, 1953). Hogan always claimed it was five, thanks to his victory in the 1942 Hale America National Open, a tournament put together to, well, sort of replace the regular U.S. Open, canceled due to World War II. Yet, aside from Sam Snead, all the top players in the game, plus Bobby Jones, competed in the tournament, having not yet assumed their wartime assignments.
Who's right? Peter May doesn't give a definitive answer, but as his book's title suggests, leaves it as The Open Question: Ben Hogan and Golf's Most Enduring Controversy (Rowman & Littlefield, $24.95). The USGA has never budged from its position that the tournament was not an official Open. And it's hard to say what point it would now serve to rewrite the books.
Thankfully, May's book is not one long pro and con, but a detailed look at the time and the players of the day. May sets up the context that led to playing the Hale America tournament, and speaks of its aftermath in the years since.
He organizes the bulk of the book into the four days of the tournament, but this is a mere framework from which he fires off tangents in all directions; indeed, the book offers up mini-biographies of Hogan, Snead, Jones, Byron Nelson, Jimmy Demaret and in particular, Lloyd Mangrum. Indeed, it sometimes seems as if May wished he were writing a biography of Mangrum.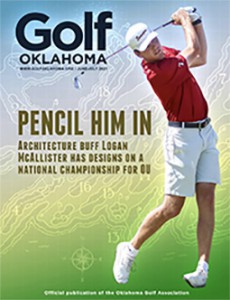 This is less a criticism than an observation, because all this peripheral material is pretty fascinating, especially a rare look at what all the players did undertake as part of their wartime service. Mangrum comes off well as both an underappreciated talent and a refreshing crank. He probably does deserve a good biography, and May should think about it. He's already halfway there.
This piece originally appeared, in slightly different form, in the June-July 2021 issue of Golf Oklahoma.