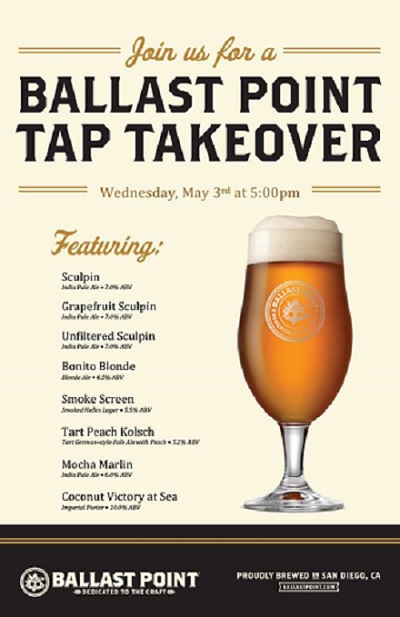 [May 4, 2017]–They scratched the Tart Peach Kolsch, but added the Sea Rose Tart Cherry Wheat Ale for last night's Tap Takeover at Wildwood Barbeque in Hadley, Massachusetts.  A fair trade. The Mocha Marlin also gave way to the regular Black Marlin Porter, which at 6% ABV was an interesting contrast with the Coconut Victory at Sea, an Imperial Porter with coffee, vanilla and coconut, rolling in at 10%. It was wise to pack in some extra pulled pork to soak that one up.
Knowing that Ballast Point was going to take over the taps at the Que, I found a six-pack of the Grapefruit Sculpin, and put it up against Vermont's Rock Art Brewery's Grapefruit IPA in a quicky informal tasting with my visiting son, Mike, doing a mini-reunion over the weekend with a couple of his old college buddies, Dan and Alisa DiBlasi, both beer heads.
Our panel of four gave the nod to Rock Art, 2 to 1, with one abstention, me, with no clear preference over the two. Dan and Mike both preferred the Rock Art, saying the grapefruit presence was more dominant, while the Ballast Point entry tended to be sweeter. Alisa went along with that, but preferred Sculpin's sweeter note.
That's pretty much how I saw each beer, too. The Sculpin was fresher, having been canned on Feb. 28, while my one can of Rock Art's brew came from the cellar (garage) and had been canned on Nov. 1, 2016. That the match-up was a little unfair to this degree didn't seem to matter. I did think the Sculpin was brighter and fruitier, while the Rock Art, a hazier brew, also had a more acerbic and pithy citrus tang. But both were delightful on their own terms. (Both come in at 7% ABV, so an even playing field there.)
In a previous takedown, regular Sculpin vs. Point the Way IPA, Ballast Point of San Diego went up against Golden Road Brewing of Los Angeles. That was in 2013. Both breweries have since been purchased, Golden Road by A-B InBev, and Ballast Point by Constellation Brands for a neat billion dollars, taking both out of the craft beer category, at least in Brewers Association terms. (A bit of Ballast Point's history is in that post.)
Rock Art remains independent, and while it had distributed to other states for awhile, cut back two years ago to distribute solely in Vermont, where it's selling everything it can make and where owners Matt and Renee Nadeau seem content to leave it that way. Beyond the grand disparity in size, however, both Rock Art and Ballast Point have a grand diversity in the styles of beer they produce, and a great alacrity in throwing all sorts of stuff into the brew kettle.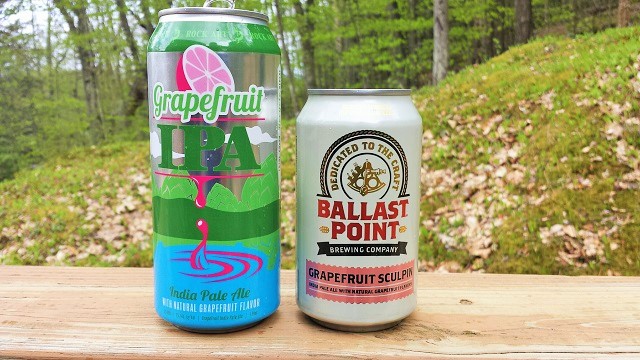 Rock Art is 20 years into the game now, and they're playing it well. As an anniversary celebration, they're going full solar power this spring for all their electrical needs, and look for a special can release to note the occasion.
Name: Grapefruit Sculpin
Brewer: Ballast Point Brewing Company, San Diego, California
Style: Flavored IPA
ABV: 7%
Availability: Year-round, most states
For More Information: www.ballastpoint.com
Name: Grapefruit IPA
Brewer: Rock Art Brewery, Morrisville, Vermont
Style: Flavored IPA
ABV: 7%
Availability: Summer seasonal, Vermont only
For More Information: www.rockartbrewery.com
Other articles mentioning Rock Art:
The Session #131: Three Questions
National Drink Beer Day and Other Momentous Dates
Tempest in a Brewpot