[May 26, 2013] I'm working on a piece for a southern California golf magazine about canned craft beers that should be replacing the usual uninspired swill available in most beverage carts. I'll post it here in due course. Meanwhile, a few ancillary beers have been showing up and I feel duty bound to sample them.
I enlisted my friend Castle Freeman, Jr., to help, at the more or less monthly Shakespeare reading group we belong to. Castle is not only a sterling fellow who helps me pick up my Christmas tree each year, but an extraordinarily talented writer. His novel Go With Me  is about the rippingest tale around and I heartily recommend it.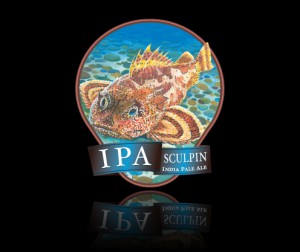 Castle is also a hophead, a big Sierra Nevada Torpedo fan. So I figure he wouldn't object to trying a couple of west coast IPAs.
Both of these are fairly new to cans, although in Point the Way's case, only because Golden Road Brewery itself is fairly new, founded in late 2011 by partners Tony Yanow and Meg Gill and said to be the first modern brewery to can beer in Los Angeles.
Yanow was already well known to craft brew lovers in the city for taking over a rundown dive bar in Burbank and in a few years time turning it into one of the best beer bars around, Tony's Darts Away, with 40 taps of all-California beers.
Can't say I've yet had the pleasure of pulling up a barstool there or at the Golden Road Pub adjacent to the brewery. Actually, I can't even remember the last time I was in L.A., other than passing through the airport.
I remember my last trip to San Diego, however, now about three years ago, which included a visit to Ballast Point's original Home Brew Mart location that Jack White opened in 1992. The brewery basically started in the back room of the homebrew store in 1996. It has since opened a second production brewery, became the first distillery in San Diego since Prohibition, and recently announced plans to open a third brewery (and restaurant), in the city's Little Italy neighborhood.
White showed us around that day with Colby Chandler, director of R&D and specialty brewer, who will head up the brewing at the new location. The pair plied our group with various tastings, including different vintages of the 3 Sheets Barleywine, the 2010 version aged on oak chips soaked in the distillery's rum. We chased that with the Victory at Sea Bourbon, the normally remarkable enough 10% ABV vanilla coffee Imperial porter, this one aged three months in a single Heaven Hill bourbon barrel and then served on nitro. Inventive they are, out there in San Diego.
Both breweries have long lists of specialty brews available only in their tasting rooms, and more than one IPA in the portfolios, too. Golden Road makes an 8% ABV Rauch IPA with smoked malt. Ballast Point answers with a Habanero Sculpin.
The IPAs we had both had hop aromas pouring out of the glass. Point the Way uses Cascade, Chinook, HBC 342, Galena and Warrior, producing typical grapefruit aromas, notes of pear, pine and candied fruits. The mouthfeel has a touch of velvet, but overall struck me as a tad thin, while leading to a pointed, spiky dry finish that appealed to Castle.
Sculpin uses up to eight hops in the mix, featuring Amarillo and Simcoe in a fruity, herbal, spicy bouquet. Ballast Point ramps things up a bit more with a 7% ABV, leading to a fuller mouth feel and sweeter backbone. It all feels a bit more rounded and complex to me, and was my preferred pick.
So, two hop fans delivering a split decision, but figuring you can't go wrong with either.
It's a little amazing to me to pour beers like this out of a can in the first place. I remember the day when all beer from cans was the usual uninspired swill. We're emerging from about a thirty-year cycle during which those looking for better beer wouldn't think of popping open a can to find it.
It still feels strange to me. I'm not sure I'll ever like it as much as opening a bottle (or, preferably, uncorking one). But something tells me I'll muddle through.
Name: Sculpin IPA
Brewer: Ballast Point Brewing & Spirits, San Diego, California
Style: IPA
ABV: 7%
Availability: Year-round, 20 states
For More Information: www.ballastpoint.com
Name: Point the Way IPA
Brewer: Golden Road Brewing, Los Angeles, California
Style: IPA
ABV: 5.9%
Availability: Year-round, mostly southern California
For More Information: http://goldenroad.la