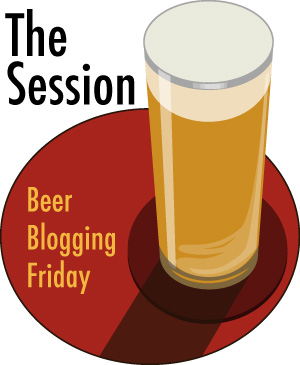 [Jan. 5, 2018]–The Session is a monthly effort where beer writers around the interwebs respond to a topic question each first Friday. This is the 131st installment, so it's been going on for quite a while.
Still, this one was hastily convened by one of the original keepers of the flame, Jay Brooks, when he realized no one had stepped forward to volunteer to host for the month. He wisely decided to keep it all short, asking for quick answers to three brisk questions. Jay will do what is probably a pretty concise roundup at his Brookston Beer Bulletin site. So with briskness in mind, here goes:
Question No. 1
What one word, or phrase, do you think should be used to describe beer that you'd like to drink. Craft beer seems to be the most agreed upon currently used term, but many people think it's losing its usefulness or accuracy in describing it. What should we call it, do you think?
What do I like to drink? Good beer.
As for distinguishing independent breweries from megabrau corporations, I think I'll stick with craft beer for now. Still works for me and most of the people I'm communicating with. When I need to make finer distinctions, I will.
Question No. 2
What two breweries do you think are very underrated? Name any two places that don't get much attention but are quietly brewing great beer day in and day out.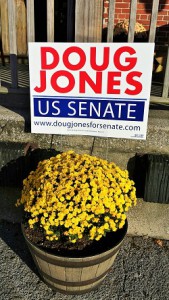 Tougher question. I had a chance to visit several northern Alabama breweries this year and was generally surprised and impressed by what's going on, in that I went into the area expecting a southern backwater–northern elite that I am.
I'll single out Back Forty Beer Company in Gadsden for leading the charge in the state, for the energy and charisma of founder Jason Wilson, and for having the courage to put up a "Doug Jones for Senate" poster early in the game.
Back here in Vermont there are no lack of superstars, but Rock Art Brewery in Morrisville has been going at it steadily for 20 years now, recently went 100% solar, and appears utterly committed to family, community, state, common sense and good beer.
Question No. 3
Name three kinds of beer you'd like to see more of…. anything except IPAs, or other extreme beers…. beers that we don't hear much about or that fewer breweries are making. What styles should return, re-emerge or be resurrected in 2018?
At the risk of sounding like a 1970's brewpub, I'd like to see more good versions of
Brown Ale
ESB
Porter
I'm still thinking about a 3.9% mild I had over a year ago at the Drop-In Brewing Company in Middlebury Vermont (which I noted in Session #117). It was so tasty, and so low in alcohol, that it was nothing short of astonishing. So it can be done.
I'd love to see some of the same skill brought to bear on traditional English-style special (or strong) bitters and porters.
There is, indeed, no shortage of all sorts of IPAs here in New England, especially the cloudy, orange juice-looking variety that I still have some visual problems with, even while draining my glass. So I often need to return to (or flee to) more traditional styles, if only to reestablish a personal baseline.
Excelsior!
Related posts: The Session sessions
Other articles mentioning Rock Art:
TAP Beer(s) of the Week: Ballast Point Grapefruit Sculpin vs. Rock Art Grapefruit IPA
National Drink Beer Day and Other Momentous Dates
Tempest in a Brewpot