The Golf Road Warriors began converging on the Cherry Capital Airport in Traverse City, Michigan on Sunday afternoon. Before heading north, we began our adventures splendidly, in my opinion, by heading into town and straight to the North Peak Brewing Company.
And why not? The U.S. House of Representatives had, after all, presented House Resolution No. 102 to declare July 2012 as Craft Beer Month in the state of Michigan, and which the other house adopted in June as Senate Resolution No. 160.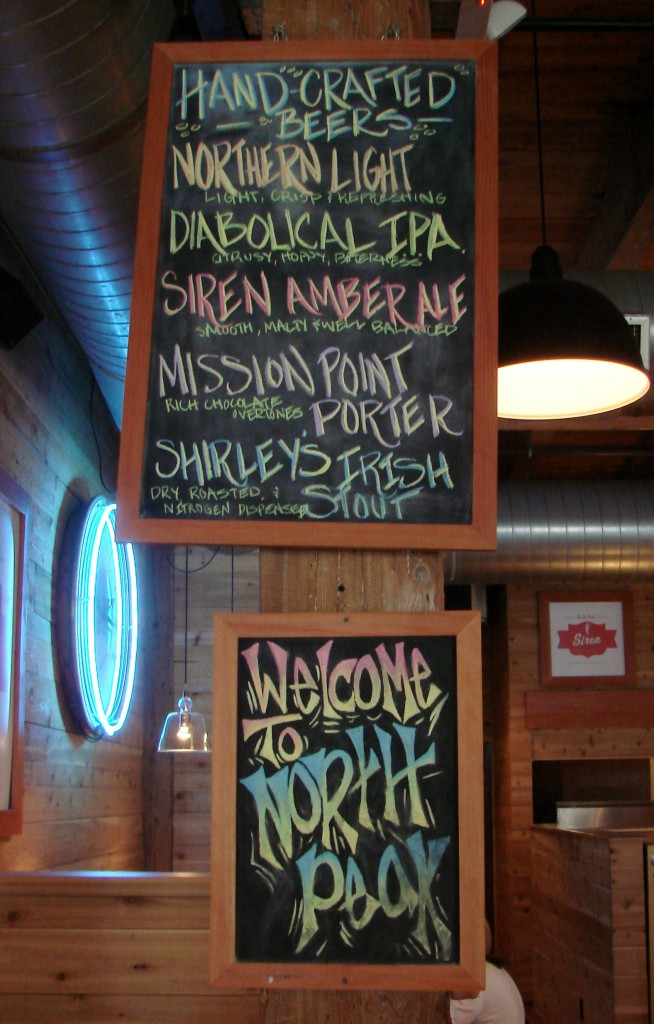 Michigan is a vibrant brewing state, with more than 100 craft brewers plying their trade. Some have national reach and reputation, like Bell's Brewing of Kalamazoo, others are typically more local.
The trend is upward, not to say that everything always works out. The Michigan Brewing Company went bankrupt last month and much of its equipment auctioned off. MillerCoors bought some of it to use in their Tenth and Blake Beer Co. division which handles their craft beer and import lines (Blue Moon, Leinenkugel, George Killian's, Henry Weinhard's, Pilsner Urquell, Peroni, Grolsch).
But MBC also had the rights to the Celis brand, and that was picked up by the Celis family, which hopes to begin brewing again in Austin, Texas. (The late Pierre Celis was behind the revival of Hoegaarden in Belgium, and its traditional wit bier.)
Things were lively at North Peak, however. The brewpub was established on West Front Street in 1995, housed in the old Big Daylight Candy Factory building. It's still producing some sweet stuff, a full range of regular and seasonal ales as well as one cask-conditioned ale. (Today, a Sleepy Bear Bitter at 6.8% ABV. Named after the famous Sleeping Bear Dunes not too far away from town, the beer is a strong IPA dry-hopped with Columbus and Willamette hops.)
Visitors can try the sampler–five four-ounce beers for a mere $6—though the samples always include Northern Light, Diabolical IPA, Siren Amber Ale, Mission Point Porter and Shirley's Irish Stout, all fairly self-descriptive, though I never did find who Shirley was, or is.
I added the seasonal specialty, Front Street Wit, a 4.5% ABV Belgian wheat to the mix. Since Traverse City calls itself the Cherry Capital of the World, it seemed like the right thing to do to have the Cherry Chicken Ciabattini for lunch—a creamy chicken salad with dried cherries, toasted pecans, celery and onion served on a Stonehouse ciabattini roll with alfalfa sprouts.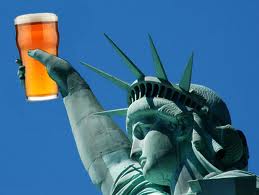 The brewery produces two cherry seasonal beers, an Archangel (an American wheat ale with a hint of cherries) and Dark Angel, a robust porter with a tart cherry finish).
North Peak isn't the only brewpub in town; since 1997 the Mackinaw Brewing Co. has been in the historic Beadle Building, right on E. Front Street downtown. It's been seven years since I've been there, but I still recall pairing up some good brews with the smoked bangers and sauerkraut prepared in the Red 8 Ale.
And in keeping with all things seasonal, on July 4 they tapped the 2012 version of the annual Cherry Lager.
Brewer: North Peak Brewing Company, Traverse City, Michigan
For More Information: www.northpeak.net
Previous: "The Good Luck Skunk"
Next: "TAP Beer of the Day: Doc's ESB Ale"