Our merry band of Golf Road Warriors rolled into Gaylord this afternoon and prepared for the onslaught of golf to come as befits the night before any mighty endeavor—we drank.
Some of us more than others, perhaps, but duty calls, especially when there are sixteen different beers on hand and six golf courses lying in wait. It could have been worse, since the Big Buck Brewery & Steakhouse is not just a brewpub, but a distillery, winery and soft drink emporium as well. And they bottle their own water. They are the pharaohs of fluids, the lords of the liquescent, the nabobs of nectars….
But I stuck to beer, unsurprisingly, and fellow Warrior Jeff Wallach threw in his lot with me to try as many of the beers as we could, with the promptly agreed to proviso that no light beers would be consumed, or any made with fruit. (I don't always rule out beers made with fruit. Just most of the time.)
This meant no Buck Naked Light with its amusing bottle label, which was fine, since we were imbibing by the four-ounce glass anyway. Eight samples each led us through the whole portfolio in two total pints, with a few repeat customers.
Although venison tiptoes onto the website menu, I didn't see any wild game listed the night we were there. This is something of a surprise, considering the variety of taxidermy specimens bedecking the walls of the cavernous log cabin-like interior of BBB. There were enough stuffed mammals and birds in the place to make Norman Bates feel at home. More than a full rack of antlers served as a chandelier over the bar, fronting the glassed-in 30-barrel brewhouse. Lights around the dining area were shrouded by cut-in-half wine barrels.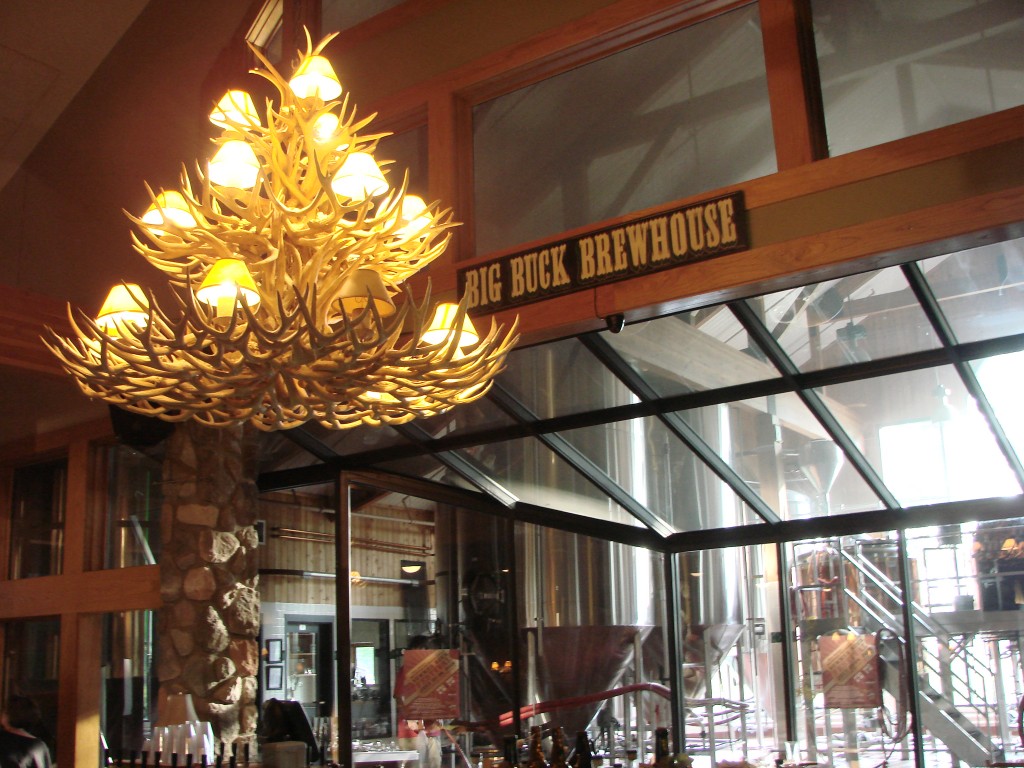 Established in 1995 as a production brewery, BBB is now producing beer strictly for onsite sales, fewer than 400 barrels a year according to Travis Charboneau, brewmaster since February.
Beer is used in a few of the recipes and even some of the spent grain from the Big Buck brews finds its way into the homemade bread. I felt it only right to have the fish and chips coated with the Antler Ale beer batter, matched with the amber Antler Ale and 15 other sippers.
At the moment there's something not quite kosher about the ABVs listed on the BBB website, which shows Antler Ale at 7.7% ABV, when it was probably closer to 5%. The Black River Stout was listed as being stronger than the Russian Roulette Imperial Stout, and even the Buck Naked Light was listed as 6.2% ABV, which can't possibly be right.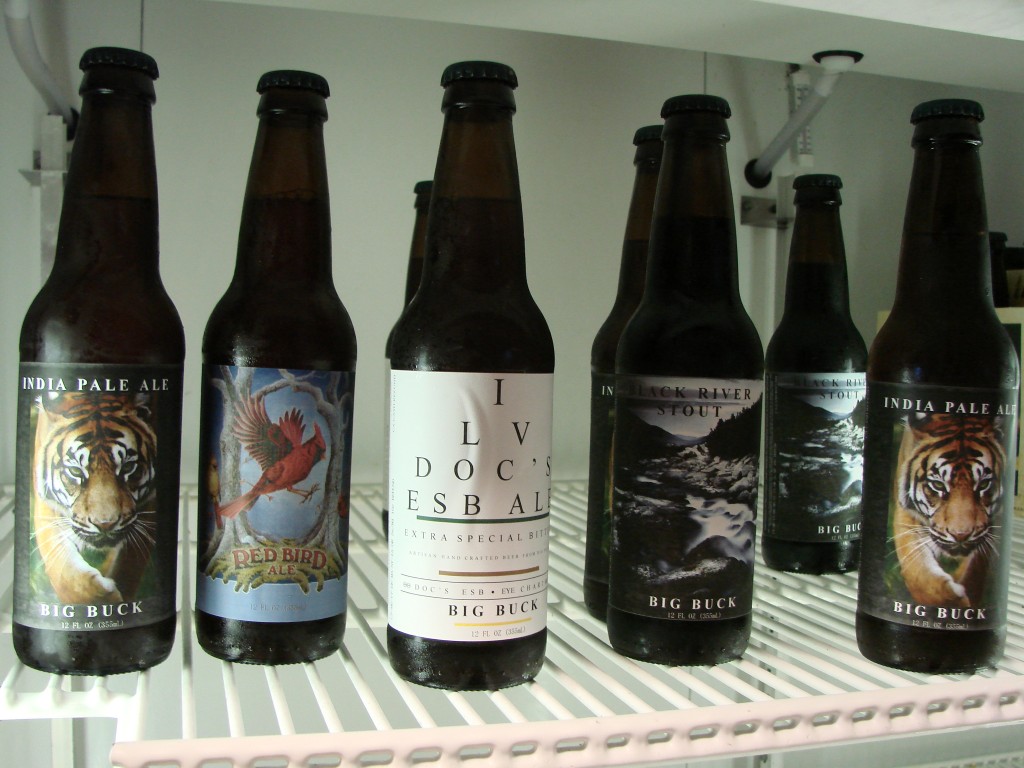 But labeling aside, most of the brews seemed to be lingering in the missionary position—quite satisfying, if not particularly adventurous. Charboneau admitted that, "I'm a pretty traditional brewer," and that one of the more radical beers on the list was a holdover from a predecessor.
But the Triple Rye, perhaps correctly pegged at over 15% ABV, was an eye-opening lid-lifter that had benefited from 12 months of cellar aging, adding to a tongue-coating complexity of flavors. This was one of the repeat customers, just to make sure we got it right, although enough of this beer and the needle would soon move from eye-opening to eye-closing.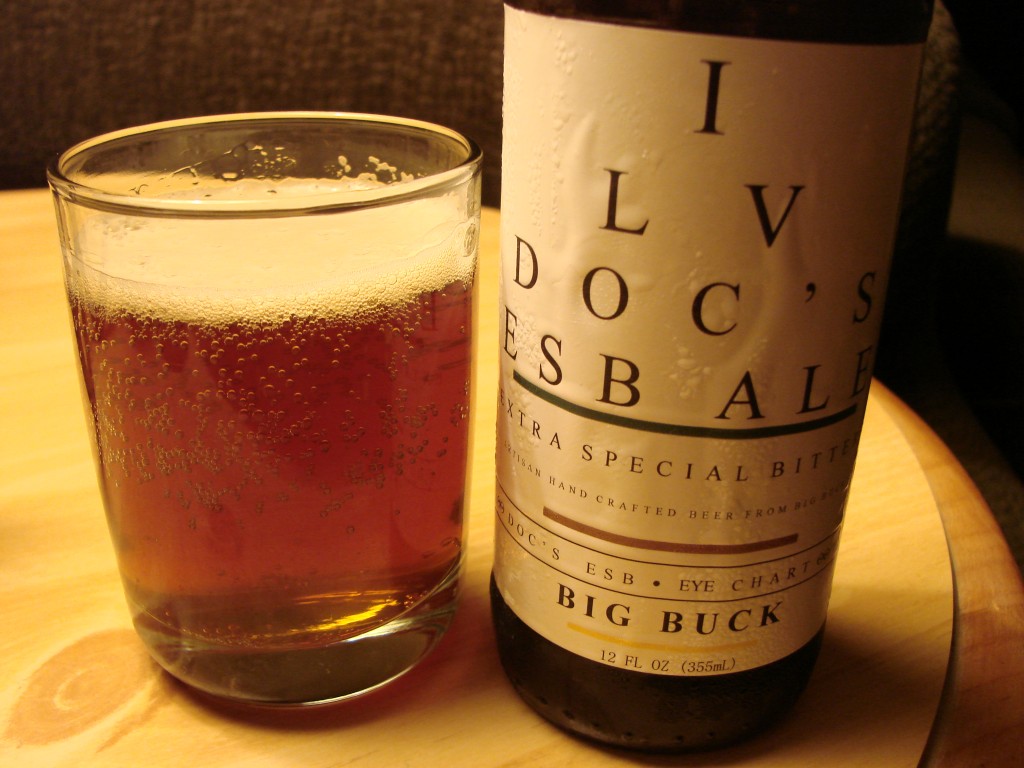 As long as you're capable of reading the eye chart label of Doc's ESB Ale all should be well. I bought one at the retail store on the premises and managed to work through it while unpacking back in my room at the Treetops Resort, home for the next four nights.
This is a strong and sturdy ale, tan, heavy on toffee malt flavors, but with a nicely bitter hop kick at the finish. It was O K on my chart.
Name: Doc's ESB Ale
Brewer: Big Buck Brewery and Steakhouse, Gaylord, Michigan
Style: Extra Special Bitter
ABV: 6.7%
Availability: Only in the onsite retail market
For More Information: http://www.bigbuck.com
Previous: "TAP Beer(s) of the Day: North Peak Brewing Company"
Next: "Mr. Smith Goes to Gaylord"