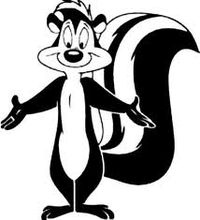 Bleary-eyed a little after four in the morning and that many hours sleep, I drove through the dark toward the airport and another Golf Road Warriors adventure, this one to Gaylord, Michigan.
My first GRW immersion was to Scottsdale (the whole enchilada still up and viewable starting here) and I wasn't swinging too well at the time, with a back operation hovering along down the road.
But this morning the literal road offered up a skunk, which waddled into my headlight beams with some speed but less than Olympic grace. I swerved just in time, and took this near miss as an omen that I wouldn't be stinking it up to high heaven in Gaylord.
Naturally, I could be wrong about this. With a 15.5 index at last reckoning, I'm never quite sure which golfer is going to show up when I play, the relatively competent mid-handicapper or the hopeless hack. A little over a week ago I played three straight rounds in central New York and hit all the high points—104, 93, 87. I like the trend, at least.
Sometimes the disparate golfers appear in the same round—the Jekyll and Hyde experience. My friend and colleague John Steinbreder played with me during my 87 round, when I went out in 39 and came home in 48. "That's Ray Ray golf," he said. "You play nine holes like Ray Floyd, and nine like Ray Charles."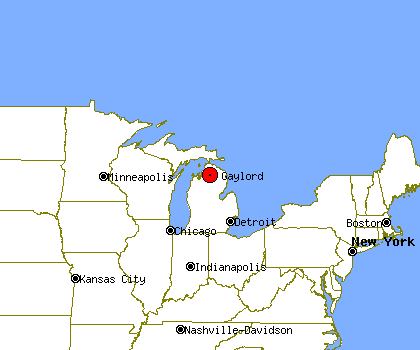 We have an ambitious itinerary ahead, with four rounds certain: the Rick Smith Signature Course at the Treetops Resort, the Black Lake Golf Club, the Tribute Course at the Ostego Club and the Black Forest Golf Club. At Treetops we'll also play the Threetops Par 3 course and have an option to play the Tom Fazio Premier Course, too, if we haven't keeled over by then.
Heading to Michigan for golf is sort of like going home to me. I graduated from Kalamazoo College, where three of my suitemates were on the golf team. I was most assuredly not, but I would go out for a round with the boys on occasion, learning humility along the way.
When I turned to writing about golf I received a few assignments from the Traverse City CVB that brought me back to the state. I eventually played almost all the courses around Traverse City, and was able to set up rounds with two of my old college buddies, too. One, John Kellogg, is from Traverse City. His late dad, Ray, was long the club champion at the Traverse City Country Club.
During one of my visits a few years back I started hitting the ball sideways and no seemed able to help me fix it. We went over to visit Ray and John said, "Dad, Tom's shanking like crazy. What should we do?"
With his years of accumulated wisdom, Ray said, "Uh oh. Well, if I were you, I'd make sure I'm standing to his left."
The shanks eventually went away all by themselves, as befits one of the most mystifying of golf shots. Not to mention terrifying. Actually, I'm sort of sorry I even brought the subject up.
I'm not worried, though, because I didn't hit the skunk.