Christopher Gagné wasted little time after he began brewing to delve into Belgian styles, and that ultimately led him to propagating his own wild yeast cultures.
Living in Philadelphia following his graduation from Swarthmore College, he would wander around the city with a bucket of wort, set it down somewhere and let it contact the air for six hours or so, close it back up and keep it sterile from there on out, and he'd have a selected culture of yeast. "Maybe it ferments, maybe it doesn't. About one out of three are viable," he says of the practice.
One that was viable is part of the house yeast at the new Hermit Thrush Brewery in Brattleboro, Vermont, which Gagné and partner Avery Schwenk opened on November 22. Gagné blended a yeast he'd propagated from a Philadelphia park with one from an East Dummerston, Vermont apple peel.
So with five beers on tap during the grand opening, two questions arose for me:
1) Which of the five would be good with Thanksgiving dinner?, and
2) Would I be able to resist cracking open the growler before the big meal?
Answer to question two was yes, barely. As for the first, any of the five beers might have worked. All spent some time in barrels; Hermit Thrush has a bunch, about two-thirds French oak, a third American, both white and red. There was a seasonal, Tardy Pumpkin, brewed from local gourds but dispensing with any added spices.
There was a special release called Hoppy Smalls, an "estate beer" since it was made from ingredients all grown at Four Stars Farms in Northfield, Massachusetts, and the grain milled by Valley Malt in Hadley, Massachusetts. Since we were heading to Hadley for Thanksgiving, this bore an appealing circular consideration. But Hoppy Smalls is a small beer—a tidy 2.8% ABV—and therefore seemed a bit timid against the onslaught of a feast. Although I didn't share the opinion of one friend at the opening who said the Hoppy Smalls, "Tastes like dishwater," I figured other non-beer geeks might, so I pondered the three regular beers:
Brooks Brown, a 3.8% brown ale; High Street Vermont IPA, a 6.7% malt-accented American and Belgian-style IPA, and Brattlebeer, a 4.25% sour brewed with apple cider. I went with the latter, a tart and refreshing brew that should serve the brewery well as a flagship beer.
For the second year in a row my wife and I traveled down to Wildwood Barbeque in Hadley, Massachusetts for Thanksgiving. Owned by our daughter and son-in-law, the restaurant closed for the day, but jammed a bunch of us in for a dinner that couldn't be beat.
Bringing beer to Wildwood is a little like coals to Newcastle since there are already 16 taps of good brews on hand, almost always something I haven't tried before. (Like Nightshade Stout from the Abandoned Building Brewery in Easthampton, Massachusetts.)
But with the Brattlebeer on hand, it was all shaping up well: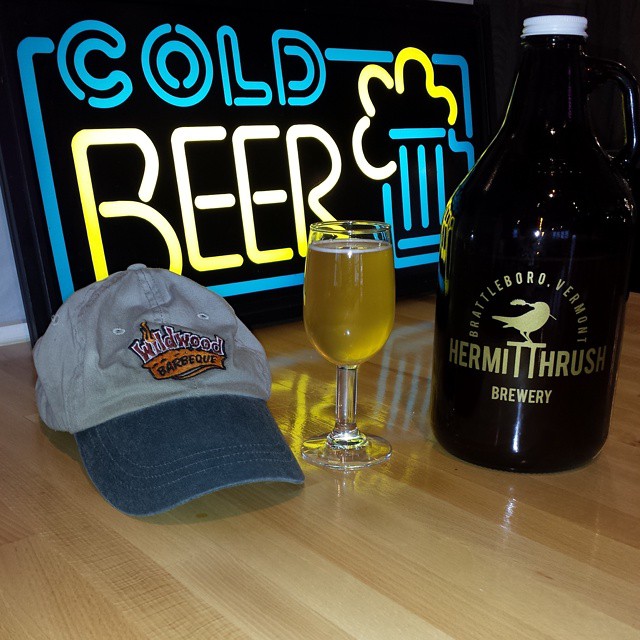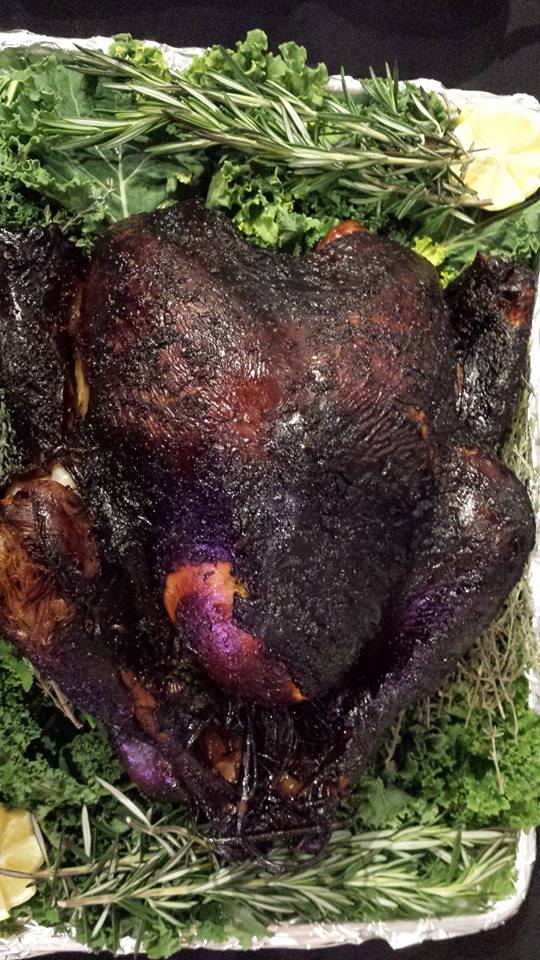 Once we added the barbequed beauty on the left, we were golden:
The Hermit Thrush house yeast gives the Brattlebeer a mild funk with a hint of tartness, which supports the cider nicely. It's fairly light at 4%, and finishes crisp and dry. The beer is made with Pilsner malt and about 20% cider from Dutton Berry Farms of Newfane, Vermont, mainly from the Northern Spy apple.
According to Gagné, "We didn't boil the cider. We added it at the end of the boil so that pasteurized it, but doesn't drive off any of the delicate flavors. The combination of the cider and the yeast itself give it a little hint of acidity, which is nice. You see acidity attended to in the wine-making culture but you don't see brewers attending to it as much in terms of the finished product. And I think my beers in general are a little more acidic than the average beer."
Another specialty thing the brewery does in the Belgian tradition is use aged hops, in this case, Hallertau hops from 2012. "A little bit of aged hop flavor adds some interesting funkiness that people usually can't quite put their finger on," said Gagné.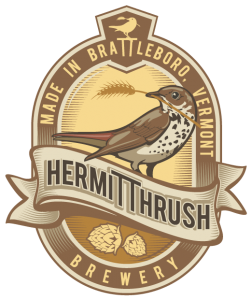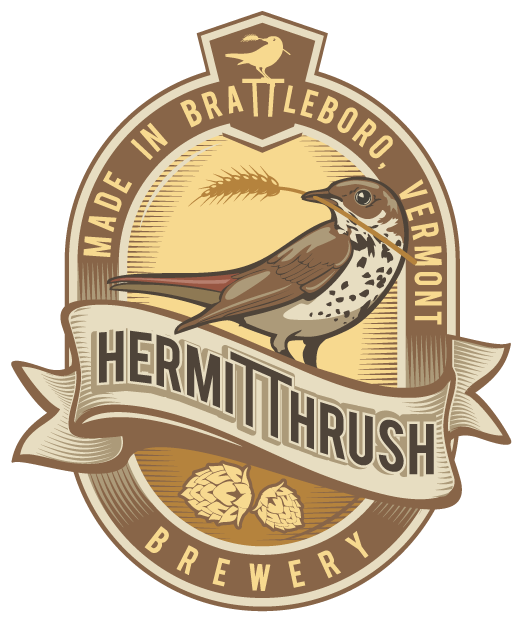 To put your fingers around a glass of Brattlebeer or any of the Hermit Thrush beers, you'll have to travel to Vermont for the foreseeable future. In short, a win win situation.
Name: Brattlebeer
Brewer: Hermit Thrush Brewery, Brattleboro, Vermont
Style: Sour ale with apple cider
ABV: 4.0%
Availability: Year-round, Vermont
For More Information: www.hermitthrushbrewery.com
Related posts:
Hermit Thrush Takes Wing
New Song On High Street