With its 43,000 participants, thousand companies, and all manner of golf paraphernalia, the PGA Merchandise Show in Orlando is seldom aligned with minimalism. There are exceptions, though. Take golf shoes.
Not long ago we went through a baroque phase, with outsoles loaded with springs or filled with fluid, uppers festooned with bling. The lion-tamer look. Pimp envy. More recently ascendant, though, is the notion that we can't improve on the podiatric design of the Great Cobbler above. Hence, the closer-to-terra-firma principle, which dovetails nicely with the golf-as-all-purpose-shoe concept – a wholly welcome development for golfers who travel.
Apart from generating some mighty comfortable shoes, the minimalist approach expands the design possibilities, since the idea is in some measure not to look like golf shoes. Three examples from last week's PGA Show:
GoBe Golf. Joe Allen, shoe industry veteran and president of the new GoBe, envisions a line of shoes that will one day go directly from the most conservative boardroom to the first tee. The current line is "dressy casual," as the literature puts it. Both available models, the Rebel and the Pride, maintain low profiles, which Allen indicates will continue to get lower. The toe box is wide and there's a deep heal cup.
The star-shaped traction nodules and the rest of the outsole is warranteed for two years, and GoBe replaces the antimicrobial insole on the one-year anniversary of your purchase. Women's: $139.99, Men's: $159.99.
True Linkswear. This line caught our eye last year for its simple styling, but the outfit's claim to fame is its fidelity to "the barefoot concept." Thus, the heel is at the same level as the toe and the outsole of the Sensei model I tried out was as flexible as your proverbial noodle.
They proved so comfortable on the test run – right out of the box to walk all 36 at Streamsong, the spectacular new resort (more later) – that it was funny: They didn't seem to do anything for my game, but I eventually joked about sleeping in them. They're that lightweight and with an MSRP of $99, a bargain. (Other models in the True Linkswear line are as much as $209.)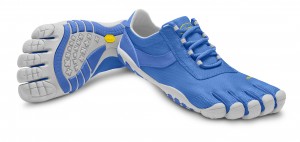 Vibram. It's possible to view these "five-finger" shoes as motivational tools, since wearing them would first require that this writer get a lot more game. (Actually, it might be fun to show up in Vibrams at the working-class club I frequent in western Massachusetts. Never say never.)
Getting the Vibrams on is an acquired skill, but, that mastered, they are indeed comfortable. MSRPs start at $85, depending on model, and it's not inconceivable that they'd make good lightweight, easily packed back-ups for a rainy destination like Scotland. Indeed, they were originally developed as footwear for water sports. Not for lunch at Muirfield, maybe, but still.
Of course, shoe design is subject to fads like every other human endeavor. Let's hope that the less-is-more design esthetic doesn't go out of fashion.
# # #