Sources of encouragement and hope can be difficult to come by these days, and the golf industry might not seem among the first places to look. But Club Champion, the club-fitting service, is offering a ray of sunshine with a gift card promotion to buck up our spirits and remind us of better days ahead.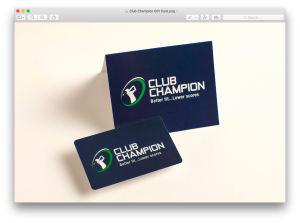 Available nationwide through the end of April, the company is offering a $50 bonus for purchases of cards in the $100-$500 range. Those exceeding $500 receive a 10 percent bonus tacked on to the entire purchase price (e.g., a $100 bonus for a $1,000 gift card).
To maintain social distancing and other health protocols, gift cards can be redeemed online, by phone, or via email. OK, it's not the gift of golf itself, but custom-fitted clubs will help any golfer, and the gift card figures to make a great Fathers Day (or Mothers Day) treat for your favorite player.
As a longtime industry friend of a couple of Club Champion principals, this reporter has to acknowledge that he was skeptical of their chances when they hosted a media event at the PGA Show several years ago. After all, the club fitting concept wasn't new when they founded the company ten years ago this month, and the marketplace was already crowded.
(For perspective, Golf Digest publishes an annual list of Top 100 Club Fitters; Club Champion has earned inclusion every year since the list's inception. Meanwhile, even most big box retailers like Dick's offer some cursory form of club fitting.)
Happily, I was mistaken. The company now claims to be the pre-eminent service of its kind; has established 70 locations around the country, a 2000 percent expansion since its founding; currently books about 100,000 fittings a year; and has steadily cultivated relationships with equipment manufacturers, resulting in 45,000 hittable shaft and clubhead combinations.
Based in Willowbrook, Illinois, where they have recently opened a 22,000-square-foot headquarters and build shop, Club Champion has evolved from a fixture of golf-mad Chicagoland to a dynamic national brand.
#    #    #