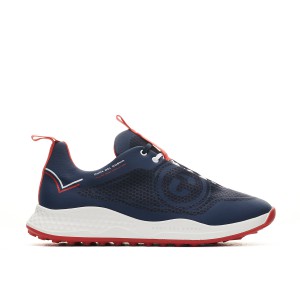 At first blush, the appeal of Duca del Cosma golf shoes was, for this reporter, primarily structural rather than purely esthetic: The soles of the Italian footwear resembled those of the walking shoes I wear as a hedge against Lyme disease-fueled joint inflammation.
So, while I've occasionally written about trends in golf fashion, the guys in my regular foursome will gleefully attest that I'm nobody's style-setter.
The irony is twofold. First, Duca del Cosma's promotional slogan touts its newly expanded line as "golf shoes for a new generation of golfers." (I'm 71.)
Second, while my Tomcats — the name of the CdC model I chose — deliver the comfort and support I had hoped for, they also dovetail with my crusty notion of classiness. This includes a blessedly discreet logo and a similarly low-key color scheme; in fact, you actually could imagine wearing them to a social event not held at a country club.
Not every iteration of the line is as understated and it's on the pricey side — in the 200-clam range MSRP, depending on model — but, refreshingly, Duca del Cosma doesn't pledge that you'll drive the ball 25 yards farther when wearing their stuff. As most of us have learned, comfort and freedom from pain are more realistic  goals.
#    #    #