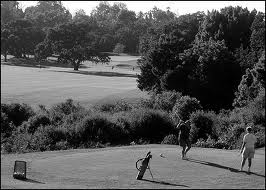 You would expect that any practice facility designed to sharpen the skills of Stanford University's men's and women's golf teams would be well thought-out.  Even so, the Seibel Varsity Golf Training Complex is impressive for its elaborate, positively scholarly, approach to game improvement.
Indeed, as designed by Robert Trent Jones II Golf Course Architects (RTJ II), headquartered in nearby Palo Alto, the new facility could double as a Golf Course Architecture 101 lab.  Its six green complexes are configured to match the characteristic features incorporated by the same number of influential architects:  Alistair MacKenzie, Pete Dye, A.W. Tillinghast, Tom Fazio, Robert Trent Jones, Sr., and Robert Trent Jones, Jr.  These in turn emulate the playing conditions – including bunkering, sand textures, and native grasses – that Stanford's teams encounter at "away" matches around the country.  Hence their nickname, "Road Game Greens."
"We wanted to create a competitive advantage," explains Jay Blasi, RTJ II's project architect.  "The players can practice here what they see around the country, on a facility designed in the spirit of the architects whose courses they play regularly."
Situated on 30 acres of previously undeveloped land along the periphery of the opening holes of the university's home course (pictured above), the new facility is L-shaped.  One leg is 200 yards wide by 400 yards long; the other is 100 yards by 400 yards.  Their intersection forms one of three main teeing areas, intended primarily for hitting drives and other longer shots, even as all six greens can simultaneously be used.
The spatial arrangement allows for a virtually infinite variety of approach angles, as well as for fine-tuning other shot-making skills like hitting from downhill, uphill, and sidehill lies.  Fairway bunkers with different types of sand – coarse, fine, and medium consistencies — are placed strategically around the layout, as are trees for perfecting shot trajectories over, under, and between them.  The complex's copious changes in elevation, most of them manmade, promote downhill and uphill approach-shot prowess.
"The facility allows us to practice pitch shots to an elevated surface, flop shots out of fescue grass and putting on Bermuda grass at different lengths and from different levels, which is extremely useful in preparation for collegiate competition," said Conrad Ray, coach of the Stanford men's team, which won the 2007 NCAA Championship.
As a non-college player with correspondingly limited potential on the game improvement front, though, this reporter found several aspects of the facility at least as interesting as its evident capacity to enhance the Stanford teams' advantage.
First, there is the attention to detail brought to the project by the design team, which, besides Blasi, included shaper Doug Ingram, Stanford Superintendent Ken Williams, and Ed Ott, of contractor Colony Landscape.  It's a sort of "tribute" practice facility.
Thus, the Mackenzie green is constructed with the famous 13th and 15th holes at Cypress Point in mind.  Prominent features include four dramatic, "flashed-up" bunkers, with the front bunker bleeding into the steeply contoured green to form a "horseshoe" – a trademark Mackenzie design element.  Taller fescues frame three bunkers behind the putting surface, which in turn is raised to "boomerang" shots back toward the horseshoe.
The Tillinghast green complex, fashioned after the 10th hole at Winged Foot, includes a swale at the left and a typically back-to-front-sloping putting surface with three distinct tiers.  Greenside bunkers are well below grade, but another bunker some 30 yards in front of the green has a lip at the horizon line, creating the illusion of proximity to the putting surface.
By contrast, the Dye-style green is reminiscent of the 16th hole at PGA West Stadium or the 18th at TPC Sawgrass and even incorporates his signature railroad ties to edge the putting surface and a small pot bunker.  The small, elevated green is essentially level, with subtle undulations, while another bunker has a grass face and a flat bottom about seven feet below the putting surface.
The Tom Fazio-inspired green complex, a la the 16th hole at Hudson National, forms a shallow bowl, with outer edges beveled toward chipping aprons.  One of the two greenside bunkers is set back roughly six feet from the putting surface and features ornate noses and an uneven floor; the other is smaller and helps define the green's shape.
The Jones, Sr. green hearkens back to Hole No. 4 at Spyglass Hill, with Bermuda turfgrass, no sand, sprawling grass bunkers, and a narrow, sloping, 150-foot-long, three-terraced green framed by tightly clipped grass surrounds.
Positioned at the corner of the "L" and resembling the 8th hole at Redhawk, the Trent Jones, Jr. green complex is situated to receive shots from three directions, with a high point and contours descending toward each respective target line.  A fairway swale lies behind the green – at 8,100 square feet the largest at the facility – and bunkers are simple, with smooth borders.
No doubt Stanford players will be placing the odd side bet or two while working on their games, as the training complex replicates the "real" golf experience in a way few other practice facilities do.  Too bad it is not a public facility, as it is the sort of place – manageable, time-wise and in its proportions – that many in the golf world point to as ideal for attracting new players.
# # #