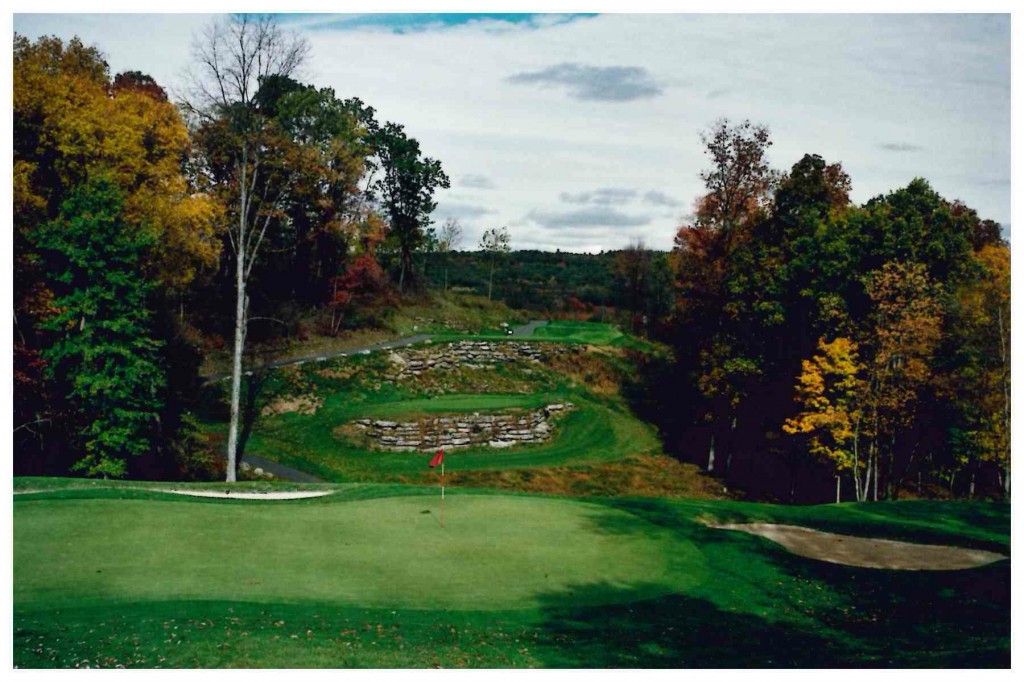 Golf courses closing faster than new ones open. Declining levels of participation. Lousy weather. Disputes about equipment. So much of the news in the golf industry has recently been dispiriting that a trip to Great Bear Golf Club, in East Stroudsburg, Pennsylvania is a breath – nay, a mighty gust — of fresh air.
Mind you, it's not necessary to have a vested interest in golf to appreciate the Jack Nicklaus-designed course. Originally opened in 1997, it can be plenty difficult – 7,025 yards, par 71, slope 142 from the back tees – but generally embodies the Golden Bear's more merciful approach to architecture as it's evolved over the latter stages of his career: generous landing areas, less-daunting forced carries, less-brutal deployment of hazards. The farthest forward of five sets of tees, in fact, is just 4,949 yards, slope 117.
Golfing ability aside, though, you would be hard pressed to find a more engrossing display of the Poconos Mountains' rugged topography. The region's mature-hardwood forests provide great buffering between fairways and there's ample variety both among holes and the features they incorporate: wetlands, rocky outcroppings, gentle and precipitous changes in elevation, streams, wooden bridges, and three lakes.
This reporter had played the course not long after it first opened during the days of copious course construction. It had conditioning issues common to new tracks, and since then could serve as a sort of poster child for the ensuing boom-and-bust cycle in the golf industry (and others). Periodic updates seemed to suggest an identity crisis: Was the place – then officially known as Great Bear Golf & Country Club – private or upscale public, a real estate development or a stand-alone course?
Intensifying financial pressures led to foreclosure of the property in 2010. An enlightened minimal-maintenance program kept the layout from going drastically to seed, so when the new ownership group, headed by Charlie Kirkwood, purchased it last fall, the necessary updates – refurbished bunkers and green complexes, a new cart fleet – were significant but not prohibitive.
Kirkwood is indeed the kind of guy who evokes renewed enthusiasm for one's association with the game. He also owns Shawnee Country Club, a 27-hole complex just three miles away but with an entirely different cachet.
Not the strapping test of golf that Great Bear is, Shawnee oozes history and antique charm. Dating to 1911, it was A.W. Tillinghast's first design in the area – a warm-up, presumably, for Winged Foot and Baltusrol. Among other distinctions, Shawnee hosted the 1938 PGA Championship during the match-play era of professional golf. Paul Runyon trounced Sam Snead, 8 and 7, despite the latter's status as Shawnee's resident golf pro.
Roughly equidistant and less than 100 miles from both Manhattan and Philly, a triangulation with Great Bear and Shawnee, with an overnight at The Shawnee Inn, would make for a great weekend getaway, especially during autumn.
#         #         #