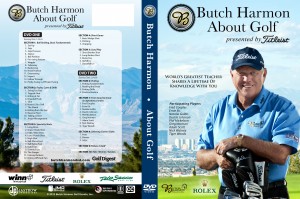 It took a couple of weeks of viewing Butch Harmon's new DVD(s), but in a way, that's a good thing: As advertised, the 57 chapters and 250-plus tips can be accessed individually and stand alone reasonably well. Otherwise, from a purely instructional point of view, the four-hour, two-disk set would constitute a massive information overload.
But as Harmon put it in a pre-release teleconference, this magnum opus is "about everything in golf there is," not just instruction. Officially titled "Butch Harmon About Golf presented by Titleist" (there are several corporate sponsors), the production works on multiple levels.
For the golf bibliophile, or whatever its electronic equivalent is called, "Butch Harmon About Golf" may achieve canonical status comparable to, say, Tom Doak's "Confidential Guide" to golf course architecture.
For the devoted follower of the pro game, Harmon's interaction with many of the last four decade's best – including "Phil, Ernie, Greg, Tiger, Seve, Freddie," and several up-and-coming players, such as "Adam, Nick, and Dustin," many of whom are interviewed – he offers up a cross-section of the modern era from an instructional perspective. At the very least, this gives solid visual cred to the old saw about every swing being different – a maxim repeated so frequently as to sometimes sound hollow.
For the technophile, you could watch "Butch Harmon About Golf" just for the production values, the same way you marvel at PGA pros, even knowing you can never attain such a game. Produced by golf veteran Terry Jastrow, the motion-capture material is astounding, the presentation lucid.
Anyone who's ever taken a lesson, though, understands that the instructor's personality plays at least as great a role in the experience as the nuts-and-bolts. So it's hardly original scholarship to point out that Harmon wouldn't have gotten as far as he has without the charisma that comes across in conversations with his students or just spinning a story.
An interesting experiment would be to take a player completely new to the game, presumably a junior, and wean him or her solely on "Butch Harmon About Golf." The rest of us will most likely cherry-pick tips for particular shots or encounters with favorite players.
Available online at www.butchharmondvd.com, $79.95.
# # #