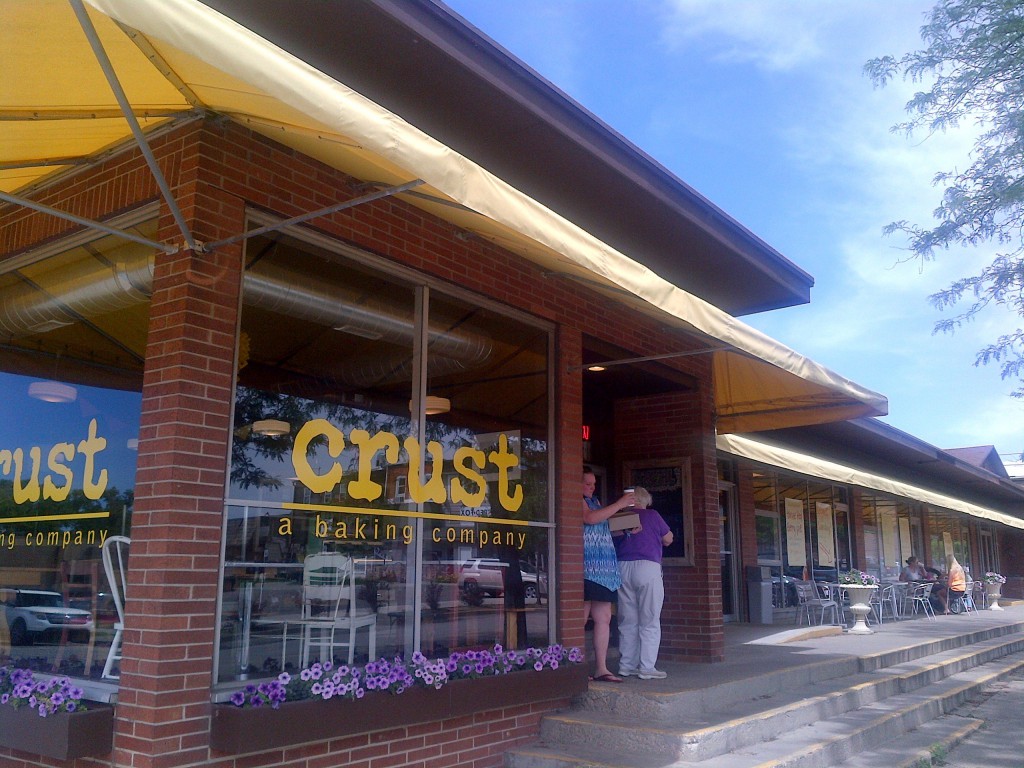 Wishing to escape the chain restaurant chokehold, I fashioned a fling to Fenton to experience 'The Laundry" – a one-of-a-kind destination restaurant bursting with culinary creativity, color, and whimsy. The bistro-style, casual operation occupies the corner of Shiawassee and Adelaide (smack between I-75 and US 23 an hours' drive from Lansing). The Laundry's "campus" includes indoor and outdoor seating (on delightfully funky mismatched kitchen chairs); a casual craft cocktail bar; the in-house "Lynchpin Brewery" with an adjacent outdoor bier garden dubbed "the 'stube;" the prêt a porter carry-out "side door," (after all the building was originally a laundry); an on-site, organic vegetable and herb garden with a rooftop "Bee's Knees" hive for homemade honey; and a sense of humor (for instance the check arrived in a folder marked "the damage.")
Chef Jody Brunori takes his food seriously, though. The volume of sandwich choices alone had me wishing I'd studied the menus online at www.LunchAndBeyond.com before I'd arrived. The Pork n' Porridge breakfast pairs ham with Vermont cheddar grits under eggs atop a housemade biscuit covered with red-eye gravy. Prefer pancakes? Bacon n' Brie adds those two items to the fluffy buttermilk mix; while the Fat Elvis layers in peanut butter with "'nannas." In other words, this ship is hip!
Owner Mark Hamel's father Bob, who instilled the entrepreneurial mindset his son has amplified to abundance, used to wake early every morning and drive to Ann Arbor's famed Zingerman's to pick up bread. Now instead, two blocks from The Laundry, the Hamels have opened "Crust," a wholesale and retail artisan baking company from which The Laundry's 89 exquisite sandwich variations (think flavored cream cheese, raspberry preserves, avocado, hummus, etc as accompaniments to turkey, veggies, bacon and beef) are squeezed between fresh made pretzel buns, Bowery Rye, Henry St. Provincial, Challah, Downtown Brown, City White, 104 Sourdough, and Saskatoon Prairie Seed breads. Like Zimmerman's, Crust is shipping breads to every state in the nation while its brown sugar and honey-glazed cinnamon rolls are featured in the Williams-Sonoma catalog.
What "The Laundry" dubs "Supple Suppers" begin daily at 4pm and include the likes of Buffalo Chicken Waffles; Duck Breast with Pomegranate Molasses; Seared Scallops with Chorizo and Corn Succotash; Osso Bucco; and The Laundry's classic French favorite: Coq au vin: boneless chicken thighs braised in rich red wine sauce paired with Boursin mashed potatoes and vegetable du jour.
For a morning, midday or evening getaway, The Laundry and Crust, with their varied tastes and textures, merit time spent looking, lingering and loitering.
By the way the Hamel's next colorful addition to the old-fashioned Downtown Fenton scene is a venture they're describing as a "barbershop speakeasy." Shave and a haircut with a scotch!
Michael Patrick Shiels may be contacted at InviteYourself@aol.com or via TravelTattler.com His talk show can be heard weekday mornings in Lansing on 92.1 FM and Fox 47 TV.