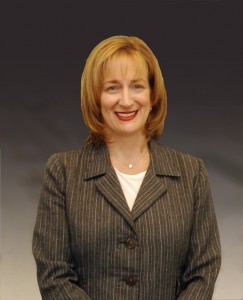 Delta Airlines is taking wing – a positive uptick for the airline upon which Michigan is almost entirely dependent for business and leisure travel beyond our region.
After acquiring Northwest Airlines, the company rebranded all of NWA's iconic red-tailed jets with logo of Delta to create the world's largest airline, flying 161 million travelers each year to 351 destinations in 64 countries on six continents. Michigan passengers fly Delta from Lansing, Grand Rapids, Traverse City, and other locations to Detroit, where they can then enjoy 158 non-stop flights, including 28 international destinations. Delta's come a long way since its' crop dusting start in 1924.
"We're very happy with the result of the merger and very pleased at how the airline is doing," said Andrea Fischer Newman, Delta's Ann Arbor-based Vice-President of Governmental Affairs, who also serves on the University of Michigan Board of Regents. She's running for re-election Nov. 4.
The company has seen its' strategy and effort – and the financial climate, begin to turn tail. After years of reports of large losses, Delta, which offers 13,000 flights daily, filled a record 86-percent of its available seats in the third quarter and posted a net income of $363 million dollars compared with a loss of $161 million for the same period last year. These figures exceeded Wall Street's expectations and Delta now expects its' fourth quarter to be in the black for the first time since October through December of 2000.
"Finally! It would be great if it happened consistently. That doesn't happen all the time," Newman said. "Business is picking back up. Companies are starting to travel again."
            Delta is expanding service and routes, but sensibly, and only to meet customer demands. The slowly improving overall economy is bolstering a rebound in consumer and corporate appetite for air travel. Activity and lower, or at least stabilized, oil prices are clearing the airline for takeoff from Michigan to, for instance, Brazil. Last week, Delta launched the first non-stop flight from Detroit to Sao Paulo. "It's the first direct flight from Michigan to a destination south of the equator," Newman pointed out.
            During the winter, Brazil's peak tourist season, the flight will operate five times per-week. Flights depart at 7:30 p.m. and arrive in Sao Paolo, South America's largest business market, at 8:00 a.m.
Delta's Andrea Fischer Newman is also a UofM Regents
            Newman said that Brazil's ambassador personally asked Delta CEO Richard Anderson for more Delta flights to the country which will host the 2014 Fifa World Cup soccer tournament and the 2016 Olympic Games.
            Detroit's global gateway is growing. Delta recently added service to Seoul and Hong Kong; expanded flight to Shanghai, and is planning non-stops to Haneda Airport in Tokyo.
"We always said during the merger that Detroit was going to be our Asian gateway and a major international gateway," said Newman. "I think you are seeing the outgrowth of what the merger could do. It provided more people for the feed we need to fly internationally. And that's good for business because most businesses are global."
            Leisure travel from Michigan is also an international affair.
            "Cancun, Las Vegas, Montego Bay, and Punta Cana, in the Dominican Republic, are the most-popular all-inclusive vacation sites from Michigan," says Allison Buckneberg, a spokesperson for Delta Vacations, an airline-branded travel company which packages, air, hotel, ground transportation and activities. "We have the lowest Delta airfares available. Sky Miles members get bonus miles, and we have flexible payment options, too."
            For more information, visit www.DeltaVacations.com