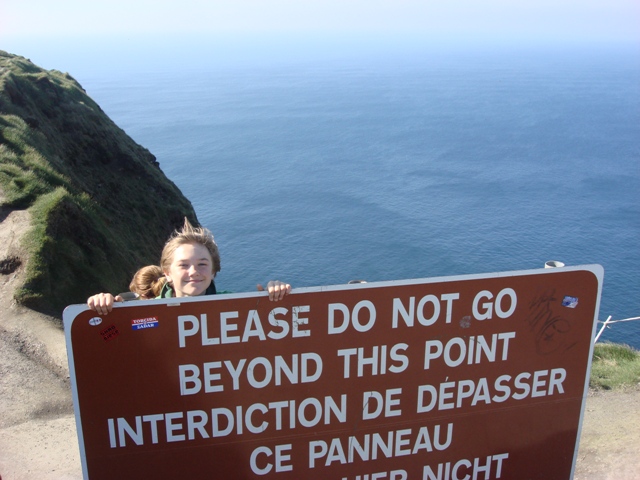 The Irish countryside is a wild and wooly affair. Unforgiving stone walls line the narrow, bumpy routes, which are often clogged by tractors, bicyclists, and herds of sheep or cattle. The twists and turns of the mountain passages are treacherous, or "lethal enough" as the Irish might say.
Absent of the pervasive directional signs and traffic control devices American motorists have come to rely upon in the United States, the Irish still prefer tricky roundabouts and the occasional arrow pointing toward the next town with a message like Cahirciveen 9 or Killorglin 2.5.
Following a round of golf at the magnificent Doonbeg Golf Club, I prepared to settle in for an evening's drive across the Shannon river (via ferry), up through the mountains and out onto the Dingle Peninsula. The peninsula is a rocky, cloud-enshrouded slice of goat-covered heaven that juts out into the pounding Atlantic Ocean. Dingle is a colorful, remote fishing village known for its' pubs and traditional music and many of the residents still speak Gaeltach, the Irish language. 
I wheeled into a gas station, climbed out of the automobile and approached the attendant.
"I wonder if you might give me directions up to Dingle Town?" I asked.
"You're going to Dingle Town?"
"Yes, and I could use directions," I confirmed as I watched him peer down the road and consider the options. Then he finally answered, "First of all, if you're going to Dingle Town, I wouldn't start from here!"
Though his conclusion was quintessentially daft, his advice was not bad because County Clare offers travelers the "full Irish" experience. DeltaVacations.com flights to Shannon Airport put you 30 minute's drive from Doonbeg and the beachfront holiday town of Lahinch – home to Lahinch Golf Club, Ireland's first golf course. Very nearby, too, are the magnificent Cliffs of Moher, five miles of 600-foot high cliffs looming over the Atlantic. The awe-inspiring cliffs are among the finalists in the current search for the "New Seven Wonders of Nature," and you can spend all afternoon walking up and down along the grassy and rocky edges. Beware, though, the monument you will find to those who have lost their lives at the cliffs is not a joke. People who've tread too close to the edges on windy days have been blown over the edge by surprise gusts of fresh, sea air, and yet you still see tourists sit with their feet dangling over the edge!
Go where Ireland takes you by logging on to http://www.discoverireland.com/us/ or DeltaVacations.com/MPSIreland which is currently offering airfare and five hotel nights for only $981 per-person if you book before April 15.